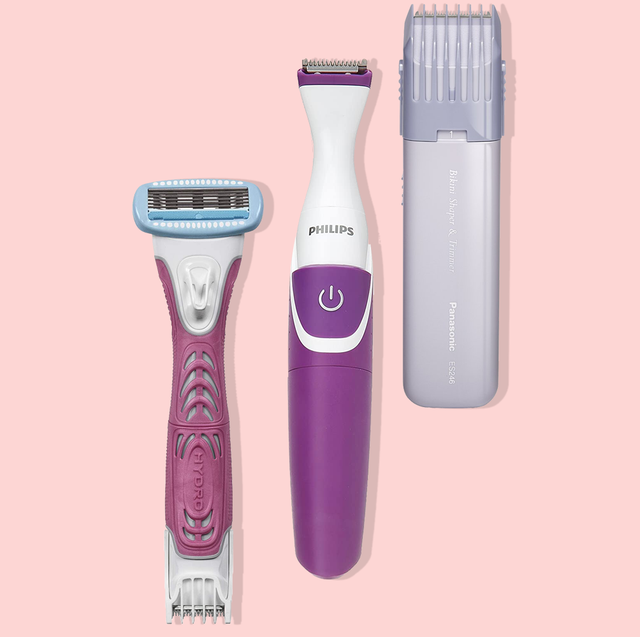 courtesy
If you're looking to clean up stray pubic hairs poking out from your bikini line, there are plenty of different hair removal options at your disposal — waxing, sugaring, epilating and even lasering. But if you're short on time, money or pain tolerance, good ol' fashioned shaving or trimming is definitely the most accessible (and least intimidating!) method, whether you're planning to go for a full Brazilian or just clean up the edges.
But getting the best bikini line shave really comes down to using the right tool. Unlike a razor, a bikini trimmer features floating blades that trim your surface pubic hair without touching your skin, so it's ideal for sensitive areas and a great choice for those who are looking for a painless experience. It also offers far more precision than a standard razor.
For decades, the Good Housekeeping Institute Beauty Lab has regularly tested all kinds of hair removal products from waxing kits to razors, and has solicited unbiased feedback from our panel of consumer testers to find the best of the best. While we haven't yet run a full cross-category test on bikini trimmers in particular, to create this list we researched the top-reviewed bikini trimmers online, then vetted the top-rated ones with our Beauty Lab analysts, who have a deep knowledge of the best body hair removal products on the market. Below, you'll find our picks for the best best bikini trimmers you can buy in 2021.
How to use a bikini trimmer the right way
But first, here's some advice on how to shave your bikini line safely from top dermatologists and the Good Housekeeping Institute Beauty Lab experts. Because the skin around the bikini area is more sensitive than the rest of the body, dermatologists say it's important to make sure you're prepping your skin before bikini hair removal, and caring for it correctly afterwards.
Never dry shave. Unless your trimmer is specifically designed for dry shaving, that is. At the very least, use water, and ideally you'll want to use a shaving cream to avoid irritation and razor burn. Exfoliating, then smoothing on shaving cream beforehand will reduce friction and help you get the smoothest shave possible.
Shave in the direction of hair growth. "In general I recommend that people try to shave in one direction," says Nada Elbuluk, M.D., board-certified dermatologist and clinical associate professor of dermatology at the University of Southern California. She recommends shaving in the direction of the hair growth — going against the grain may seem like it results in a closer shave, but it only makes you more susceptible to razor burn and ingrown hairs.
Avoid repeatedly going over the same area with the trimmer. "This can increase irritation," says Dr. Elbuluk. Also, you'll want to avoid using a dull razor. Dermatologists recommend changing your razor every two to three weeks, depending on how often you shave.
Be sure to rinse the blades often. "This will prevent hair and shaving cream from clogging up the area between blades," says Danusia Wnek, a chemist at the Good Housekeeping Beauty Lab.
How to prevent ingrown hairs
When it comes to shaving delicate areas, it's common to end up with angry, irritated ingrown hairs or razor bumps. What you may not know is there are some simple tricks for achieving a smoother shave — and avoiding those annoying ingrowns.
"For those with curly hair or who are more prone to ingrown hairs, I recommend using a single razor or a razor with less blades," says Elbuluk. "You can also try using a salicylic acid wash in the area to help with exfoliating the skin prior to shaving." We recommend trying Cerave's SA Body Wash for Rough & Bumpy Skin. And don't forget to moisturize after — this will also help prevent ingrown hairs by softening the hair follicle.
Advertisement – Continue Reading Below
1
Best Overall Bikini Trimmer
Hydro Silk TrimStyle Moisturizing Razor
If you like the idea of having both a razor and a trimmer at your disposal, this dual option is perfect for you. In a recent GH Beauty Lab test of 442 hair removal products, this razor came out on top for being easy to use, removing hair in one easy stroke and not causing any nicks. "I loved having the trimmer attached to the regular razor," one tester remarked. "It made it convenient and easy to use, saving me time by not having to switch from one razor to another. It worked very well, and provided a close shave."
Dual-ended razor and bikini trimmer in one
Provides close shave
Nick-free hair removal
2
Best Value Bikini Trimmer
Palmperfect Bikini Trimmer
This dual blade trimmer has a wide tooth blade for thicker, coarser hair, and a precision blade for shorter, finer hair. For under $10, this pick is versatile and doesn't irritate the skin. "You can use this for a trim or a true smooth shave, depending on if you use the guards or not," says one reviewer. "This trimmer is easy to use, and more importantly, easy to use safely."
Non-irritating
Easy to use
3
Best Bikini Trimmer for Ingrown Hairs
Smooth & Silky Body & Bikini Kit
Remington
amazon.com
$16.71
This trimmer comes with an exfoliating attachment to help prevent ingrown hairs from the jump. Reviewers say that it dramatically improved the amount of ingrown hairs they experienced. "It trims very close to the skin so the hair is really short and takes longer to grow back," one reviewer says. "The exfoliator is also fantastic, it definitely keeps those ingrown hairs far away from me."
Non-irritating
Four different attachments
4
Best Bikini Trimmer for Closest Shave
Women's Electric Bikini Trimmer
This trimmer head is angled, which helps you get the closest shave possible. The trimmer head also comes in five adjustable positions, so you can adjust based on how close you want your hair shaved. One reviewer says it all: "Not to be too graphic, this thing can clear a rainforest."
Provides incredibly close shave
Adjustable
5
Best Bikini Trimmer for Travel
BikiniGenie Cordless Bikini Trimmer
Philips
amazon.com
$19.99
This trimmer is cordless and compact, making travel a breeze. "I always had a hard time finding a trimmer that works, as some of them are irritating and pull the hair, but this one [is] perfect," raved one reviewer. "This trimmer trims the hair smoothly without pulling the hair."
Compact size
Comes with cleaning brush, three attachments and travel pouch
6
Best Bikini Trimmer for Sensitive Skin
Bikiniperfect Advanced Bikini Trimmer Kit
Philips Beauty
amazon.com
$37.95
This trimmer comes with tons of different attachments to truly customize your shave — it has a micro shaver, a precision epilator, a precision comb and a micro trimmer. The blades are made using hypoallergenic foil to reduce irritation. "I looked for a long time trying to find a bikini trimmer that didn't bite back," one reviewer said. "This is it! I couldn't be happier. Very close trim but no grabbing or cutting in sensitive areas."
Provides close shave
Blades made of hypoallergenic foil
Comes with four different attachments
7
Best Nick-Free Bikini Trimmer
Electric Razor for Women
This trimmer is easy to control and fits perfectly in your hand. It also comes with an LED light for an easy shave. This razor is also virtually knick-free, with many reviewers saying that unlike other trimmers they've used, this one never causes any cuts.
LED light to guide your shave
Comes with stand for easy access
Non-irritating
8
Best Bikini Trimmer for Beginners
Bikini Precision Women's Trimmer
This compact trimmer is all about precision. Its compact design makes it foolproof, even for those who have never used a trimmer before. "It gave me a very smooth cut, it's very easy to use and lightweight," says one reviewer. "It doesn't pinch when cutting. It even comes with a handy travel bag."
9
Best Bikini Epilator
Epilator Silk-épil 9
Epilators are a bit different than your typical trimmers. While trimmers remove hair at the surface level (like shaving), epilators remove hair at the root (like waxing or tweezing). Be prepared for a bit more pain since you're pulling hair from the roots, but if you pull your skin taut, you can minimize the ouch-factor. Reviewers praise this epilator for being easy to use and leaving them with incredibly smooth skin (plus, you can use it either wet or dry).
Can use wet or dry
Allows you to go longer between trims
Can cause pain and irritation
10
Best Bikini Trimmer for Dry Shaving
Flawless Nu Razor Rechargeable Electric Razor
Unlike many razors, this bikini trimmer is meant to be used for removing hair on dry skin. "This product is fabulous," raves one reviewer. "I received it today. I opened it, had my legs shaven and smooth in about three minutes. I love this little thing!"
Can use on dry skin
Non-irritating
This content is created and maintained by a third party, and imported onto this page to help users provide their email addresses. You may be able to find more information about this and similar content at piano.io
Advertisement – Continue Reading Below