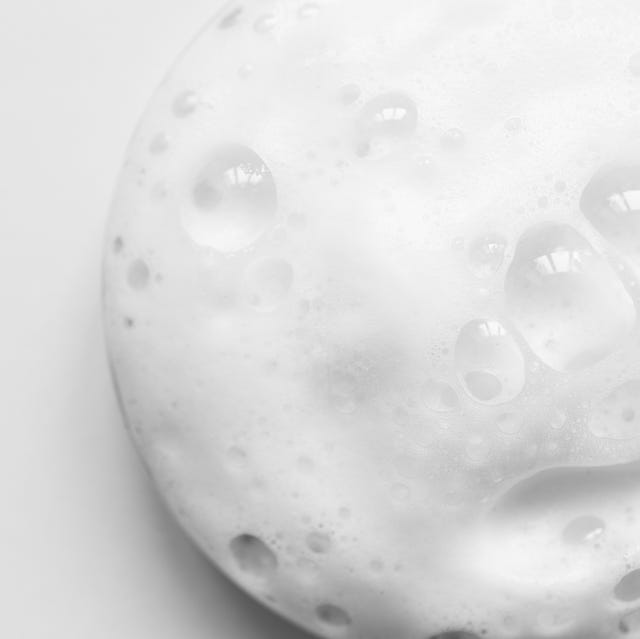 olhakozachenkoGetty Images
If you feel bummed every time you have an acne breakout because nothing in your bathroom cabinet seems to keep the pimples at bay, you're not alone. Adult acne is incredibly common, affecting 40-54% of people over the age of 25. And yet, as common as it is, every person's skin responds differently to different treatments. Like, that face-wash your friend swears by may leave your skin feeling dryer than you would like, while that cream you saw people raving about on TV doesn't quite zap your zits. Overall, the search for the perfect acne-clearing products can be tricky and, at times, really frustrating.
There are some general tips many adults with acne-prone skin can follow, according to Angela Lamb, a dermatologist at Mount Sinai. For example, when shopping in the skincare aisle at the drugstore you may want to:
Find products that promote skin cell turn over. Breakouts often occur when dead skin cells over-accumulate and prevent your hair follicles from secreting sebum (the oil that makes your skin nice and supple) as well as bacteria that cause infection. As a result, whiteheads, blackheads and/or pimples pop up as follicles get clogged and inflamed. Products that include ingredients like retinol, salicylic acid, lactic acid and alpha hydroxy acids can help to boost skin cell turn over and keep your pores clean and clear, says Dr. Lamb.
Avoid ingredients that clog your skin. Some moisturizers contain heavy ingredients like petrolatum or mineral oils that may block your pores, says Dr. Lamb. Looking at a product and not sure if the ingredients are "heavy" or not? Dawn Marie R. Davis, M.D., a dermatologist at Mayo Clinic, says to look for the "noncomedogenic" label, which means it's skin-care that's formulated to not clog things up. "For patients with oily skin or sensitive skin, looking for 'oil-free' products may also be important," adds Dr. Davis.
Avoid ingredients that irritate or dry out your skin. According to the American Academy of Dermatology, when your skin trying to heal the acne, further irritating the affected area by washing, scrubbing or moisturizing with something your skin doesn't like can lead to more breakouts. That's why Dr. Lamb's not fan of certain exfoliators for acne-prone skin."Patients think they are helpful when they tend to be too harsh," she says.
Still, even when you do keep all of these tips in mind, finding the most effective products for your unique skin can be a long process of trail and error. So, to give you a head start on your search, we've asked acne specialists — from dermatologists to aestheticians — what they thought were some of the best acne products on the market. Of course, always work with your skin doc before you try any of these so you can make sure you're crafting the best skincare routine for you and your skin type.
Advertisement – Continue Reading Below
1 Foaming Facial Cleanser
CeraVe is one of the most popular, over-the-counter brands for creating products that are designed for various skin types. Jennifer Wong, PA-C, a dermatology physician's assistant at Advanced Dermatology PC, loves this particular foaming wash because it's gentle so it's great for those who have sensitive, acne-prone skin. It's a fragrance-free and non-comedogenic cleanser that removes excess oil and dirt that may clog your pores.
2 Acne Clarifying Cleanser
Alumier
alumiermd.com
$48.00
"This cleanser combines salicylic acid, honey and rice bran extract to deeply cleanse the pores, hydrate the skin and control blemishes in a healing environment," says Corey L. Hartman, M.D., the founder of Skin Wellness Dermatology. In other words, this wash not only works to clear unwanted gunk away, it soothes and calm your skin while it works to improve your complexion. This product is especially great for those with darker skin types that may be affected by post-inflammatory hyper-pigmentation, says Dr. Hartman.
3 Antimicrobial Acne Creamy Wash
If your skin is on the oilier side, you may want to try a product that has benzoyl peroxide in it such as PanOxyl, according to Wong. Like salicylic acid, it helps to break up dead cells and excess oil, but it also works as an antiseptic that kills acne-causing bacteria. If your skin is really sensitive or on the dryer-side, though, you may find that benzoyl peroxide is too harsh, despite PanOxyl's claim that this wash is on the gentler side.
4 LHA Cleanser Gel
SKINCEUTICALS
amazon.com
$62.88
SkinCeuticals is a acne-busting hydroxy acid-based wash that, "cleanses the skin deeply as it decongests the pores and gently exfoliates to refine the texture of the skin," according to Dr. Hartman. "It help[s] to even the skin tone while cleansing the skin without over-drying."
5 Super Radiance Resurfacing Facial
Charlotte Tilbury
us.charlottetilbury.com
$70.00
If, for some reason, using the typical acne products in your daily regimen irritates your skin, Dr. Lamb recommends this resurfacing facial. "I love [it] because you can use it one to two times per week to help promote skin cell turn over if you aren't able to use a acne prevention products regularly," she says. It's a bit expensive, but what makes this product unique is its blend of three types of hydroxy acids — glycolic acid, salicylic acid and bio agave acid — which each work together to exfoliate and brighten your skin.
6 Effaclar Adapalene Gel
La Roche-Posay
amazon.com
$29.99
This oil-free, non-comdogenic gel is highly recommended by Beth Goldstein, M.D., a board-certified dermatologist and founder of Central Dermatology Center. It's a prescription strength retinoid treatment, and retinoids, according to experts at Stanford, help to clear acne and prevent breakouts by increasing cell turnover and reducing pimple-exacerbating inflammation. Oh, and by the way: This product has won a bunch of health and beauty awards in some of the most circulated magazines such as Cosmopolitan.
7 Salicylic Acid Acne Treatment Gel
This affordable, over-the-counter acne control gel is a winner among many dermatologists. It contains salicylic acid, which is "excellent for [getting rid of] excess oil," as well as "dissolving dead skin cells that clog the pores," according to Renée Moran, M.D., owner of Dr. Renée Moran Medical Aesthetics and RM Skincare.
8 Acne Treatment
This is a very popular retinoid gel that can be very effective in treating troublesome breakouts, according to Tracy Evans M.D., M.P.H., a board-certified dermatologist and medical director of Pacific Skin and Cosmetic Dermatology. However, she does warn that this gel can be rather drying. For dryer skin types, this "needs to be used slowly like every third night after moisturizing," says Dr. Evans. Or if you're looking for a close alternative, "have your dermatologist prescribe Tretinoin (0.025-0.1%) in the correct strength for your skin," she adds.
9 Skin Care Clear It Up Acne Clearing + Tone Correcting Gel
This gel "has a great mix of salicylic acid, niacinamide and azelaic acid to improve breakouts," says Dr. Lamb. Niacinamide, according to experts, is an anti-inflammatory that can reduce the redness and swelling associated with acne as well as regulate the amount of oil being produced by the glands in your skin. Meanwhile, azelaic acid works to reduce redness as well as kill-off any menacing microbes that can infect your pores.
10 Clearing Serum
AlphaRet®
skinbetter.com
$125.00
As expensive as this product is, Dr. Hartman suggests that if it works for you, it may be worth every penny. This serum, "adds salicylic acid to SkinBetter's near-perfect lotion, which packs retinol and lactic acid into a formulation that is well tolerated by everyone," he says. "It's a soothing serum that hydrates the skin and skips the irritation experienced with most retinols." He highly recommends it for BIPOC or anyone with darker skin types that are prone to hyper-pigmentation.
11 Cleanance Concentrate Blemish Control Serum
Eau Thermale Avène
amazon.com
$28.00
For a less-expensive serum, Dr. Hartman also thinks Avène's variety is effective and gentle enough for sensitive skin types. It's water-based as well as fragrance and silicone free. And it also contains ComedoclastinTM, a stabilized extract derived from milk thistle, which Avène claims "targets the appearance of blemishes at every stage."
12 Face Moisturizer
Cetaphil
amazon.com
$10.48
After you cleanse and apply your serums, it's important to moisturize to soothe your skin. Many dermatologists recommend Cetaphil's acne products, and this company makes a salicylic moisturizer that can clear acne as well as keep your skin soft and supple. This product also contains probiotics which may strengthen your skin barrier and protect it from being damaged or irritated.
13 Clear Complexion
Aveeno's acne line is also another go-to among the dermatologists we reached out to. Their moisturizer is a particular favorite as it's oil-free, hypoallergenic and non-comedogenic. The salicylic acid and soy complex formula works to fight breakouts as well as even out skin tone.
14 So Rich Hydrating Gel
SeSpring
amazon.com
$24.99
This moisturizer makes the list because it includes camellia flower extract, which, according Joshua Ross, a celebrity aesthetician at SkinLab, can soothe and tame acne-induced inflammation "The viscosity and lightness of this gel moisturizer helps it penetrate deeper into the skin without leaving it greasy and it won't clog pores," he adds.
15 UV Daily Moisturizer with SPF Sunscreen
This oil-free, moisturizing sunscreen is great to put on in the morning before you head out for the day, says Dr. Evans. It has an SPF of 40, so it's geared to protect you from damaging UVA and UVB rays; and it also contains zinc, which some experts believe can reduce inflammation.
16 CC Screen
Supergoop!
amazon.com
$39.00
Ross loves Supergoop CC Screen, because not only does it protect your skin from the sun, it "has 20% zinc which is very high quality," he says. Zinc, as we've mentioned above, is great for calming irritated skin. This sunscreen is also a concealer, so if you're looking for a moisturizing sunscreen that doubles as makeup, this product might be something you'll want to try.
This content is created and maintained by a third party, and imported onto this page to help users provide their email addresses. You may be able to find more information about this and similar content at piano.io
Advertisement – Continue Reading Below