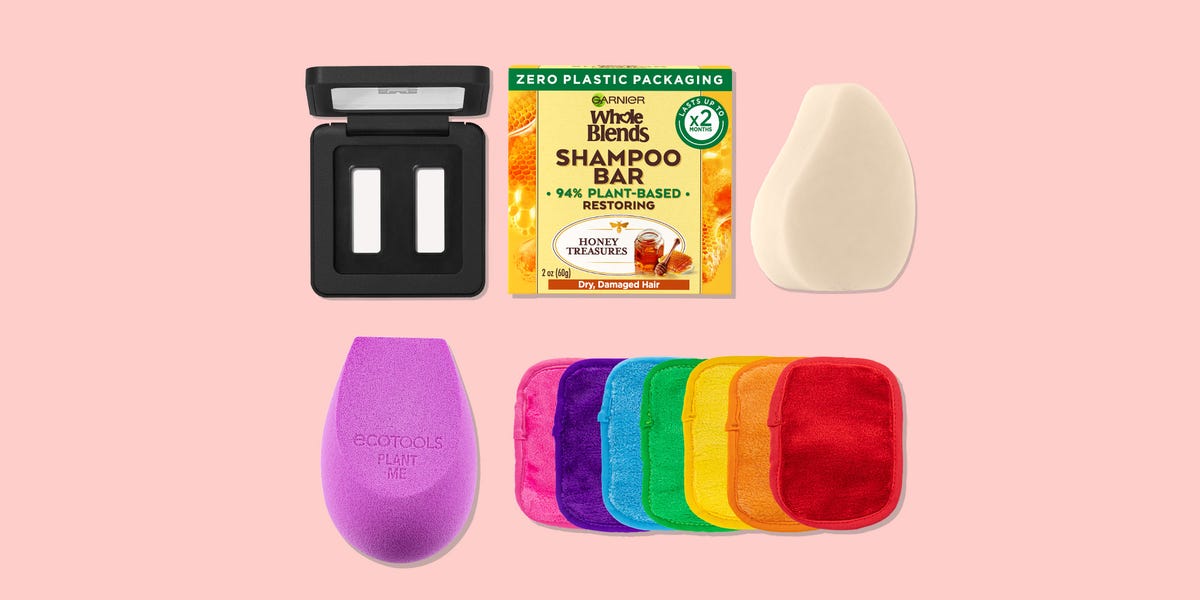 We humans produce a lot of garbage — close to 300 million tons or about five pounds per person per day, according to the Environmental Protection Agency. And even though many of us now recycle plastic and glass containers and other materials on the regular, about half of all municipal waste still ends up in landfills. Unfortunately, beauty packaging is likely a big chunk of that. According to Zero Waste Week, more than 120 billion units of cosmetics packaging were produced globally in 2018 alone.
The good news is that it's easier than ever to reduce your family's environmental footprint, especially when it comes your beauty routine. We rounded up five of the simplest swaps you can make that won't sacrifice style (or results!) in the name of sustainability.
Garnier Whole Blends Honey Treasures Restoring Shampoo Bar
Want to raise the bar on your regular shower routine? Consider swapping your shampoo for these innovative bars. Available in four varieties for various hair needs — Honey Treasures (nourishes dry, damaged hair), Coconut Oil & Aloe Vera (hydrates normal hair and is also sulfate free), Oat Delicacy (softens fine to normal hair), and Ginger Recovery (helps to strengthen weak hair) — these solid shampoos cleanse and lather strands just like a liquid shampoo, but without the plastic packaging. Instead, they come in a Forest Stewardship Council-certified cardboard box and last up to 40 washes. In addition to zero plastic packaging, other things you won't find in these handy bars: silicones, preservatives, soap, or dyes. All you're left with is soft, nurtured, beautiful hair.
Ren Atlantic Kelp and Magnesium Anti-Fatigue Body Cream
Already an environmental all-star for its use of recycled ocean plastic bottles and other sustainable ingredients, packaging and practices, Ren Clean Skincare has now partnered with the company Loop to offer its products in refillable glass containers. How it works: Purchase from the Loop web site and they'll send you a large-size container in a reusable shipping "tote." When you finish the product, put the empty container back in the tote, schedule a pickup or drop it off for shipping. Loop then professionally cleans, and refills it, then sends the full bottle back to you, "closing the loop." And although there is a slight upcharge, it's only about $0.60 per ounce.
EcoTools Bioblender Biodegradable Makeup Sponge
According to EcoTools, a traditional makeup sponge that you might use for just a few months can take around 50 years to break down. Not this one. According to the brand, it's made of water, corn and other naturally derived ingredients, and they claim that it can be composted in your home bin and will degrade by more than 75 percent in only 180 days. Plus it has lots of five-star reviews, so you can also expect it to perform beautifully, whether you use it damp for a dewy application or dry for full coverage and touchups.
MakeUp Eraser 9-Pc. Wanderlust Set
Disposable cleansing and makeup-remover wipes are super convenient — and also produce a ton of waste. The truth is, though, it's not really that inconvenient to switch to a reusable cloth instead and just throw it in the washing machine with your weekly load. This set gives you seven small cloths made of tiny fibers on one side that suction up dirt, makeup and oil and longer fibers on the other that exfoliate. And while you do have to spend more up front than you would on disposable cloths, you save money and waste in the long run; each wipe lasts three to five years and replaces a whopping 3,600 makeup wipes.
Mob Beauty Build a Palette
How many palettes do you currently own where you've used only one or two shades and the rest you barely touch? MOB Beauty lets you customize your own reusable/refillable palette with a huge variety of shades and categories of products, including eyeshadow, cream blush, powder blush, highlighter, bronzer and liner, all ready to mix and match. What's more, each refillable palette (like all of MOB's packaging) is 100 percent PET resin, which is the most easily recyclable plastic available today. Another bonus: Think of the space and money you'll save having a full-face palette with only your best and favorite shades!
This content is created and maintained by a third party, and imported onto this page to help users provide their email addresses. You may be able to find more information about this and similar content at piano.io