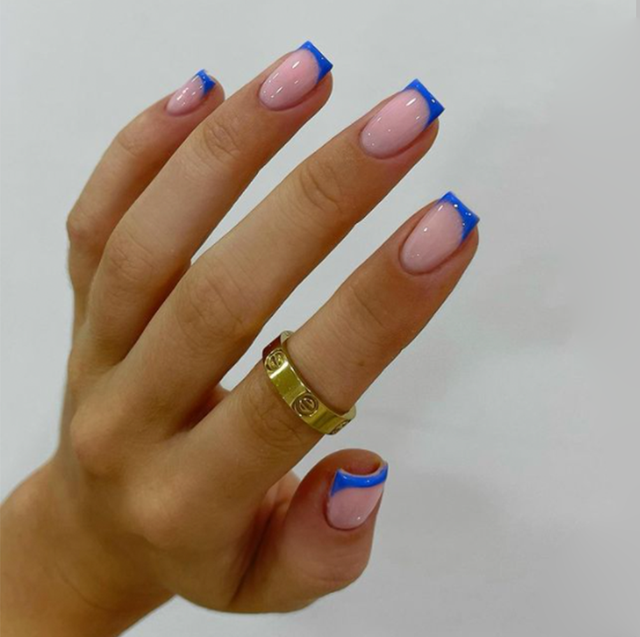 joelyoceannails
You've got the dress, the veil, the venue — and the partner, of course. But what type of manicure should you rock? For some brides, floral nail art is the perfect pick, while others prefer to go glittery. There are also plenty of other bridal nail designs to try that work perfectly for your big day, whether you want to add an ombré effect to your nails, try one of the many modern variations of a French manicure or add abstract lines and shapes.
Whichever type of bride you are, you're sure to find a fitting design here. There are also tons of different nail shapes to help you decide which you'd like on your wedding day, from edgier coffin nails to delicate almond tips. Below, our favorite wedding nails for every bride — and bridesmaids too!
Advertisement – Continue Reading Below
1 Coffin Ombré French Nails
Nothing feels more classically bridal than a French manicure. Take a twist on the classic by turning it into an ombré look on coffin nails — blend white tips into pinky-nude nails.
2 Gold Glitter Ombré
Infuse some pizazz into your wedding look with gold glitter ombré nails. Keep the base natural for a clean look.
4 Bejeweled French Manicure
If you love an elevated classic manicure, try an embellished French manicure for your big day. Jewels add a fun, multi-dimensional effect.
6 Subtle Nude Coffin Ombré
If you've been thinking of doing nude nails for your wedding, but want something a bit more unusual, try the most subtle ombré imaginable — this manicure fades from tonal nude to blush pink.
7 Sparkly Silver
Make a statement with glittery chrome nails. For a look like this, don't bother with designs — let the nail polish do all the talking.
8 Classic French
You can't go wrong with a French manicure as you walk down the aisle. Almond-shaped nails accentuate this simple classic.
9 Blue French Tips
Get creative with your something blue and paint French tips royal blue instead of white. Squared tips add a bit more drama to elevate the look.
10 Pastel Blue Ombré French Manicure
If your color scheme is filled with pastel blues, try another playful take on the French manicure with light, barely-blue tips. Tiffany, robin's egg and baby blue come together to make this manicure dreamy.
11 Smoky Swirls
Abstract nail art lovers will swoon over this simple design. Smoky gray-blue swirls through a sheer base coat to create an effect like billowing smoke.
12 Red Hearts
These peek-a-boo hearts are super sweet. Red makes them pop against a white dress.
13 Emoji Hearts
Everyone's favorite emoji also happens to make incredible nail art. Capture how you feel on your wedding day with these fun nails.
14 Colorblock Blue
If you need "something blue" but prefer a strong, bold look, try a colorblocking manicure.
15 Simple Constellations
Perfect for a minimalist who also consults the Co—Star app before every life decision (including marriage). Bonus points if each hand has aspects of you and your partner's star signs.
16 Gold Wedding Tips
Simple and elegant, gold French tips are the perfect twist on the classic for a bride who still wants to look understated.
17 Simple Florals
Put your favorite flower on your nails with this simple floral design. While these nails are covered in tulips, this will work with any flower.
18 Reverse French Manicure with Glitter
Flip a French manicure around by trying out a reverse French. Round it out with glitter tips and you have the perfect understated nail design.
19 Red Lines
Red nails will always pop. Using red as an accent to complement a milky white manicure looks chic.
20 Blue Ombré
There are so many beautiful shades of blue out there — don't settle for just one on your big day. Creating an ombré effect on your hand with multiple shades of blue looks unique.
21 Subtle Stars
Teeny stars pop against an opaque white mani. Square tips add contrast to this dreamy look.
22 Simple Jewlels
Shimmery off-white nails are quintessentially bridal. Give them a little extra flair with a tiny jewel on each nail.
23 Glitter Ombré
If you want a little extra glitz and glamour on your big day, swiping a sparkly shade on the tips will strike the perfect balance.
24 Golden Details
Sometimes the simplest geometric designs are all you need to make a bold statement. This gorgeous manicure features a nude base and delicate strips of gold on each nail, which will coordinate beautifully with gold or rose gold jewelry.
25 Blue Smiles
You may need something blue, but you're certainly not feeling blue — make that obvious with this cheerful manicure.
26 Fun Flowers
Save intricate flowers for your bouquets and keep the flowers on your nails whimsical and colorful. These simple flowers are eye-catching and easy to recreate — all you need is a dotting tool.
27 Monochromatic French Manicure
Keep a French manicure's traditional white tips, but opt for an edgier version by picking a white shade two shades lighter than the tips for the base.
28 Heart Accents
Red tips look sophisticated and daring. Amp them up a notch by adding red hearts to each ring finger (or just your left hand to accentuate your ring).
29 Simple Nude Manicure
If your vibe is super simple and elegant, nude nails are the perfect option. Go for a color just a few shades off from your skin tone to add the perfect amount of subtle contrast.
30 Silver Stripes
Rock a white manicure, but give it a little edge with a silver strip on an accent nail. This line helps elongate your fingers.
31 Blue Marble
For bold and unique nails that truly stand out, go for a marble manicure that almost looks like tie dye. Keep the colors in the same family to make sure it's still wearable.
32 Glittery Pink
Pink nails are timeless, stylish and they look good on everyone. Try a few different shades and some sparkles to really draw attention to your manicure.
33 Shades of Gray
Different shades of gray on your nails look bold while still looking neutral. Add a line of tiny jewels to the bottom of one nail to make your hands wedding-ready.
34 Gold Accents
Sometimes, simplicity is best. Nude nails get a sophisticated glow-up with golden dots.
35 Starry Night
Perfect for an edgier bride that wants a dose of magic before her first day, this mystical manicure will infuse your day with sparkles.
36 Cloud Nine
A manicure doesn't get much dreamier than this. Fluffy white clouds are the perfect accent to your wedding dress.
37 Classic Red Manicure
Red nails go with absolutely everything — for versatility purposes, red is practically a nude. If your go-to manicure is always red, do it for your big day, too.
38 Animal Print
While it might seem like an impossible task to make animal print look understated, it's completely possible. These cloudy white nails look extra chic with white leopard spots on top.
39 Dainty Daisies
Try a simple and delicate daisy pattern on your nails for a minimalist design that still looks exciting.
40 Double French
There are plenty of ways to try a modern French manicure on your wedding day, but if you want to keep it as classic as possible while still adding a twist, try a double French with a thin arc.
Katie Berohn
Katie Berohn is the Beauty Assistant at Good Housekeeping, Woman's Day and Prevention magazines, all part of the Hearst Lifestyle Group.
This content is created and maintained by a third party, and imported onto this page to help users provide their email addresses. You may be able to find more information about this and similar content at piano.io
Advertisement – Continue Reading Below