(11 Aug 2021) Sebastian Hinsch has joined the Four Seasons Hotel Seattle as General Manager.
Born in Sao Paulo, Brazil and raised in Hamburg, Germany, Sebastian's journey with Four Seasons began in 2001 at The Pierre Hotel in New York, formerly a Four Seasons property, as Assistant Food and Beverage Manager.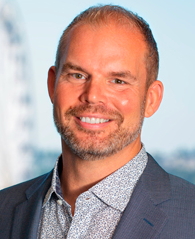 From there, his career has took him across the globe to Four Seasons Hotel Sydney, Australia, before returning to the US at Four Seasons Resort Jackson Hole and Four Seasons Hotel Houston.
After Houston, Sebastian moved to Hawaii as Director of Food and Beverage at the Four Seasons Resort Hualalai. This was followed by a promotion to Hotel Manager at The Ritz Carlton Hotel Chicago (formerly a Four Seasons hotel), and later Four Seasons Hotel Los Angeles at Beverly Hills under the same position.
Most recently, Sebastian worked as Resort Manager of the Four Seasons Resort Hualalai, a position he held since 2017. In 2020, he led the team as acting General Manager through a USD 120 million dollar renovation of the property.
"It's the unexpected little touches that show our guests that we know who they are, and why they are here," said Sebastian. "While the Four Seasons experience may look different in this new environment, the intuitive service that we deliver in a meaningful and safe way has not gone away and is what distinguishes ourselves from others."
Sebastian has a Bachelor's Degree in Hotel and Restaurant Administration from Hamburger Hotel Berufsschule.
See latest Travel Industry News, Video Interviews, Podcasts and other news regarding: Four Seasons, Seattle, GM, General Manager.