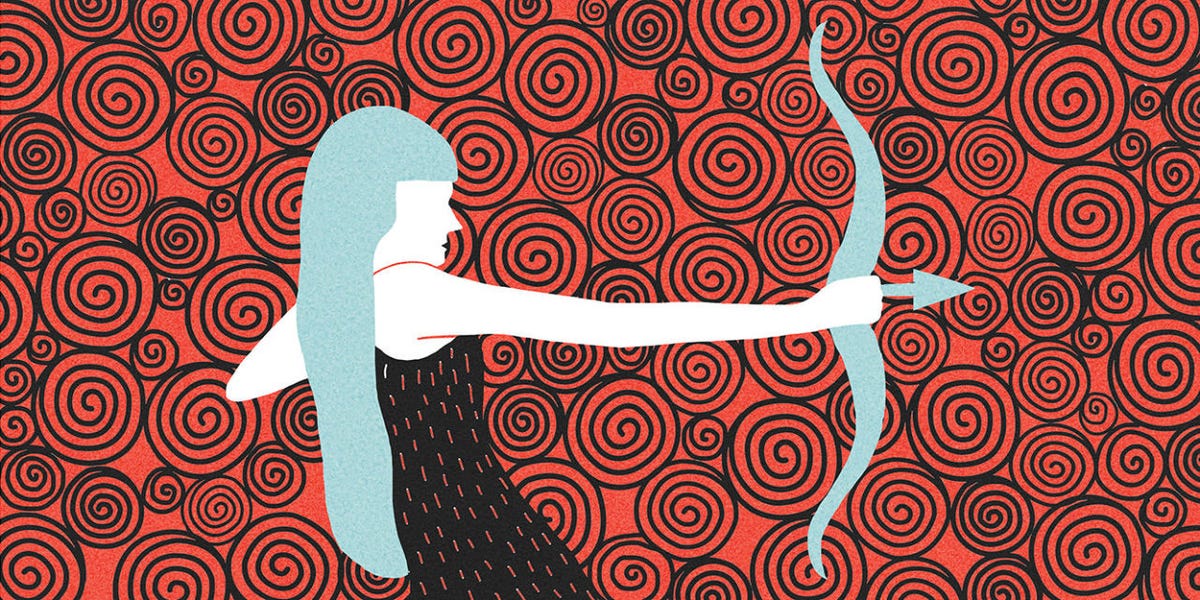 None
As you stretch into new terrain, Sagittarius, it's important to touch base with the key supporters in your life so you can find out the impact your growth is having on them. Admittedly, this process can be messy at times. And as the saying goes, every action has an equal and opposite reaction. You may see the need for a few course corrections this Monday, August 2, as the indie-spirited Leo Sun gets checked by astro-auditor Saturn (which is parked in your third house of partnerships). In your zeal to expand and explore, did you accidentally abandon an ally or leave a collaborator holding the bag? Oops! Offer up a sincere apology—and maybe treat for lunch, the Sagittarius love language. Then, do what you can to make it right. Maybe it's just a reassuring talk, letting them know how much they matter to you. Or, maybe you need to make good on a past-due promise.
In some cases, you might actually realize that it's time to break up the band and go pursue solo projects. It's an Archer's prerogative to change your mind—and you certainly shouldn't stick around out of pure obligation if there's no benefit to you. Try to exit in a way that leaves the least amount of collateral damage. (Read: Don't just go MIA.) Bridges don't have to be burned in a blaze of glory, so help ease the transition process to the best of your abilities. On the flip side, are your so-called partners-in-crime not stepping up to the plate? With weighty Saturn in your communication zone, you may have to deliver a strong wake up call. Pep talks are great, and you should do your best to keep it positive. But don't gloss over the issue if your needs are not being met. Find out honestly if people CAN give you what you need. If not, search elsewhere. It may very well be time for an upgrade.
Devote Tuesday to a professional or passion project that hasn't quite ranked high enough to get prime-time attention from you. A rare (twice-a-year) positive angle between creatrix Venus in your career corner and game-changing Uranus in your sixth house of labor, service and organization will have you buzzing with inspired productivity. And if you screen out social distractions, you'll be able to accomplish twice as much in a fraction of the time. If you can sit down and focus on this without interruptions, you'll be amazed at what you can produce. And if you really get in a groove, you might channel this industrious energy toward clearing out your inbox or stack of bills. If you find a way to blend Venus' artistry with Uranus' brand of innovation, you may actually reinvent the wheel! Romantically, this is a great day for experimenting with new ways you and your S.O. can support each other's goals. These freedom-loving planets say, "empower, don't enable." Step back if you're too involved in the process because you could be stifling your partner's creativity with all your "help."
Spread your wings on Sunday when the year's only Leo new moon supercharges your ninth house of expansion and exploration. As a mutable fire sign, your interests spread into many areas of life. Treat this day like a vision quest: Wander through arts districts, get lost in the stacks of a used bookstore, then have a spontaneous coffee date with someone you shared author recos with in the Small Business section. Enjoy the elasticity of the discovery process, but DON'T go galloping off without a budget and a plan. This new moon gets T-boned by chaotic Uranus in your systematic sixth house. Yes, having something to look forward to is essential to your happiness, but if you make it too challenging or expensive, you could lose momentum mid-leap and compromise your safety.
If you need to get advanced training or pick up sophisticated software tips, the next few weeks (months, even) are perfect to invest your time and money in YOU. The ninth house also rules travel, so you may be widening your horizons literally, figuratively, or both, over the next half-year. Since every move should support your greater cause, spend time early in August mapping out where you'd like to be six months from now and give yourself until the corresponding Leo full moon on February 16, 2022, to celebrate your success!
This content is created and maintained by a third party, and imported onto this page to help users provide their email addresses. You may be able to find more information about this and similar content at piano.io