(23 July 2021) British Airways has created an interactive map that enables customers to check the travel restrictions and entry requirements of any destination the airline flies to.
The map, created in partnership with global tech company Sherpa, will also help customers understand what is needed for their return the UK.
Visitors to the page will be able to explore the globe to see what travel restrictions each country has in place before booking a trip, searching visually by traffic light colour or by typing in their choice of destination. There is also a tab which allows customers to indicate whether or not they are vaccinated, which will adjust the results.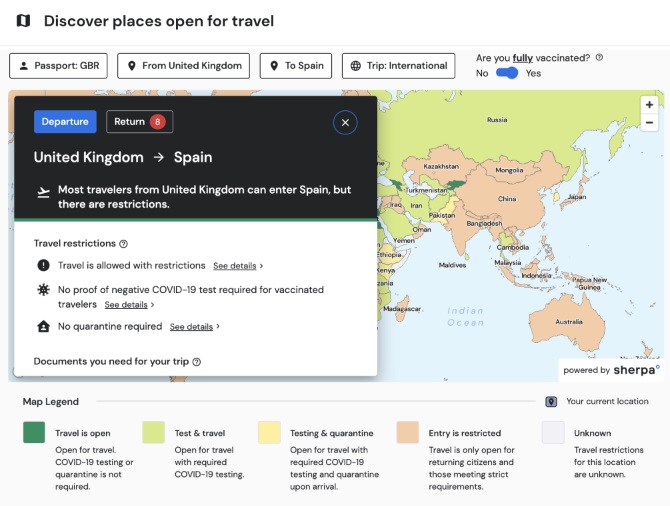 Jack Smith, British Airways' Head of Digital, said, "We know that travel in this new Covid era can feel overwhelming for our customers, and our job is to make their lives as straightforward as possible. This new tool, which has been tried and is trusted by our joint business partner, American Airlines, will help people navigate the differing entry requirements, to allow for a smooth booking and travel experience."
British Airways' existing online COVID19 hub includes information on flexible bookings, testing, how to use a voucher and what the British Airways flying experience looks like for those that haven't travelled for some time.
British Airways has also introduced a number of measures at the airport and on board to look after the safety and wellbeing of its customers and crew. These include social distancing measures, the wearing of face masks (which remain in place) and hand sanitiser stations.
Prior to travel customers will receive details of how they can prepare for their journey, including information on discounted testing providers.
See latest Travel Industry News, Video Interviews, Podcasts and other news regarding: BA, British Airways.