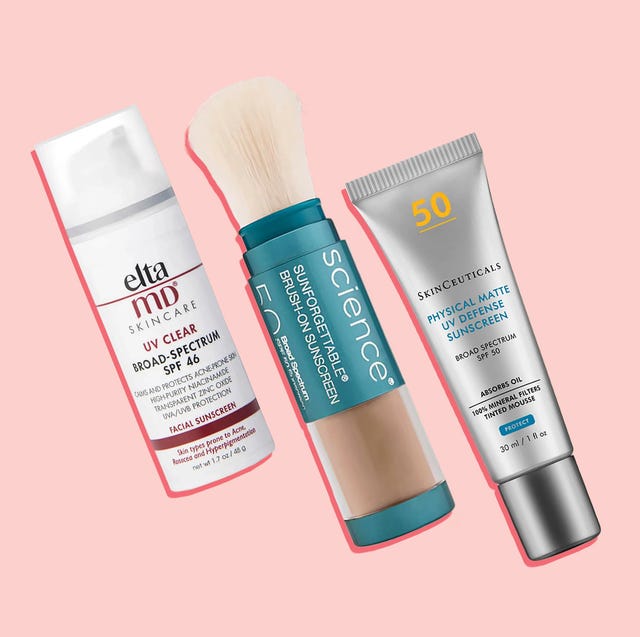 We know that wearing sunscreen every day is non-negotiable, but slathering on just any formula can irritate acne-prone skin and potentially lead to breakouts. Thankfully, there are SPF options that not only prevent new breakouts but can also help to minimize (and camouflage!) existing acne flare ups.
Some key ingredients to search for: niacinamide and lactic acid. "Niacinamide is anti-inflammatory, strengthens the skin barrier, and can help to reduce the appearance of acne scars," says Illinois-based dermatologist Jessie Cheung, M.D. "And lactic acid will gently exfoliate clogged pores, which will help to improve texture over time."
Most importantly, don't make the mistake of believing the myth that the sun will help to dry out your acne, warns Dr. Cheung. "Don't tan to camouflage your blemishes! The sun will damage and dry out your skin, causing irritation, clogged pores, and can darken scars."
And when it comes to choosing the perfect sunscreen for acne-prone skin, it can be overwhelming to narrow down the best of the best, so we asked Dr. Cheung to whip up a list of the products she recommends—here's what made the cut.
Advertisement – Continue Reading Below
1
The Everyday Go-To
UV Clear Broad-Spectrum SPF 46
EltaMD
dermstore.com
$37.00
Dr. Cheung recommends this formula because it gives broad-spectrum protection, has lightweight hyaluronic acid to hydrate (remember: acne-prone skin needs moisture too), and it contains lactic acid to gently exfoliate.
2
Great For On-The-Go
High Protection Tinted Compact SPF 50
Avène
dermstore.com
$36.00
This purse-friendly sunscreen compact has a mirror and sponge built-in. Plus, "it contains thermal spring water with a unique microflora that soothes the skin and is lightweight but highly pigmented for blemish coverage," says Dr. Cheung. Just remember to wash the sponge regularly!
3
Best Tinted SPF
UV Physical Broad-Spectrum SPF 41 Sunscreen – Tinted
EltaMD
dermstore.com
$34.00
According to Dr. Cheung, this mineral formula is loaded with antioxidants (like linoleic acid, quercetin, and thioctic acid), which can actually make your SPF more effective! Bonus: The subtle tint gives your skin a natural-looking, even-toned glow.
4
The Sheerest Formula Out There
Ultra-Light Fluid Face Sunscreen Broad Spectrum SPF 60
La Roche-Posay Anthelios
dermstore.com
$29.99
It's easy to forget you're wearing this sunscreen. "The ultra-sheer mineral sunscreen melts into the skin," says Dr. Cheung. And, more importantly, "it fights environmental damage with Cell-Ox Shield—a combo of broad spectrum UVA/UVB filters and senna alata, a tropical leaf extract that helps neutralize the free radicals that can cause the skin to age."
5
Easiest Touch-Ups Ever
Sunforgettable® Total Protection™ Brush-On Shield SPF 50
ColorScience
dermstore.com
$69.00
This one is a game changer. A pure mineral powder built right into a brush so you can dust it on over your makeup anytime, anyplace. Aside from quickly and conveniently protecting your skin, Dr. Cheung notes that it also has iron oxides to protect from the damaging blue light emitted by fluorescent lighting, LEDs, flat screen LED televisions, computer monitors, smart phones, tablet screens, and more.
6
Best Mattifying Finish
Physical Matte UV Defense SPF 50
SkinCeuticals
dermstore.com
$35.00
Need to nix shine? "The lightweight mousse dries to a powder finish," explains Dr. Cheung. "It has silica to absorb oil," she adds, which helps keep skin silky (not slick) even on super warm summer days.
7
Easiest Allover Application
PLAY 100 Mineral Body Mist SPF 30
Supergoop!
dermstore.com
$34.00
"This 100% mineral non-aerosol mist offers broad spectrum protection in a spray," Dr. Cheung says. It also includes botanical extracts and antioxidants (like marigold, sunflower antioxidants and aloe vera) to soothe redness and inflammation.
This content is created and maintained by a third party, and imported onto this page to help users provide their email addresses. You may be able to find more information about this and similar content at piano.io
Advertisement – Continue Reading Below