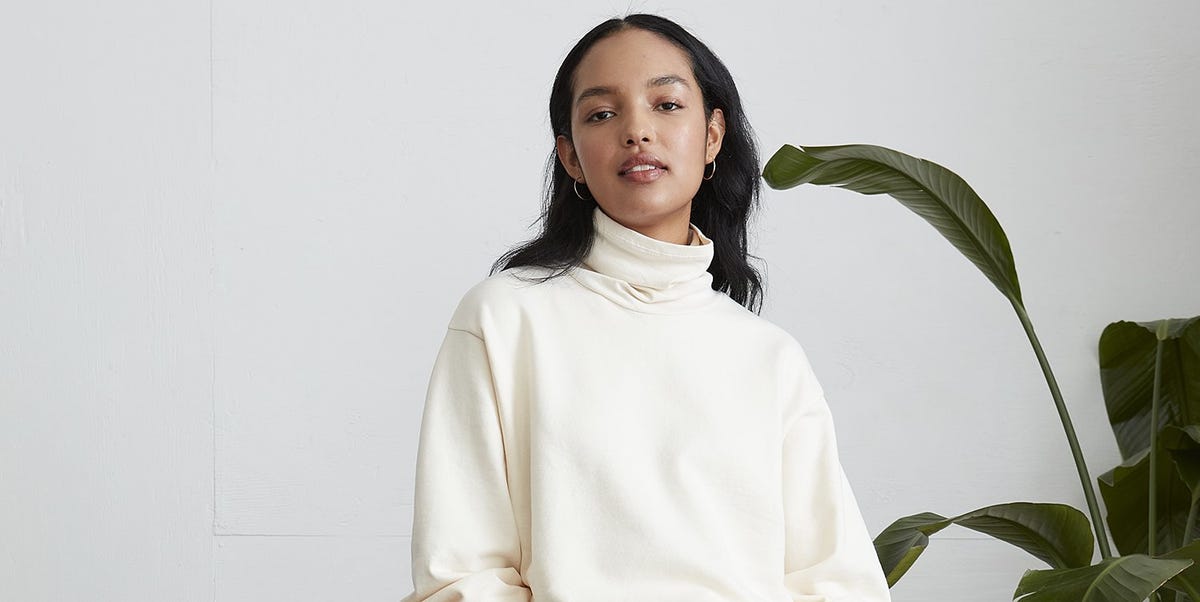 For fall 2021, you might be headed back to the office for the first time in over a year, or you're just planning to refresh your wardrobe with some staple pieces that will carry you throughout the season. Either way, we're here to help you find some cute fall outfits to put together with a few statement pieces and trending items. On our list, we've included tops, jeans and other clothing options that can be paired with things you already have in your closet, like a good fall boot or fall jacket.
We're featuring classic material like leather and denim, but also trying to get your out of comfort zone a bit with fun colors, bold prints and unique cuts you might not be used to. But we promise, everything on our list will have you looking, and more importantly, feeling great with the new autumn weather.
1 Plaid Long Button Down Shirt
SweatyRocks amazon.com
For quintessential fall style, opt for an oversized flannel. Whether you wear it with you favorite jeans or a black silk skirt to add a little class, you'll look cute and cozy.
2 Denim Trench Coat
Good American
goodamerican.com
$89.00
An all-denim look is especially appropriate for fall. You can pair a good demin trench, like this one, with your favorite blue jeans, or mix it up with a skirt.
3 Wrap Skirt
Rec-Room
rec-room.com
$148.00
A wrap skirt is ideal in the fall as it provides all-day comfort. The one featured here has a high waist and is midi length, meaning you can wear it with pretty much any top and have plenty of coverage.
4 Pintuck Pants
Women with Control
qvc.com
$34.96
Fitted, straight leg pants should be a staple in your wardrobe. You can wear them with a button down shirt for work, or pair with a fun patterned top.
5 Maryly Sweatshirt
Grey State Apparel
greystateapparel.com
$128.00
6 About to Bloom Cropped Pants
ModCloth
modcloth.com/
$29.97
We're obsessed with plaid pants, especially when they are in a fun and bright color — like yellow — which can add a pop to your fall wardrobe.
7 Cargo Pant
GUYUEQIQIN
amazon.com
$32.99
Cargo pants are making their comeback and this green pair is a great color for fall. Throw on a top and a fun backpack, and you'll be ready for a day of apple picking with the fam!
8 The Super-Soft Summer Jean Coverall
Everlane
everlane.com
$98.00
For stylish ease, try a basic jumpsuit. Not only can you wear it by itself on a warmer day, but you can also throw on your favorite cardigan or pullover when the breeze blows in.
9 Cali Demi-Boot Jeans in Pure White
Madewell
madewell.com
$128.00
Not only can you wear white denim after Labor Day, but it is also a great way to brighten up your fall wardrobe. For the most comfortable option, wear 'em with a fun sneaker or a basic heel.
10 Olympian Blue Howa Hoody
Daily Paper
dailypaperclothing.com
€44.00
A monochromatic lounge suite is the perfect way to stay cozy while still looking put together this fall. If you want to look extra trendy, put on a pair of simple, pointed heels.
11 Skyline Midi Skirt
Free People
freepeople.com
$50.00
A ribbed pencil skirt is chic and comfortabl. To finish the look, try a cropped sweatshirt, or pair with a simple white t-shirt and denim jacket.
12 Relaxed Denim Overalls
A good pair of denim overalls is a wardrobe game-changer. You can wear them with a basic button up, your favorite blouse or a cozy sweater. Either way one staple piece will give you a fall outfit for every occasion.
13 Leone Red Top
TOVE
tove-studio.com
£175.00
Look sleek and chic this fall in this silk red blouse from TOVE. Whether you pair this with matching silk pants, or a flowy, patterned midi-skirt, you're bound to rack in the compliments.
14 Umi Dress Vegan Leather Black
KAI Collective
kaicollective.com
£300.00
Go bold this fall with a leather maxi dress. While this may not be your everyday look, this dress is the perfect way to wow your friends at your next fall brunch.
15 Crisscross Jeans
AGOLDE
shopbop.com
$188.00
It's all about the details this season. Trade in your basic jeans for a pair that has a bit more embellishment, like a crisscross top.
16 Long-Sleeve Turtleneck Sweater
Amazon Essentials
amazon.com
$20.90
A no-fuss turtleneck will go with any bottom in your closet. Opt for a neutral fall color, like beige, or go bolder with a green or red.
17 Convertible Cardigan
Cardigans and fall go hand and hand, what's really interesting about this one is that it can be styled three ways. A rustic orange or navy hue would be lovely in autumn.
18 Puff Sleeve Floral Dress
Yes, florals in fall can happen. To make it feel less like spring, you can style it with a leather boot and sweater.
19 Puffer Vest
Layers, layers, layers! A puffer vest can be worn over a t-shirt or sweater, depending on the weather. A dark beige will allow it to go with anything.
20 Vegan Leather Pleated Midi Skirt
Banana Republic
bananarepublic.gap.com
$47.00
Soft and sooth, a leather skirt can be dressed up or down. At a mid length, it gives the most coverage, but feel free to opt for something shorter.
This content is created and maintained by a third party, and imported onto this page to help users provide their email addresses. You may be able to find more information about this and similar content at piano.io