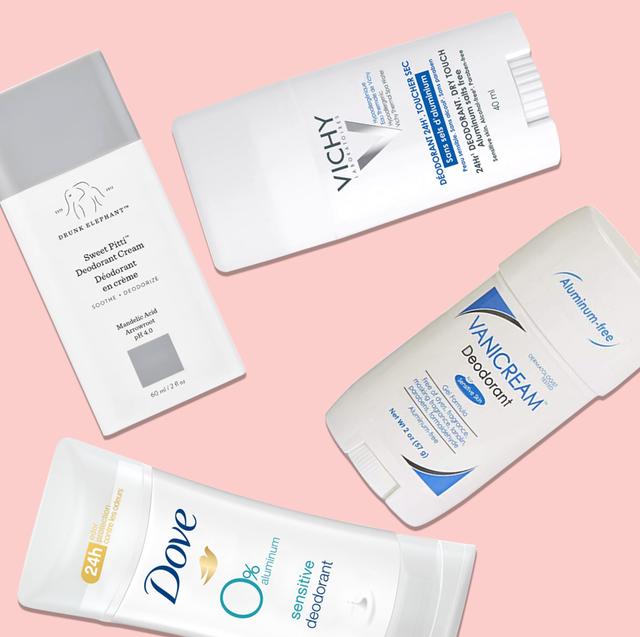 courtesy
Your underarms are naturally one of the most sensitive parts of your body —the skin is thinner and more delicate and it's often warmer and more moist than other areas. If you already have sensitive skin prone to allergies or irritation, your underarm skin may be especially reactive.
Traditional deodorant and antiperspirant formulas can be harsh on the underarm's delicate skin, but luckily, many formulations have come out that not only keep irritations at bay, but also soothe and calm sensitive skin. Dr. Ope Ofodile, MD, MPH, cosmetic and medical dermatologist at Dermatology and Surgery Specialists of North Atlanta, weighs in with what to avoid and look for when it comes to deodorants that are safe, for even the most sensitive underarms.
How to choose the best deodorants for sensitive skin:
When picking a new deodorant, it's important to look for "moisturizing ingredients such as shea butter and coconut oil [to] help soothe sensitive skin under the arms," Dr. Ofodile says. It's also important to know what ingredients to avoid. Though everyone has different sensitivities, Dr. Ofodile says there are some ingredients to look out for that commonly cause irritation for more sensitive skin types, so she recommends patients avoid the following:
Fragrance. While you may want your armpits to smell like roses, Dr. Ofodile says that added fragrances can be harsh on skin.
Alcohol. It's a drying ingredient and can cause further irritation for sensitive skin.
Parabens. They may be common in many skincare products, but if your skin is prone to irritation, they can cause contact dermatitis.
AHA. A chemical exfoliant, high percentages of alpha-hydroxy acids (AHA) can be too harsh for easily irritated underarms.
Aluminum. One of the most common ingredients in traditional antiperspirants, aluminum blocks sweat ducts so that you don't sweat. Many people sensitive to traditional antiperspirants find that aluminum is the problem, so it's best to look for a product labeled a true "deodorant" in lieu of an antiperspirant, or look for "aluminum-free" on the label (think natural deodorants).
Below, find the best deodorants for sensitive skin, based on dermatologist advice and GH editor and Beauty Lab favorites — no matter how reactive your underarms are.
Advertisement – Continue Reading Below
Best Overall Deodorant for Sensitive Skin
Hoppin' Fresh Deodorant
Ursa Major
dermstore.com
$12.50
Formulated with no added fragrances and aluminum, this deodorant is all-natural and suitable for sensitive skin. Blended with aloe vera to calm and soothe skin while you apply, this formula keeps underarms dry while making sure they don't become inflamed.
No added fragrance
Fights odor
Absorbs moisture
Best Value Deodorant for Sensitive Skin
Long-Lasting Unscented Deodorant
Tom's of Maine
tomsofmaine.com
$5.99
You may be familiar with Tom's of Maine as one of the original natural deodorants to hit the market. Aloe and sunflower seed oil help soothe and hydrate. "I am very satisfied," one online reviewer says. "It's unscented and there's no perfumes or dyes in it that I tend to break out because of with other deodorants, and it's natural."
Best Dermatologist-Recommended Deodorant for Sensitive Skin
Aluminum-Free Deodorant
Vanicream
amazon.com
$9.99
"Vanicream Aluminum-Free Deodorant is my absolute favorite," Dr. Ofodile says. "It contains no worrisome ingredients and provides incredible sweat and odor protection all day." This deodorant has no dyes, fragrance, parabens or aluminum.
Ultra-gentle formula
Easy to use
Unscented
Best Long-Lasting Deodorant for Sensitive Skin
Unscented Deodorant
Natural deodorant converts have praised Native for ensuring they never smell. Coconut oil and shea butter soothe sensitive underarm skin while probiotics and tapioca help soak up sweat. "This is not only effective and keeps me smelling nice all day no matter how hot it is outside, but no negative reactions after two weeks of wear," one online reviewer says.
Absorbs moisture
Fights odor
Unscented
Best Salt-Free Deodorant for Sensitive Skin
24-Hour Aluminum-Free Salt-Free Dry Touch Deodorant Stick
Vichy
dermstore.com
$17.00
Alcohol-free, aluminum-free, fragrance-free and paraben-free, this deodorant is good for even the most sensitive underarms. "It's the only aluminum free deodorant I have tried that actually works," one online reviewer says. "It may require reapplying during summer months or after a hard workout, but it still works better than anything else I have tried. It is also great if you have sensitive skin. I have never had a bad reaction from it."
Best Moisturizing Deodorant for Sensitive Skin
0% Aluminum Deodorant
Dove is known for mixing moisturizers into their deodorants, which helps soothe irritable skin. For those with super sensitive skin, there's this formula — it contains 0 percent aluminum, which will ensure your underarms don't get red or itchy. "I am very sensitive to odors and chemicals," one online reviewer says. "This is the only deodorant me and my son can use. No problems with sensitivity at all and it works."
Best Soothing Deodorant for Sensitive Skin
Aluminum Free Natural Deodorant for Women and Men
Schmidt's uses coconut oil and shea butter to moisturize the underarms. "I am very sensitive and react to a lot of fragranced products," one online reviewer says. "This deodorant has no smell and it is amazing at keeping my underarms dry and preventing body odor." Take note: this deodorant uses baking soda, so if you're sensitive to baking soda, it might be good to steer clear or do a patch test before using.
Best Cream Deodorant for Sensitive Skin
Sweet Pitti Deodorant Cream
Drunk Elephant
sephora.com
$16.00
GH Beauty Lab Senior Chemist Sabina Wizemann uses this deodorant. "We all seem not to like or tolerate 'natural' deodorants in my house; we all get itchy underarms (mainly baking soda-based ones seem to trigger that)," she says. "I brought home Drunk Elephant Sweet Pitti Deodorant Cream, and we've been all enjoying it and also being itchiness-free. It is gentle and it keeps the B.O. at bay."
Best Lightly Scented Deodorant for Sensitive Skin
Natural Deodorant
While this deodorant has a light scent, it's completely natural — there are no synthetic fragrances added. It also has no aluminum, parabens or baking soda, making it suitable for everyone. Beauty Director April Franzino doesn't typically use natural deodorants, but if she does, she goes for this one, since it doesn't feel sticky or irritate her skin.
No synthetic fragrance
Gentle
Best Allover Deodorant for Sensitive Skin
Deodorant For Underarms & Private Parts
Not only does this innovative formula keep underarm sweat at bay, you can use it in other sweaty areas of the body. This all-over deodorant is easy to use and keeps sweat at bay. "It rubs in clear and doesn't have a sticky feeling that deodorant gives," one online reviewer says. "It doesn't leave that deodorant film on your skin either, absorbs pretty well and does actually work. The skin feels quite moisturized after using this, as a lotion would do for you."
Easy to use
Moisturizing
Fights odor
This content is created and maintained by a third party, and imported onto this page to help users provide their email addresses. You may be able to find more information about this and similar content at piano.io
Advertisement – Continue Reading Below