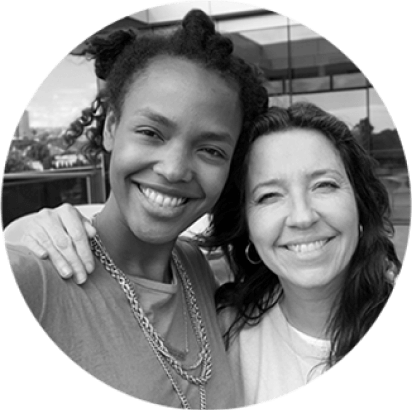 goop beauty editors Jean Godfrey-June and Megan O'Neill love to ask—and answer—questions. On their podcast, The Beauty Closet, they're doing both. To familiarize you with each week's guest, we came up with a goop beauty (and life) questionnaire.
This Week We're Talking To:
April Gargiulo, founder of Vintner's Daughter
The biggest cult in beauty is, without a doubt, a little black bottle full of 100 percent clean botanical extracts and oils from Vintner's Daughter. We first heard about it from makeup artist Alice Lane, who couldn't believe what it was doing to her clients' skin, and on The Beauty Closet, we hear from founder April Gargiulo. A hilarious, gorgeous, Northern Californian mother of two, Gargiulo didn't set out to create a worldwide obsession, but she does do things very, very differently. She stops at nothing in pursuit of what she considers the ultimate luxury: clean skin care that truly changes almost any complexion. Listening to her talk about it is absolutely fascinating.
If anyone's responsible for demonstrating that clean skin care can be even more transformative—not to mention luxurious—than conventional products, it's Gargiulo. She takes "no compromises" to an entirely new level, slowly crafting (her second-ever product, the Active Treatment Essence, took four years to make) exactly what she thinks will work best on skin. "Generosity is the essence of luxury," she says. It's an approach that we (and GP, who's also an avid fan) appreciate every time we pat it on.
Gargiulo's vision encompasses design, style, and even deliciousness along with efficacy. Over a late-afternoon bottle of champagne, tucked into one of the pale-blue banquettes at La Mercerie (the treat of a lifetime—do not delay), we gave her the goop beauty questionnaire
Need help figuring out where to add these into your routine? Have a specific question? Send a message to the pros at [email protected] for personalized assistance.
We hope you enjoy the products recommended here. Our goal is to suggest only things we love and think you might, as well. We also like transparency, so, full disclosure: We may collect a share of sales or other compensation if you purchase through the external links on this page.