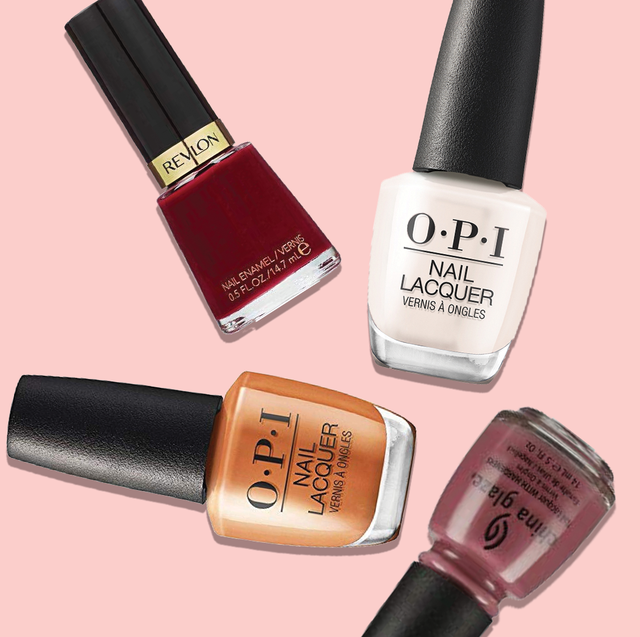 courtesy
As the leaves begin to fall, you may be thinking about all the changes you need to make to your wardrobe: summer sandals make way for fall booties, cozy sweaters replace tank tops, and denim steps in for breezy sundresses. The seasonal transition from summer to fall also means it's finally time to start wearing dark, moody fall nail colors.
So which autumn nail colors are trending this season? From classic nudes that will look perfect in all your apple-picking Instagram posts this fall, to shockingly dark shades that hit the right note for any Halloween manicure, our beauty editors hand-picked the prettiest autumn nail polishes based on this year's best fall fashion trends. These are the absolute best fall nail color ideas to wear in 2021:
Advertisement – Continue Reading Below
1
Sandy White
Nail Lacquer in Coastal Sand-tuary
The fall runways were packed with off-white and nude fingertips, and this sandy shade of white is the perfect nod to summertime if you're not quite ready to let go of warm weather. Bonus: It also goes with everything.
2
Translucent White
Nail Polish in Dew
JINsoon
amazon.com
$18.00
3
Vintage Mauve
Nail Lacquer in Fifth Avenue
While bright pinks reigned this past summer, dusty pink shades are set to rule this fall. Pair a mauve nail polish and lipstick for an on-trend matchy-matchy look.
4
Universal Nude
Nail Polish in Queen B
Auda B
audabbeauty.com
$18.00
Nude is a perennial choice for nails, but this season, the sophisticated shade is hotter than ever. This non-toxic vegan polish isn't your average nude, though — it's formulated to flatter all skin tones, but it's made with deeper skin tones in mind.
5
Merlot Red
Nail Polish in In the Lobby
Grab a bottle of merlot next time you're browsing the beauty aisle — merlot nail polish, that is! The hint of plum in this rich red adds warmth to a classic tone.
6
Pumpkin Spice
Nail Color in Cargo Cameo
If you've been counting down the days until you can order a pumpkin spice latte, this is the color for you. Try a rusty orange to get the "spice" in your pumpkin manicure.
7
Pinky Nude Polish
Nail Polish in Jane
Tenoverten
amazon.com
$18.00
Pink-toned nude nails will never go out of style. This natural polish is five-free (meaning it doesn't have any hazardous ingredients) and cruelty-free, to boot.
8
Cloudy Gray
Miracle Gel Nail Polish in Slate-R Girl
Love a rainy day? Match your mood to this cloudy color and curl up with a good book. This shade also happens to match Panetone's 2021 color of the year, Ultimate Gray.
9
Spicy Red
Nail Lacquer in ¡Viva OPI!
This shade of red polish is daring without feeling overwhelming. Wear this bright color for a bold evening out. It's classic enough to dress up any outfit.
10
Berry Red
Nail Enamel in Plum/Berry
A deep red like this is perfect for trying one of 2021's hottest nail trends: An inverted French manicure.
11
Dusty Orange
Have Your Panettone and Eat it Too
This gorgeous dusty orange does remind us of the perfectly baked hue of the Italian Christmas bread it's named after. Bring a little Italy to your fingertips with this shade that brings to mind the color of autumn leaves.
This content is created and maintained by a third party, and imported onto this page to help users provide their email addresses. You may be able to find more information about this and similar content at piano.io
Advertisement – Continue Reading Below