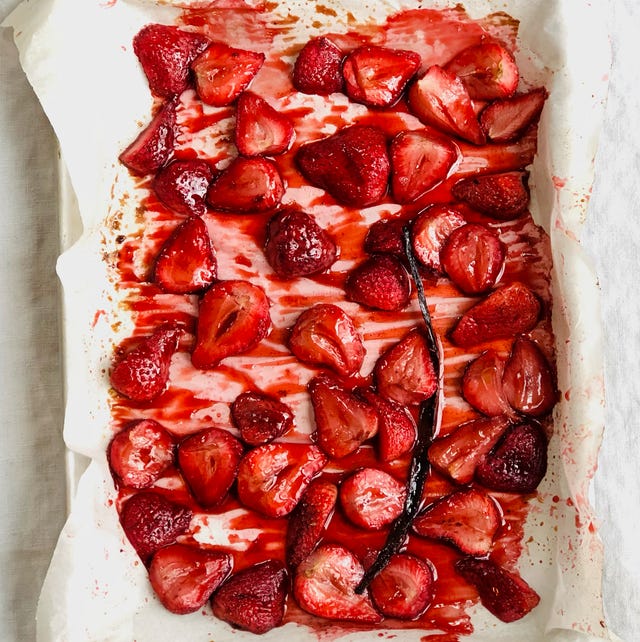 kristina kurek
You might think of roasted strawberries as a way to make good use of an off-season batch – but know that roasting strawberries elevates them, period. The familiar joy of a ripe, sweet and juicy fresh strawberry is undeniable – and it is one of the healthiest fruits to choose for your table. Yet even when strawberry season is in full swing you'll want to break out this technique and fill your kitchen with the intense, deep scent of berries as they roast with honey and sweet vanilla bean, bringing a whole new appreciation for what this berry has to offer.
Roasted strawberries without sugar are an elegant counterpoint in savory dishes (try them with baked brie!), or double the amount you roast to set aside for some more scene-stealing appearances: drop a jar of them into the center of your table when presenting your best brunch recipes as the easiest jammy fruit spread that your guests will reach for again and again, or chill and add a dollop to a crisp cold summer cocktail – you'll be inspired to invent your own year-round menu accents.
Advertisement – Continue Reading Below
Yields: 1 cup
Total Time: 0 hours 50 mins

1 lb.
strawberries, halved, or quartered if large
Heat oven to 350°F. Line a 9- by 13-inch baking pan with parchment, leaving a 1-inch overhang on 2 long sides.
In the prepared pan, toss strawberries with honey and a pinch of salt. Split the vanilla bean lengthwise in half and scrape the seeds into the strawberry mixture, then add the scraped pod and toss to combine.
Roast, stirring once, until strawberries are tender and juices start to reduce but not brown, 40 to 50 minutes.
NUTRITIONAL INFORMATION (per 1/4-cup serving): About 55 calories, 0.5 g fat (0 g saturated), 1 g protein, 25 mg sodium, 14 g carbohydrates, 2 g fiber
Did you make this recipe? Comment below!
This content is created and maintained by a third party, and imported onto this page to help users provide their email addresses. You may be able to find more information about this and similar content at piano.io
Advertisement – Continue Reading Below