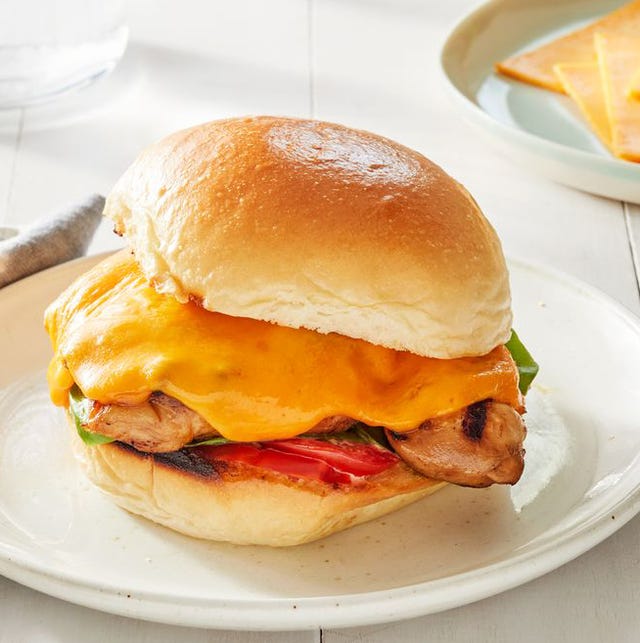 Dana Gallagher
Advertisement – Continue Reading Below
Yields: 4 servings
Total Time: 0 hours 35 mins

1/2 tsp.
finely grated lemon zest, plus 1 Tbsp. fresh lemon juice
1 tbsp.
bread and butter pickle brine, plus more sliced pickles, for serving
1 tsp.
Worcestershire sauce
1 tsp.
minced garlic (or 1 clove garlic, finely grated)
2 tbsp.
extra-virgin olive oil
4
large boneless skinless chicken thighs (about 1 1/2 lbs.)
Kosher salt and freshly ground black pepper
1
large ripe beefsteak tomato, thinly sliced
Whisk both mustards, lemon zest and juice, pickle brine, Worcestershire, and garlic in a medium bowl. While whisking, slowly add the oil until fully combined. Season the chicken thighs with salt and pepper and add to marinade. Toss to coat. Let marinate 15 minutes at room temperature or up to 2 hours in the refrigerator.
Preheat a grill or grill pan to medium-high heat. Lightly oil the grates.
Grill buns cut side down until lightly toasted, about 30 seconds, remove from grill, and keep warm.
Add the marinated chicken to the grill, and cook, turning once halfway through, until lightly charred and just cooked through, about 10 minutes. Top each piece of chicken with two slices of cheese, cover the grill, and cook until cheese is just melted, about 1 minute more. Remove chicken from the grill.
Spread mayo on bottom buns and top with lettuce, tomato, and a few pickles. Top with the grilled chicken and sandwich with the top bun.
This content is created and maintained by a third party, and imported onto this page to help users provide their email addresses. You may be able to find more information about this and similar content at piano.io
Advertisement – Continue Reading Below