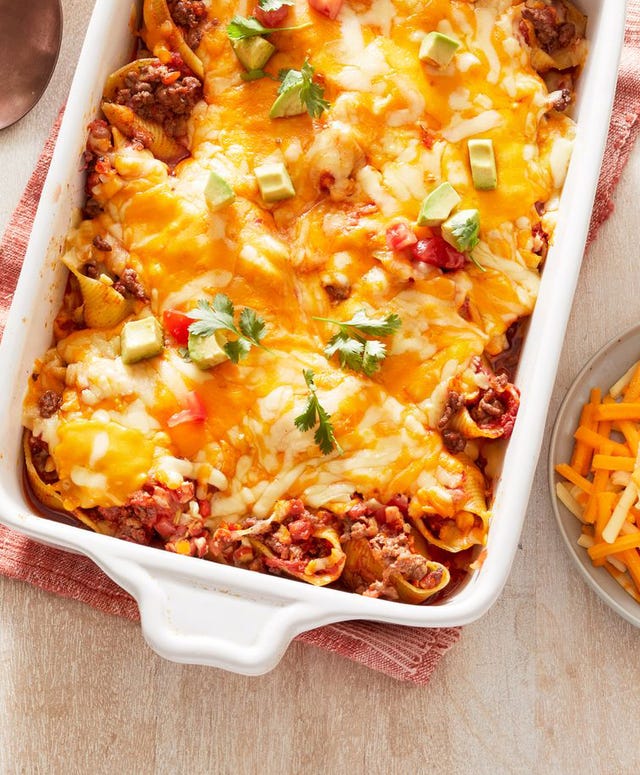 Dana Gallagher
Advertisement – Continue Reading Below
Yields: 4 servings
Prep Time: 0 hours 25 mins

Cook Time: 0 hours 20 mins

Total Time: 0 hours 45 mins

1 tbsp.
extra-virgin olive oil
1
small yellow onion, finely chopped
1 lb.
lean ground beef (90/10)
Kosher salt and freshly ground black pepper
1 c.
store-bought red salsa
20
uncooked jumbo shells, from one 12 oz. package
1
ripe avocado, finely diced
1
medium vine-ripened tomato, finely diced
1/2 c.
fresh cilantro leaves, roughly chopped
Preheat the oven to 350°. Heat a large high-sided skillet over medium-high. Add the oil and beef and season with salt and pepper. Cook, breaking up the beef with a wooden spoon, until browned, about 5 minutes. Remove the beef to a plate using a slotted spoon.
Drain excess oil, leaving about 1 tablespoon, and return skillet to medium-high heat. Add the onion and cook, stirring occasionally, until translucent, about 3 minutes. Add the garlic and cook, stirring, until fragrant and light golden, about 1 minute. Scrape the beef back into the skillet. Stir in 1 cup of the marinara, ½ cup of the salsa, and the chili powder. Season with more salt and pepper, if needed. Remove from the heat.
Meanwhile, cook pasta per package directions. Drain and rinse with cold water until cool enough to handle. Drain again.
Spread ¾ cup of the marinara sauce in the bottom of a 8-by-12 inch casserole dish. Fill each shell with a generous spoonful of the beef mixture and arrange in an even layer in the prepared dish. Spoon the remaining ½ cup of salsa and the remaining ½ cup of marinara over the shells. Sprinkle all over with the cheese. Bake until hot and cheese is melted, about 15 to 20 minutes.
Serve sprinkled with some of the avocado, tomato, and cilantro, and the rest of the garnish on the side.
This content is created and maintained by a third party, and imported onto this page to help users provide their email addresses. You may be able to find more information about this and similar content at piano.io
Advertisement – Continue Reading Below