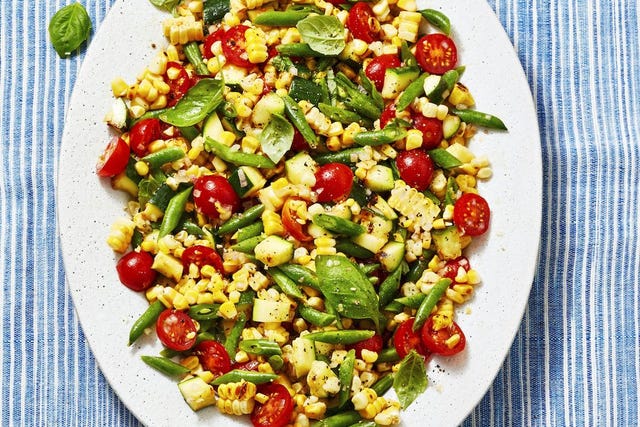 Mike Garten
This summer succotash features all of the season's finest veggies: Corn, zucchini, tomatoes and green beans. A light lemon and olive oil dressing adds brightness and fresh basil boosts flavor in this stunning (and easy!) side. Dig in!
Advertisement – Continue Reading Below
Yields: 6 – 8 servings
Total Time: 0 hours 40 mins

3 tbsp.
fresh lemon juice
3 tbsp.
olive oil, divided
1
medium shallot, finely chopped
8 oz.
cherry tomatoes, halved
8 oz.
green beans, trimmed and thinly sliced on a bias
1 lb.
zucchini (about 3 medium), halved lengthwise
4
medium ears corn, husked
Heat grill to medium-high.
In large bowl, whisk together lemon juice, 2½ tablespoons oil and 1/2 teaspoon each salt and pepper; stir in shallot. Fold in tomatoes and beans. Let marinate while grilling vegetables.
In medium bowl, toss zucchini with remaining 1/2 tablespoon oil and 1/2 teaspoon salt. Place corn and zucchini, cut sides down, on hot grill. Cover and grill zucchini until grill marks appear, 3 to 4 minutes, then flip and cook 1 minute more. Grill corn until lightly charred and cooked through, turning occasionally, 10 to 12 minutes. Transfer vegetables to cutting board as they finish cooking.
When cool enough to handle, cut zucchini in half lengthwise, then chop into 1/2-inch pieces. Cut corn kernels from cobs (you should have about 2 cups). Add zucchini and corn kernels to bowl with tomatoes and toss to combine, then fold in basil. Serve at room temperature or chilled.
NUTRITIONAL INFORMATION (per serving): About 130 cal, 7 g fat (1 g sat), 4 g pro, 290 mg sodium, 17 g carb, 3 g fiber
Did you make this recipe? Comment below!
This content is created and maintained by a third party, and imported onto this page to help users provide their email addresses. You may be able to find more information about this and similar content at piano.io
Advertisement – Continue Reading Below