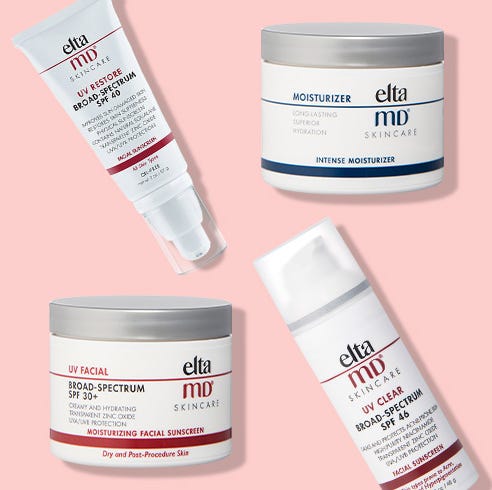 "If you lined up 100 dermatologists, there would be a few skincare brands that they all agree are effective," says Mona Gohara, MD, associate clinical professor at Yale. EltaMD is at the top of that list. "Their products are almost medical grade," Dr. Gohara says. "There's a lot of science behind them, and I can trust that they'll work and won't irritate my patients or cause acne." And Dr. Gohara says, she loves that unlike most brands that offer one or two sunscreens, theirs has many options designed for different skin types and sensitivities.
Aside from the efficacy and research behind their products, EltaMD's formulas are cosmetically elegant. They layer well with other skincare and under makeup, they're easy to apply, and they feel great. This is important because, Dr. Gohara explains, if you don't like the experience of applying something, you're not going to use it regularly—and then you won't see any results.
EltaMD began as a healing ointment for farmers in rural Switzerland. In the late '80s, they ventured to the US and soon became the go-to wound-care choice of doctors and hospitals across the globe. In the 2000s, they expanded to create the sunscreen they're loved for today.
"When patients ask us for product recommendations, our butt is on the line," Dr. Gohara says. "So we suggest things we know are reliable—what we use on ourselves and our families." Below, Dr. Gohara shares six EltaMD products that she—and many of her patients—use and love.
Advertisement – Continue Reading Below
1
Best Tinted SPF
UV Glow Tinted Broad-Spectrum SPF 30+
EltaMD
dermstore.com
$38.50
"Sunscreens in general are anti-agers, since they protect you from all of the damage caused by UV rays," Dr. Gohara notes. "But if you want to pack a little more punch, look for one with antioxidants—which help the skin repair itself—like EltaMD's UV Glow." Swap out your foundation for this tinted formula to stay safe from the sun, soften hyperpigmentation, boost radiance, and create a gorgeous, natural glow.
2
Best Hydrating SPF
UV Facial Broad-Spectrum SPF 30+
EltaMD
dermstore.com
$30.50
This sunscreen-meets-moisturizer is a great multitasker. "There's a difference between sunscreen that hydrates and moisturizer that has SPF in it. I prefer the former because it ensures that there is enough sunscreen in the product to offer protection," Dr. Gohara explains. "You can cleanse, put this on, and go!" The fluffy texture quenches thirsty skin and provides serious sun coverage but is so gentle it can even be used on skin after in-office procedures, like peels, microneedling or lasers treatments.
3
Best SPF for Darker Skin Tones
UV Clear Facial Sunscreen Broad-Spectrum SPF 46
EltaMD
dermstore.com
$37.00
As the name states, this cult-fave formula dries clear. "I love that it doesn't leave a cast on brown skin," says Dr. Gohara. A sheer finish is unusual for a sunscreen that contains zinc, which is notoriously white and chalky, but EltaMD formulates zinc oxide into a micronized particle. The resulting application is virtually transparent. No wonder it has a five-star rating and over 3,000 glowing reviews on dermstore.com.
4
Best Mineral SPF
UV Restore Broad-Spectrum SPF 40
EltaMD
dermstore.com
$36.50
"For anyone who prefers a mineral sunscreen, this 100 percent mineral formula is my go-to," Dr. Gohara shares. "I also appreciate how this product takes blue light into consideration, not just UV light," she adds, commenting on how the formula blocks out ultraviolet free radicals (UV), infrared radiation (IR), and high-energy visible (HEV) light.
It also contains squalane, which helps to bring back skin's natural moisture and suppleness, plus ginger root extract and saccharide isomerate which helps to brighten dark spots and reduce the visible appearance of fine lines.
5
Best Moisturizer for Super Sensitive Skin
Intense Moisturizer
EltaMD
dermstore.com
$18.00
Lightweight, effective and non-irritating, this tub of moisturizer is so nourishing and hydrating that Dr. Gohara recommends using it as an overlay to combat the often drying and irritating effects of retinoids. It's designed to minimize sensitivity and can even be used by people who suffer from eczema to help prevent flare-ups. "I'm able to recommend it to patients with many different skin types," Dr. Gohara adds.
6
Best Moisturizer If You Have Acne or Rosacea
AM Therapy Facial Moisturizer
EltaMD
dermstore.com
$36.00
This one's also packed with niacinamide, which Dr. Gohara loves for its inflammation reducing properties. "When my patients with acne or rosacea are looking for a gentle, soothing moisturizer, this is what I suggest." It also has willow bark, a natural source of salicylic acid, for a non-irritating cell turnover effect, caffeine to retain moisture and keep things supple, plus anti-aging antioxidants.
This content is created and maintained by a third party, and imported onto this page to help users provide their email addresses. You may be able to find more information about this and similar content at piano.io
Advertisement – Continue Reading Below