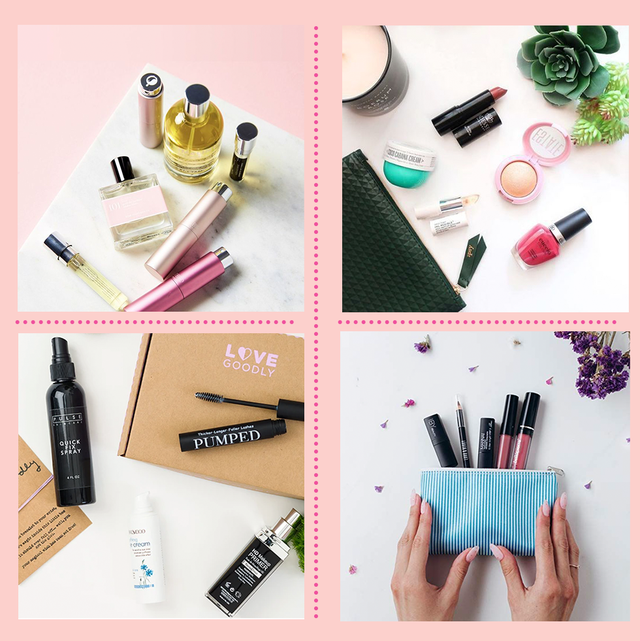 courtesy
Makeup subscription boxes are a great way to learn about and test out the best beauty products on the market. For a small fee — anywhere ranging from $7 to $50 a month — you can get skin care samples, hair care products, and cosmetics sent right to your door. The best part is you can test various products from the high-end brands without making the commitment —sample fragrances from Dolce and Gabbana, Prada and other luxury designers at a fraction of the cost.
There are makeup subscription boxes for just about anyone out there, whether you're into clean beauty, constantly need new makeup brushes, or enjoy surprise finds, like a really good rose-scented perfume to wear for date night. And, most of them require you to take a quick beauty questionnaire to ensure that the products you receive are things you'd actually like and use. Pro tip: these also make great gifts for the beauty fanatic in your life. Ahead, the best makeup subscription sets you can buy in 2021:
Advertisement – Continue Reading Below
Best Overall Makeup Subscription Box
Hello! Out-Of-This-World Beauty Box
Sephora
sephora.com
$10.00
The best feeling is coming home from Sephora with a bag full of goodies to experiment with. While the beauty retailer's monthly subscription box "Play" has been discontinued, the brand came out with something even better. For just $10 and up, you can test makeup, skincare and hair samples from top, coveted beauty brands. Sets also include a reusable makeup bag and a 15% off coupon that you can use on any future purchase of full size product that was included in the set.
Customization: Not available
Best Value Makeup Subscription Box
Walmart Beauty Box
Walmart
walmart.com
$7.00
At just the $7 expense of shipping and handling, Walmart delivers boxes filled with beauty goodies from best-selling drugstore makeup brands to lead you through each season. To get the most of your experience, Walmart asks you to complete a short survey detailing your style, skin concerns, hair type, hair styling techniques and beauty interests and customizes each box accordingly.
Customization: Each customer fills out a personal survey, which Walmart uses to custom tailer each beauty box
Subscription cycle: Seasonal
Best Seasonal Makeup Subscription Box
FabFitFun
FabFitFun
fabfitfun.com
$49.99
Expect more than just hydrating foundations and moisturizers in these boxes: you can also find cooking tools, planners, water bottles and more. Every four months, you can receive up to 10 full-sized seasonal products — plus, you can choose some products and add-ons you want in your box.
Customization: For one week at the beginning of each season, all members can customize some of the products in their box. Select members can choose more products and get early access to customization
Subscription cycle: Seasonal
Best Makeup Subscription Box with the Most Variety
BirchBox Monthly Box
BirchBox
birchbox.com
$15.00
Create your Beauty Profile and BirchBox will send you a curated package of makeup, hair and skin care samples which, according to their site, come from a "mix of prestige and niche brands." Beauty Director April Franzino agrees. "I feel that Birchbox is the most reputable with the best variety of brands and quality of samples," she says.
Customization: Boxes are curated according to your Beauty Profile preferences. Members can also choose one specific sample each month
Subscription cycle: Monthly
Best Skincare Subscription Box
BeautyFIX
Dermstore
dermstore.com
$34.95
Dermstore is known for making hard-to-find skin care products accessible, so it's no surprise that, in addition to prestige makeup samples, its BeautyFIX box comes with mostly full-size samples of skin care and hair products that exceed a $100 retail value with each delivery.
Subscription cycle: Monthly
Customization: Not available
Best Customizable Makeup Subscription Box
Glam Bag
Take a beauty quiz that asks about your skin type, eye color, favorite perfumes and more and you'll receive five makeup and skincare products based on your preferences. This includes anything from face highlighter to hand cream from that month's collection of goodies. Plus, you'll receive your hand-picked goodies in a cute keepsake bag each time.
Customization: Members receive five products that most match your beauty profile from that month's Glam Bag collection
Subscription cycle: Monthly
Best Drugstore Beauty Subscription Box
Beauty Capsule Box
Commitment-phobes, rejoice. While other beauty subscription boxes make the cancelling process difficult or charge customers for cancelling, Target's beauty boxes come without a renewal agreement. Simply add the box of your choice to your cart. Featured boxes include an At-Home Luxuries Kit, packed with hair care, moisturizers and masks; Pampered Nails Set, for strengthening and nourishing skin and nails; Black Owned/ Black Founded Box, a kit featuring hair masks body lotion and printed warp scarf and more.
Customization: Not available
Best Amazon Beauty Subscription Box
Beauty Box
When Amazon is your one-stop shop for everything, it's exciting to see that they have their own selection of beauty subscription boxes to browse through. Plus, Prime members get special discounts on certain boxes, and the best part is you can read reviews from real users you can count on to help you decide on the makeup subscription box that's best for you.
RELATED: 20 Best Beauty Products on Amazon That Cost Under $10
Subscription cycle: Monthly
Customization: Not available
Best Fragrance Subscription Box
ScentBird Box
Scent Bird
scentbird.com
$15.95
Customization: Members can choose the full-sized product of their choice to sample each month. Subscription schedules can also be adjusted upon request
Subscription cycle: Monthly, but can be adjusted upon request
Best Luxury Beauty Subscription Box
Beauty Box
Lookfantastic
lookfantastic.com
£15.00
When you really want to treat yourself, Look Fantastic promises to send six luxury products with a guaranteed value of over $60 plus an issue of our sister brand, Elle magazine, to your door each month.
Subscription cycle: Monthly
Customization: Not available
Best K-Beauty Makeup Subscription Box
JoahBox
JoahBox
joahbox.cpm
$36.00
K-beauty box JoahBox comes directly from Korea with five to seven full-sized K-beauty items like makeup, skin care, nail care and beauty tools valued at up to $100. Afraid you'll fall in love with a highlighter sold only in Korea? Don't worry — you can shop for the products you want to buy again on their site.
Customization: When a variation of products are available, JoahBoxes are customized with the subscriber's profile in mind
Subscription cycle: Monthly
Best Sheet Mask Subscription Box
7 Lux Subscription
Facetory
facetory.com
$19.90
Flawless makeup application needs to start with a good base, a.k.a clean and clear skin. FaceTory sends you a minimum of four Korean sheet masks every month, giving you access to otherwise not-as-accessible beauty finds from halfway around the world.
Subscription cycle: Monthly and quarterly
Customization: Not available
Beauty Box
Each month, beauty experts choose five deluxe beauty samples for you to try based off each month's theme (for instance, Junes's theme was "Complexion Perfection"). Not only that, but you also get a voucher to receive $5 off your next beauty purchase.
Subscription cycle: Monthly
Customization: Not available
BoxyCharm
Boxy Charm
boxycharm.com
$25.00
Boxycharm deliveries include up to five full-size makeup products valued at $120 or more each month. You'll get products from affordable and prestige brands, like ColourPop, BareMinerals, Tarte and more.
Customization: Each month, subscribers can choose one product in their box, Premium subscribers can choose up to two, and BoxyLuxe subscribers can choose up to three. Plus, by completing the Complexion Pack quiz, subscribers can receive foundations and concealers in their own skin tone
Subscription cycle: Monthly, 3-month, 6-month, and 1-year packages available
Makeup Subscription Boxes
CrateJoy
cratejoy.com
$41.00
If you're completely overwhelmed and prefer to know about all your options before you buy, CrateJoy keeps all the best subscription boxes in one place so you can learn about each one. In the makeup subscription tab on their site, you can scroll through hundreds of beauty box options, from Jersey Shore lip balms, to bright and artsy NME cosmetics, to lash-specific beauty boxes for just $6 +.
Subscription cycle: Various cycles available
Customization: Not available
The Essential Box
Love Goodly
lovegoodly.com
$35.00
When you're on the hunt for non-toxic and eco-friendly beauty, you can count on Love Goodly to deliver. They specifically customize their boxes with four to five full-sized products to your door every other month, which, according to the brand, are cruelty-free and vegan.
Customization: Occasionally, customers will receive a personalization survey via email to customize boxes
Subscription cycle: Bimonthly
Beauty Box
Glossy Box
glossybox.com
$21.00
The beauty team at GlossyBox makes it their goal for you to discover new beauty products every month. They work with your beauty preferences to expose you to up-and-coming makeup and hair products from around the world. If you don't wish to subscribe monthly, they also have 3-month and 6-month options.
Customization: Your beauty profile is used to curate trendy products that best fit your needs
Subscription cycle: Monthly, 3-month, 6-month, and 1-year packages available
The Detox Box
The Detox Market
thedetoxmarket.com
$59.00
If you prefer your beauty regimen to be clean for the environment and for yourself, the Detox Box sends you a minimum of $90 worth of products every month, which they claim is all green beauty. They focus on one brand each time so you can learn about every top green beauty brand on the market.
Monthly, 3-month, and 6-month packages available
Customization: Not available
This content is created and maintained by a third party, and imported onto this page to help users provide their email addresses. You may be able to find more information about this and similar content at piano.io
Advertisement – Continue Reading Below