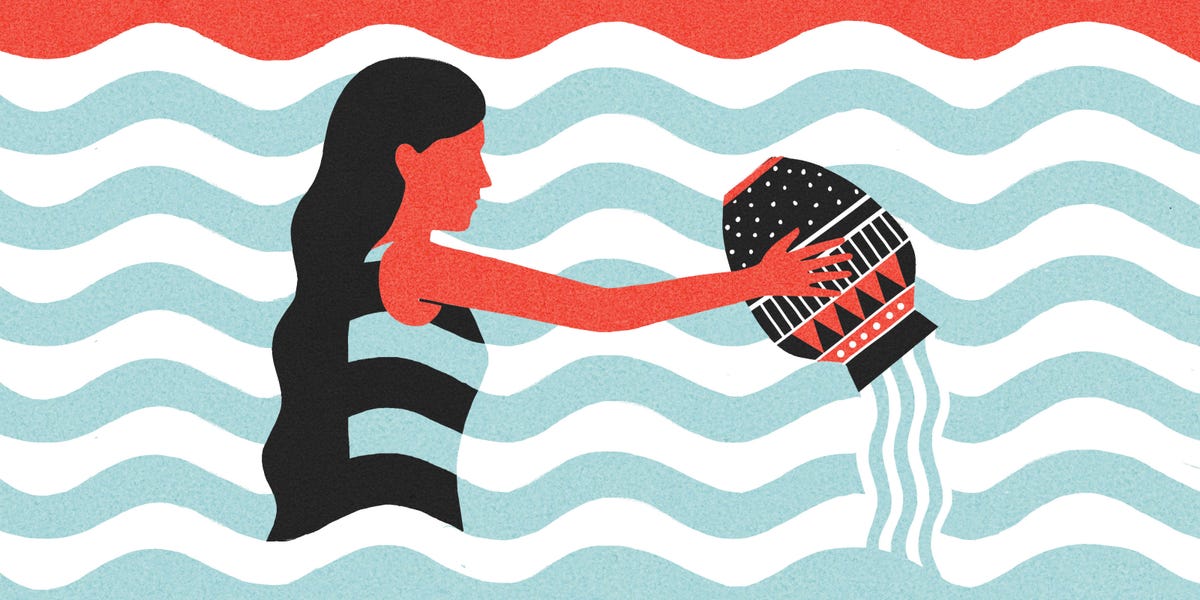 MONTH OF May
Work hard and play hard! May finds you ready, willing and able to get down to business—and you're going to be seen and appreciated while you're at it. There's money to be made, and the stars show improved finances on the horizon. From mid-month onward, fun and romance enter the picture in a most welcome way. Enjoy the upbeat vibes, but don't neglect the necessary inner work or sideline your solo projects. Something big is brewing in the friendship realm—you'll see which way the tide is turning during May's final week. Whatever happens, get your communications in order by month's end, when messenger Mercury turns retrograde. This backspin could bring an ex into the picture or cause old drama to flare.
The Sun is in Taurus until May 20
With the Sun in dependable Taurus and your domestic fourth house until Thursday, May 20, family and home are in the spotlight. While others are feeling the playfulness of spring fever, you may not QUITE be ready to head into the world of limited-capacity rooftop parties or unmasked gatherings with the vaccinated throngs.
Use this time to boost self-care and get Chateau Aquarius spruced and spring-cleaned. Spend time with your loved ones and host your favorite pod-peeps for dinners, movie nights or any ways you can safely commune.
During this emotionally heightened time, you may be thinner-skinned than usual. Avoid triggering types, and also stay aware that you're feeling extra sensitive now. Make sure you eat, sleep and relax enough—give yourself as much nurturing and nourishment as possible.
Home gets a fresh start at the May 11 Taurus new moon
On Tuesday, May 11, your home or family life gets a blast of fresh-start energy from the year's only Taurus new moon. Looking to change your decor, relocate or put out a call for a roommate? This is the best day to start your quest. If you're ready to bring fresh energy through your doors after a long pandemic winter, check out our Home Reset course, which combines practical Feng Shui and astrology to create health, wealth and happiness under your roof.
No need to rush into a gut renovation or cancel your lease immediately, though. For now, start with a good deep cleaning, some Pinterest boards and paint swatches and perhaps by checking out the real estate listings in your desired area. You could even rent an Airbnb in a place you're thinking about moving to, which will allow you to see what it's actually like to live there.
Events started today will unfold between now and the November 19 Taurus full moon, which is also a potent lunar eclipse. New information could surface between now and the end of the year that changes your original plan. There could also be baby news or an update that involves a female relative, possibly your mom.
Jupiter takes a sabbatical in Pisces from May 13 to July 28
This urge to be productive becomes even more pressing in the second half of May, when bountiful Jupiter enters creative Pisces and activates your work and finances zone until July 28. This is the first of Jupiter's two visits here—which only happens every 12 to 13 years—and it could bring major opportunities to increase your income, find a new line or work or create lasting security (both emotional and financial).
Jupiter and Saturn have both been in Aquarius since late December 2020, activating your first house of identity. You've become self-aware in some profound new ways. For some Aquarians, this has been the start of a long new life chapter—and you may be at once excited and overwhelmed by the suclass="body-el-link standard-body-el-link" dden reinvention tour that began at the Great Conjunction a few months ago. Now you have a chance to slow down a bit, reflect and integrate all the changes.
Jupiter typically moves into a new zodiac sign once a year. But in 2021, Jupiter will make a short dip into Pisces, back into Aquarius on July 28, then return to Pisces again for a longer stay from December 28, 2021, until May 10, 2022.
Start prioritizing and picking a few of the best "crops" from your self-discovery tour. You might even focus on one or two of them over the summer. Then, when Jupiter returns to Aquarius for five months on July 28, you can share your new discoveries with the world or correct course as needed.
Gemini season begins on May 20
Are we having fun yet? As you well know, all work and no play makes a dull Water Bearer. Luckily, sociable Gemini season arrives on Thursday, May 20, as the Sun enters your passionate and fun-loving fifth house for a month.
It's time to mix and mingle—get outside and enjoy that springtime fresh air and sunshine! Spring fever could also strike while el Sol heats up your romantic fifth house. Stay open to possibilities and keep your calendar clear enough to say "yes" when a spontaneous invite arrives that's too good to pass up.
Saturn turns retrograde from May 23 to October 10
But wait! Before you step fully into the spotlight, though, tough-teacher Saturn turns retrograde in your sign on Sunday, May 23, urging you to pull back from public view and tweak your game plan. Polish up your act and put a fast-moving solo project on hold—or at least, take a slower pace.
Saturn's retrograde turn could bring on a small existential or identity crisis, one that shakes up your faith in yourself. If you find yourself in the grips of self-doubt, consider working with a coach or therapist to help you process what's arising. Astrologically, this period is offering a time to shed false constructs of who you are, to redefine yourself based on your truth rather than what your family, friends and society seem to "expect" from you. While that sounds liberating on paper, it can be scary or disorienting in real time. Know that it's a process, and find an expert (which can also be in the form of books, online courses and videos) who can guide you through it.
Eclipse season begins on May 26 with the Sagittarius lunar full supermoon
Watch for the arrival of aclass="body-el-link standard-body-el-link" major moment with a collaboration or friendship on the Sagittarius lunar eclipse (https://astrostyle.com/learn-astrology/solar-and-lunar-eclipses/) on Wednesday, May 26, which lands in your group-activities zone.
Will you suddenly go all in—or break class="body-el-link standard-body-el-link" ties completely? Eclipses are unpredictable, so you'll have to wait until it arrives to see what comes to light. At this full supermoon, it's possible you'll be invited to join an exciting endeavor with like-minded people, especially one that involves cutting-edge technology, a social cause or both.
Look back to December 14, 2020, when the corresponding Sagittarius new moon, which was also an eclipse, set the stage for what may come to fruition now. Someone you met casually near that date could turn out to be an important part of your next life chclass="body-el-link standard-body-el-link" apter!
Mercury spins retrograde in Gemini from May 29 to June 22
Romance redux…or interrupted? On Saturday, May 29, messenger Mercury turns retrograde in Gemini, scrambling signals in your fifth house of love and creativity. An ex could resurface, or you might have second thoughts about a budding connection. Drama can erupt within your current relationship or even with friends and colleagues. Take a time-out before you go off on anyone, both IRL and online.
Mercury retrograde can disrupt communication, technology and travel plans. Back up your technology, especially your digital photos, and make sure you have any racy ones safely in a separate folder so they don't get sent to the wrong person! Keep a low profile on social media until June 22 as Mercury retrograde increases your odds of accidentally offending someone with a bold opinion or statement.
Venus lounges in Taurus until May 8
Home is where YOUR heart is for the first week of May, Aquarius! As Venus completes a tour of Taurus and your domestic fourth house that began April 14, you're feeling emotional and even a bit raw or moody at times. While you may have the urge to be self-protective, try to let your sensitive side peek out a bit more. You'll be surprised by the sweet reception you get when others see your vulnerability (and humanity).
Drop the tough act and connect, especially at the May 6 Venus-Pluto trine. When these two planets connect in a harmonious angle, letting down your walls could transform a relationship or attract a soulmate. Ready to change the energy of your living space? Refresh your bedding, change the lighting and dive into some decluttering (more on that in a minute) to invite love and renewal through the doors.
Mars in Cancer all month
Your love language for May is "acts of service," Aquarius. Passionate Mars is in Cancer from April 23 to June 11, heating up your sixth house of support and self-care. You're interested in seeing whether people walk their talk—but remember, that goes both ways. Expect to be called upon by the cosmos to step up your own game here. Thoughtful acts and little touches have a big impact!
With Mars in this healthy and hygienic zone, you could have the urge to purge. We're not talking only about toxic people here. Couples might want to tackle a deep-cleaning or a fitness mission together. Don't be afraid to make it competitive—a fun challenge can turn up the sexy heat between you!
Spring fever ignites with Venus in Gemini from May 8 to June 2
Shake off those moody blues! Late spring fever could turn into early summer lovin' when amorous Venus shifts into Gemini and heats up your fifth house of passion and romance from May 8 to June 2. The secret ingredient to everything? Fun! Check in daily to make sure you get your RDA of joy, no matter what your relationship status.
While you're feeling flirty and playful, that doesn't mean you can't deepen your commitment or meet someone with long-term potential. On May 19, Venus will form a flowing trine to serious Saturn in Aquarius, a day when you'll be able to express what you desire from a commitment.
As the zodiac's most collaborative sign, you hate upsetting people and may soften your delivery or play down how you really feel to avoid breaking a bond. But that comes around to bite you, especially when people feel you've been untruthful or given them mixed messages. Summon the courage to be direct and diplomatic about your feelings—all of them—at the Venus-Saturn trine.
Taurus Money Horoscope for May:
Your attention is more focused on personal than professional matters for most of May—but who says you can't combine business and pleasure? When the May 11 Taurus new moon arrives in your domestic fourth house, you might get inspired to create a cottage industry or redo your home workspace. With motivator Mars in your sixth house of efficiency, you're eager to streamline and systematize. Ditch those surreal Zoom virtual backgrounds and set up a proper camera-friendly spot for yourself! And if you're overloaded, see where you can outsource or delegate. You may need it more than expected after the May 26 Sagittarius lunar eclipse ripples through your teamwork and technology zone, which could bring opportunities to connect far and wide. Ready to share your message with the world? Invest in a great webcam and microphone setup—but do lots of product research first, since Mercury turns retrograde from May 29 to June 22, a tricky time for technology.
Love Days: 13, 18
Money Days: 24, 5
Luck Days: 22, 3, 31
Off Days: 15, 20, 28
This content is created and maintained by a third party, and imported onto this page to help users provide their email addresses. You may be able to find more information about this and similar content at piano.io