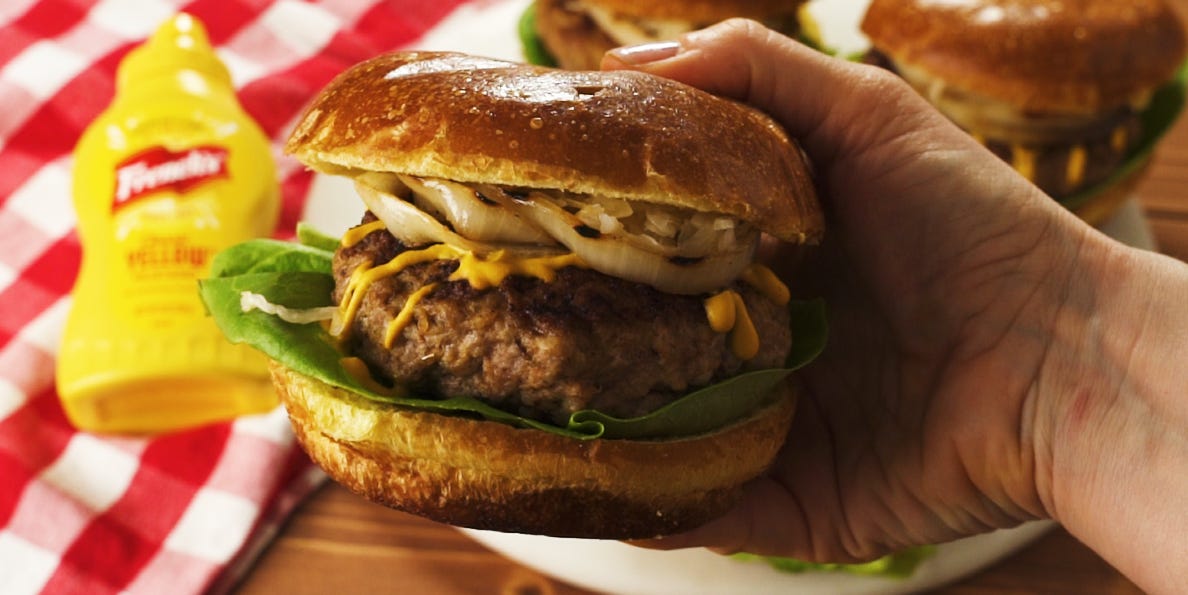 These German(ish) Bratwurst Burgers have all the glorious flavors of a brat in the form of a burger. Seasoned with nutmeg, ginger, caraway, marjoram (an herb in the mint family), and a few tablespoons of French's Classic Yellow Mustard to brighten the flavor, these pork patties are proof everything is better served between a fresh brioche bun. Top with sauerkraut and a generous squeeze of mustard to bring out the zing.
Made this? Let us know how it went in the comment section below!
Advertisement – Continue Reading Below
Yields: 4 servings
Prep Time: 0 hours 10 mins

Total Time: 0 hours 30 mins

For the burger
3/4 tsp.
ground white pepper
1
medium yellow onion, sliced crosswise into ½-inch rounds
Freshly ground black pepper
for serving
4
pretzel-style or brioche hamburger buns, split
4
leaves green leaf lettuce
In a medium bowl, mix the pork with the mustard, mustard, garlic powder, white pepper, marjoram, caraway, nutmeg, ginger, and 1 ½ teaspoons kosher salt until well combined. Shape the brat mixture into 4 equally sized patties, about 4″ wide.
Brush the onion rounds with oil and season with salt and pepper.
Heat a grill or grill pan to medium and oil the grates. Grill the patties and onions until a crust develops on the patties and they're no longer pink and the onions are lightly charred and crisp tender, about 6 minutes per side for each. Remove from the grill to a plate.
Arrange the lettuce on the bottom buns. Top each with a patty and drizzle the patty with the mustard. Pile the onions and kraut on top and sandwich with the top buns. Serve hot.
This content is created and maintained by a third party, and imported onto this page to help users provide their email addresses. You may be able to find more information about this and similar content at piano.io
Advertisement – Continue Reading Below