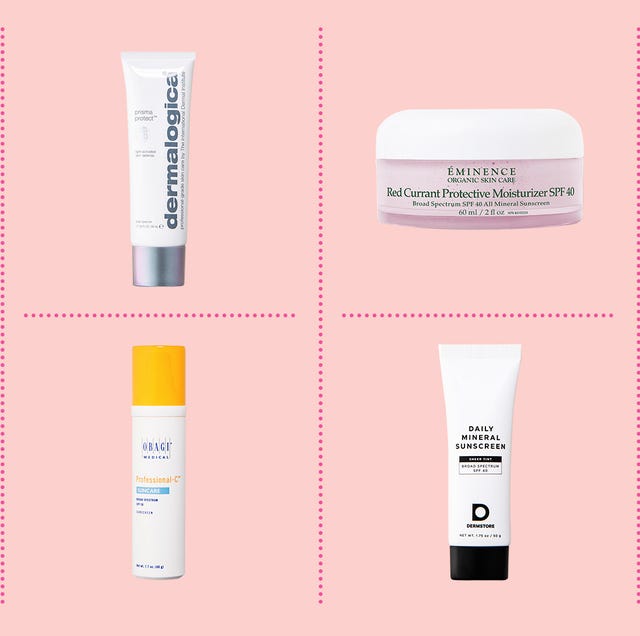 At this point, you're likely well aware of the fact that the sun is not doing your skin any favors. Ultraviolet radiation — and, more specifically, longer wavelength UVA rays — damages collagen fibers in your skin's deeper layers, which can eventually lead to wrinkles and rough skin texture. And, while sunscreen is an absolute necessity in guarding your skin from the dangers of sun exposure, it's not the only thing you should be incorporating into your routine to fight UV-related premature aging.
"Sunscreens block and filter out incoming ultraviolet rays, but inevitably some UV radiation gets through and causes damage in our skin," explains Dr. Kenneth Howe, a cosmetic dermatologist at Wexler Dermatology in New York City. Fortunately, the solution to stopping those sneaky rays is simple: antioxidants. When paired up with your daily SPF, free radical fighters like vitamin C can actually supercharge your protection against sun damage. "Antioxidants protect us from sun damage in a different way than sunscreens do — they intervene at a later step in the process," explains Dr. Howe. "Sunscreens prevent ultraviolet radiation from entering our skin, but the UV radiation that does manage to penetrate sets off a chain reaction of damaging events. Antioxidants disrupt this chain reaction, protecting our skin from damage."
Fortunately, it's never been easier to find hybrid sunscreens that feature antioxidants. Dermstore, the online destination famous for its selection of derm-approved beauty essentials, has an array of advanced SPF formulations to choose from. Below, shop a few of our favorite pro picks.
Advertisement – Continue Reading Below
1
Best for a Subtle Tint
Daily Mineral Sunscreen SPF 40
Dermstore
dermstore.com
$35.00
Two of the most common antioxidants you'll see paired up with an SPF are vitamins C and E, as in this mineral SPF from Dermstore's brand new signature product line. "Vitamin C helps lighten up brown spots and even out skin tone," says Dr. Howe, "and vitamin E also absorbs some UV radiation." With its universally flattering sheer tint, the Daily Mineral Sunscreen SPF 40 will help blur imperfections on most skin tones and can be worn alone or under makeup. It's also made with ceramides to help strengthen skin's natural barrier for added moisture and protection.
2
Best for Acne-Prone Skin
EltaMD UV Clear Facial Sunscreen Broad-Spectrum SPF 46
EltaMD
dermstore.com
$28.80
A dermatologist favorite for those with acne-prone skin, EltaMD's UV Clear sunscreen features niacinamide (also known as vitamin B3), which Dr. Howe says is another antioxidant with the ability to help even out skin tone and diminish hyperpigmentation. It's also soothing on inflammation and redness. The lightweight texture means it won't feel greasy, while the inclusion of gently exfoliating lactic acid helps keep pores clear and reduces shine and excess oil.
3
Best Lightweight Feel
Anthelios Melt-In Sunscreen Milk SPF 60
La Roche-Posay
dermstore.com
$35.99
Made with an advanced broad-spectrum UV filter, this fast-absorbing sunscreen milk leaves skin feeling velvety soft thanks to the inclusion of calming and moisturizing vitamin E. It's water-resistant for up to 80 minutes and safe for both the face and body. Plus, the formula literally feels like it "melts" into your skin, so you're never left with that thick, heavy layer often associated with SPF.
4
Best for Oily Skin
Mattescreen SPF 40
Supergoop!
dermstore.com
$38.00
For those with oily skin, Supergoop!'s mattifying mineral SPF is a translucent, weightless way to minimize the appearance of pores while blurring imperfections and keeping skin looking more balanced. It also features a potent antioxidant blend containing resveratrol and white mulberry, plus chamomile to soothe irritation and an herbal extract complex to promote bright skin.
5
Best Plant-Based Formula
Red Currant Protective Moisturizer SPF 40
Eminence Organic Skin Care
dermstore.com
$68.00
This organic SPF moisturizer harnesses the power of plant botanicals, including vitamin C-rich red currant and polyphenols from elderflower extract, to provide antioxidant benefits. The result is a lightweight, mattifying anti-aging cream that helps minimize the appearance of existing fine lines as it protects from UV damage that can lead to premature skin aging.
6
Best Vitamin C-Infused SPF
Professional-C Suncare Broad Spectrum SPF 30 Sunscreen
Obagi
dermstore.com
$74.00
With 10 percent L-ascorbic acid (the purest and most potent form of vitamin C), this creamy sunscreen lotion delivers a powerful dose of antioxidant protection and UV-blocking sun filters to guard your skin from the effects of environmental aggressors.
7
Best Glow Booster
Prisma Protect SPF 30
Dermalogica
dermstore.com
$65.00
A hybrid moisturizer, sunscreen and skin luminizer, Dermaologica's Prisma Protect uses vitamin E to defend against free radicals. The formula is infused with a special "intelligent drone technology" that uses visible light to give the skin's appearance a naturally luminous boost to boost for an all-over glow.
8
Best Mineral SPF
Mineral Sun Silk Creme Sunscreen SPF 30
COOLA
dermstore.com
$42.00
Mineral sunscreens have a reputation for being heavy, but this feather-light (and oil-free) formula from Coola feels weightless on the skin as it guards against UVA and UVB rays. Niacinamide is a free radical fighter that also soothes and supports soft skin, while a proprietary blend of plant-derived actives and antioxidants may diminish damage caused by blue light, infrared light and pollution.
This content is created and maintained by a third party, and imported onto this page to help users provide their email addresses. You may be able to find more information about this and similar content at piano.io
Advertisement – Continue Reading Below