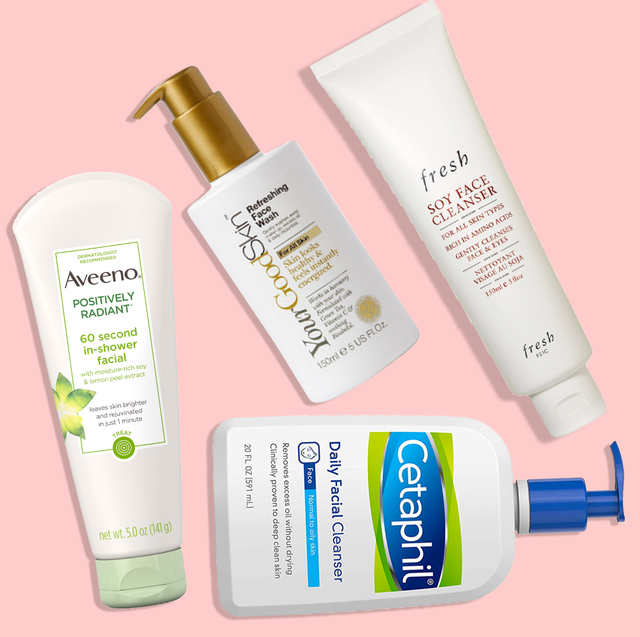 courtesy
Washing your face may be the most basic of skincare steps, but dermatologists and skincare experts know that using the right cleanser for your skin is key for a clear, radiant complexion. Face wash helps remove debris, including makeup, dirt and pollution, and excess oil that can dull skin, clog pores, and cause discoloration and breakouts. But don't grab any old soap: "A sulfate- and soap-free cleanser for the face will be pH-balanced and gentle to maintain skin's barrier without stripping," says Whitney Bowe, M.D., a New York City dermatologist and author of The Beauty of Dirty Skin.
The Good Housekeeping Institute Beauty Lab has a decades-long history of testing face wash formulas for cleansing efficacy and their effects on skin. First, the GH beauty team scans the market for face washes across price points from drugstore to high-end brands, which are then vetted by Beauty Lab scientists. Next, the product labels are masked to eliminate brand bias before they are distributed to hundreds of consumers across the country.
Testers use the products in their regular skincare routine, then evaluate them on criteria including ease of application, texture, scent, how effectively they wash away makeup, impurities and excess oil and how skin feels and looks after use (including any irritation). In the most recent GH Beauty Lab face washes test, 4,512 data points were tallied to find the best facial cleanser formulas on the market.
Whether your skin is combination, dry, oily, acne-prone, sensitive or somewhere in between, and no matter what type of formula you prefer, here are the best face washes and cleansers for all skin types tested by the GH Beauty Lab and recommended by skincare experts for your healthiest, most glowing skin ever:
Advertisement – Continue Reading Below
1
Best Overall Face Wash
Soothing Cleanser Foam
SkinCeuticals
dermstore.com
$35.00
With the highest level of lather of all the GH Beauty Lab test-winning cleansers, SkinCeuticals' foam (with no obvious scent) rose to the top for washing away leftover makeup, impurities and excess oil. It earned a near-perfect score for effectively cleansing, with 96% of users confirming that it deeply cleaned their complexions, and for being easy to apply and rinse off. Testers loved the "refreshing texture" that "left no residue."
Lush lather
Deeply cleanses
No residue
2
Best Drugstore Value Face Wash
Daily Facial Cleanser
The classic low-lather, powder-fresh-smelling Cetaphil liquid was the tester favorite in the GH Beauty Lab's test, leaving skin clean yet supple thanks to moisturizing glycerin. It rated highest among testers, with 86% saying they'd continue to use it, and scored well for making skin feel soft and hydrated. "This didn't overdry or make my skin feel stripped," and "My face even appears smoother," two fans said.
Effectively cleanses
Won't dry out skin
Good value
3
Best Dermatologist-Approved Face Wash
Toleriane Hydrating Gentle Face Cleanser
La Roche-Posay
ulta.com
$14.99
A favorite of Dr. Bowe's, this La Roche-Posay face wash is infused with prebiotic thermal water. "This soothing creamy cleanser is soap-free, sulfate-free, oil-free, fragrance-free, and non-comedogenic, so it won't clog pores," she says. "A probiotic or prebiotic cleanser will also help to fortify the skin's beneficial bacteria, keeping the natural barrier healthy."
Won't strip skin's oils
Fragrance- and sulfate-free
Large bottle is long-lasting
4
Best Face Wash for Glowing Skin
Positively Radiant 60 Second In-Shower Facial
A GH Beauty Award winner, Aveeno's innovative face cleanser/mask hybrid is applied in the shower to work with the steam, exfoliating and purifying with glycolic acid and kaolin clay. A tester noted that her face "looked clearer and more vibrant" after use.
Two-in-one formula
Deep cleans and exfoliates
Leaves skin glowing
5
Best Face Wash for Sensitive Skin
Soy Face Cleanser
Fresh
nordstrom.com
$38.00
Naturally scented with cucumber and blended with nourishing botanicals like sunflower oil, Fresh's nearly foamless wash was mildest on skin and best at boosting radiance in the GH Beauty Lab's test. A rare 100% of testers, including those with sensitivity, said it didn't irritate skin. "I have extremely sensitive skin and had no reactions to this," one marveled. It also made dull skin "brighter" and with "a glow," others said.
Gentle and non-irritating
Boosts radiance
6
Best Face Wash for Combination Skin
Purity Made Simple One-Step Facial Cleanser
Philosophy
amazon.com
$24.00
This classic skin-balancing Philosophy cleanser infused with botanical oils like meadowfoam and rosewood is the best-seller at Ulta, with more than 3,000 five-star reviews. "It removes all makeup, cleanses, moisturizes, and makes your face look and feel fresh," one reviewer raved. "Best facial cleanser I have ever used."
Balances oily and dry areas
Can be used on face and eyes
7
Best Face Wash for Acne
Normaderm Deep Cleansing Gel
Vichy
dermstore.com
$18.00
This Vichy gel cleanser is GH Beauty Lab chemist Danusia Wnek's go-to for her acne-prone complexion. "It contains exfoliating ingredients like salicylic acid, the active ingredient for acne treatment, and glycolic acid, which are great for smoothing texture and brightening," she says. "I love the way it smells and how well it cleans my skin." And it has long-term anti-breakout benefits: "It has been an ongoing staple in my cleansing routine for keeping acne at bay and controlling my oily T-zone," Wnek explains.
Contains acne treatment ingredients
Controls oil
8
Best Face Wash for Dry Skin
Manuka Honey Cleansing Balm
Naturopathica
dermstore.com
$64.00
Made with high levels of moisturizers like sweet almond oil, shea butter and honey, Naturopathica's rich balm, a GH Beauty Award winner, relieves dehydrated skin as it gently cleanses. "My inflamed face actually felt better — and the jar lasts," a tester reported.
Softens skin
Gentle and non-irritating
9
Best Face Wash for Oily Skin
Refreshing Face Wash
YourGoodSkin
ulta.com
$3.75
Fragrance-free with medium suds, YourGoodSkin's gel gave the most complexion-clarifying cleanse with repeated use in the GH Beauty Lab's test. 80% of testers found that their skin was clarified and clear after one week, the top mark of all tested. It also ranked first in ease of application. "I liked the toned feeling it gave my skin," a user revealed. "It seemed to help clear up congested areas."
Clarifies skin
Applies easily
Bargain price
10
Best Face Wash for Redness
Gentle Foaming Cleanser
Cetaphil
walmart.com
$7.94
This Cetaphil foam face wash is a favorite of GH Beauty Lab senior chemist Sabina Wizemann, who has rosacea, and her entire family. "It feels so luxurious that I look forward to cleaning my face, and it removes sticky SPF moisturizers and makeup without harsh rubbing," she says. "It also leaves skin soothed and softened — a godsend to my rosacea-prone skin because it cleans well without any irritation or dryness afterward."
Thoroughly cleanses
Soothes skin
Non-irritating
Great value
11
Best Anti-Aging Face Wash
TimeWise Repair Volu-Firm Foaming Cleanser
Mary Kay
marykay.com
$28.00
Made with age-fighting ingredients like plant stem cells and peptides, Mary Kay's cleanser, a GH Beauty Award winner and Good Housekeeping Seal star, does more than purify your complexion. Beauty Lab evaluations of consumer studies found that it gently cleanses and tones to make mature skin look fresher and more youthful, increases radiance, and helps maintain skin's moisture.
Boost radiance and a youthful look
Contain's anti-aging ingredients
12
Best Face Wash Cleansing Balm
Makeup Remover Cleansing Balm
Pond's
walmart.com
$28.03
This unique GH Beauty Award-winning Pond's cleansing balm is a face wash in solid form that morphs into an oil on skin (and doubles as a makeup remover). It left one tester's complexion feeling "supple, as if I'd applied moisturizer."
Softens skin
Removes makeup
Good value
13
Best Micellar Water Face Wash
SkinActive Micellar Cleansing Water
Swipe Garnier's 2-in-1 micellar water makeup remover and face wash combo, a Good Housekeeping Beauty Award winner, all over your face with a cotton pad — no need to rinse. The formula thoroughly cleanses and clears makeup, yet is non-drying, Beauty Lab evaluations found.
Removes makeup and cleanses
Gentle and non-drying
No rinsing needed
Bargain price
14
Best Face Wash for Travel
Cleansing Stick
St. Ives
walmart.com
$9.23
A GH Beauty Award winner, this next-generation face wash from St. Ives is a portable, no-mess solid stick based on coconut oil that morphs into a soft, creamy lather on damp skin. After use, skin felt "clean yet silky and not dry," a tester said.
Solid no-spill formula
Portable
Great value
15
Best Multi-Purpose Face Wash
Daily Deeply Clean 4-in-1 Water Activated Cleansing Face Cloths
Wet these soft Olay single-use cloths with water to cleanse, tone, and gently exfoliate in one swipe. These GH Beauty Award-winning and Seal star wipes are proven to effectively wash away even eye makeup without over-drying skin, Beauty Lab evaluation confirmed.
Time-saving
Thoroughly cleanse even makeup
Non-drying
16
Best Scented Face Wash
Pro-Collagen Cleansing Balm
Elemis
dermstore.com
$64.00
This rich Elemis cleansing balm, a GH Beauty editor all-time favorite, is packed with nourishing botanical oils, including sweet almond, lavender, coconut, and chamomile. "This cleanser melts in, instantly softening dehydrated skin with no tight feeling afterward," she says. "And it smells like an aromatherapy treatment at the spa."
Rich in natural oils
Deeply nourishes skin
Aromatherapy scent
Pricey
May be too oily for acne-prone skin
17
Best Exfoliating Face Wash
Skin Balancing Milky Cleanser
A GH Beauty Award winner based on skin softeners like sunflower oil and glycerin, this new kind of cleanser from Neutrogena in comforting milk form also lightly exfoliates with gluconolactone, a buzzy polyhydroxy acid. "My face felt like silk," a fan said.
Gently exfoliates
Silkens skin
Good value
18
Best Face Wash Wipes
Sensitive Hungarian Water Essence Calming Makeup Remover Wipes
No stinging or tugging: Olay's cushiony, fragrance-free towelettes infused with aloe sweep away makeup fast without irritating. The GH Seal star and Beauty Award winner effectively removes even waterproof eye makeup while leaving skin hydrated, per Lab data.
Easy to use
No rinsing needed
Thoroughly removes makeup
Soft, gentle cloths
19
Best Face Wash + Makeup Remover
Sensibio H2O Soothing Micellar Cleansing Water and Makeup Removing Solution
Bioderma
walmart.com
$14.99
Morning or night, Bioderma's micellar water, a GH Beauty Award winner, cleanses skin and removes makeup (even waterproof mascara!) in one quick step. It's hydrating and soothing, so it's suitable for sensitive and easily irritated skin, too. Wizemann has used it for years: "It wipes away makeup effortlessly, leaves no stickiness behind, and doesn't sting my skin or eyes," she says. GH Beauty Lab evaluations found that it removed 99% of makeup in just three swipes.
Thoroughly removes makeup
Saves time
Soothing and non-irritating
This content is created and maintained by a third party, and imported onto this page to help users provide their email addresses. You may be able to find more information about this and similar content at piano.io
Advertisement – Continue Reading Below