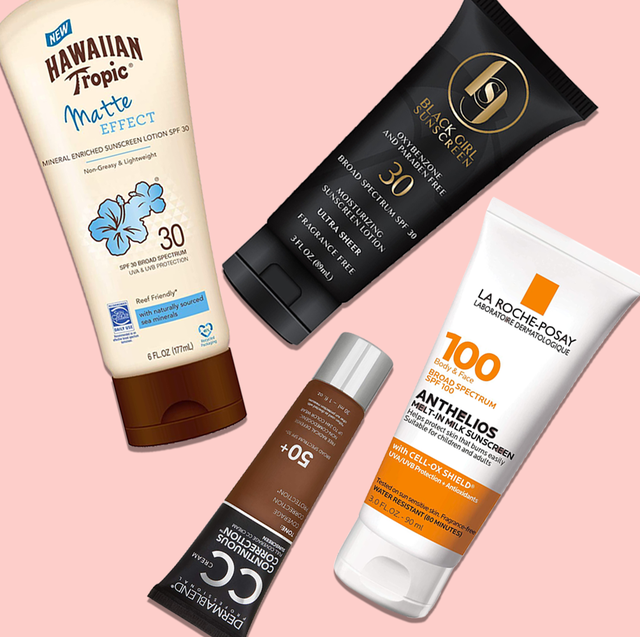 courtesy
An important note on sunscreen safety: The FDA is proposing changes to sunscreen regulations, as some active ingredients can enter the bloodstream. Until it can reach a more robust conclusion on safety, the FDA — and the Good Housekeeping Institute Beauty Lab — urges Americans to continue using mineral and chemical sunscreen to protect against UV damage.
You've heard it time and time again: Daily application of sunscreen is non-negotiable and that goes for all skin tones. The problem is too many sunscreens don't exactly work for darker skin tones. Yes, we all know it too well: you apply sunscreen only to look in the mirror to find that odd, white-ish gray film all over because the formula wasn't made to blend into melanin-rich skin. And the truth is, this shouldn't be the case. An unfortunate effect of this problem is that people with brown skin tend to just skip sunscreen altogether, but according to experts that's a big no-no.
"People with dark skin should still use sunscreen regularly," says Tiffany Jow Libby, M.D., a dermatologist in New York City. "While the presence of melanin in skin carries some inherent protection, it is not nearly enough to protect against day to day UV radiation exposure." So the key to keeping skin as healthy as possible is finding a sunscreen formula that goes on clear and still blocks out those harmful UV rays.
Libby says the problem often lies in the formula itself. Mineral sunscreen ingredients like zinc oxide are opaque physical blockers that sit on top of skin and reflect light (hence the white cast). "However, many formulations now are 'micronized' or made with smaller versions of these mineral ingredients and offer the same protection without the chalky appearance," Dr. Libby says. If you prefer a chemical sunscreen, chances are you won't have as much of an issue with blending, since these tend to be sheerer and apply easier. But thankfully, people with dark skin tones can still choose their formula of choice as brands begin to produce versions made to apply on the fairest or darkest of skin tones.
We test all types of sunscreens at the Good Housekeeping Institute Beauty Lab, and how each formula applies on dark skin tones is top of mind. Our Beauty Lab scientists test according to current regulations and send products home with consumer testers, just like you, for evaluations on factors such as ease of application, look and feel on skin, irritation, scent, and sun protection effectiveness. After tens of thousands of responses from over 600 testers in our most recent SPF test, these are the best sunscreens: you can buy for dark and Black skin tones, as tested by the GH Beauty Lab and recommended by top dermatologists
Advertisement – Continue Reading Below
1
Best Overall Sunscreen for Dark Skin Tones
Anthelios Melt-in Milk Body Face Sunscreen Lotion Broad Spectrum SPF 100
La Roche-Posay
dermstore.com
$24.99
You won't find any white cast with this milky option from La Roche-Posay, a GH Beauty Lab test winner. In Lab testing, this sunscreen for both face and body ranked the highest among those with darker skin tones for not leaving a white cast on skin or being oily. Testers loved how lightweight and hydrating this sunscreen felt on skin. "It did not leave a white cast on my face and absorbed very well into the skin," one tester commented. I forgot that I was wearing a SPF 100 sunscreen."
SPF 100
Chemical liquid lotion
Water resistance: 80 minutes
Lightweight
Works on face and body
2
Best Value Sunscreen for Dark Skin Tones
Matte Effect Sunscreen Lotion SPF 30
Hawaiian Tropic
amazon.com
$10.99
Drugstore sunscreens are not only convenient to purchase, but they're also a budget-friendly option for the entire family. Testers loved the subtle coconut scent and grease- and ash-free finish that this Hawaiian Tropic lotion leaves on the skin. "It has a nice, light scent that smelled like summer," one tester says. "It didn't ball up or pill when I wore makeup over the sunscreen."
SPF 30
Chemical and mineral lotion
Water resistance: 80 minutes
Matte finish with no white cast
Runny consistency
May make skin feel dry
3
Best Face Sunscreen for Dark Skin Tones
UV Expert Aquagel Defense Primer & Moisturizer SPF 50
Lancôme
sephora.com
$55.00
This Lancôme gel-like SPF tied for number one in GH Beauty Lab testing with the overall best face sunscreen winner for not leaving a white cast upon application. The formula is oil-free and doubles as a primer and moisturizer that sits perfectly under makeup. Trust us, no pilling or caking here; this pick goes on as smooth as butter.
SPF 50
Chemical sunscreen gel
Applies smoothly under makeup
Not water-resistant
Pricey
4
Best Mineral Sunscreen for Dark Skin Tones
Hydra Lipid UV Mineral Sunscreen Broad Spectrum SPF 40+
Glytone
dermstore.com
$36.00
Glytone's lightweight formula is among Dr. Libby's favorites because it's lightweight and blends in seamlessly. "It protects the skin with mineral UV blockers and uses its patented Active Stress Technology to coat the zinc oxide and titanium dioxide particles and further reduce free radical formation," she says. It's also infused with hyaluronic acid and squalene, so you don't have to worry about your complexion being dry or flaky.
SPF 40
Mineral sunscreen lotion
Softens skin
Not water-resistant
Pricey
5
Best Anti-Aging Sunscreen for Dark Skin Tones
LiftActiv Peptide-C Sunscreen SPF 30
Vichy
dermstore.com
$39.00
Since this luxurious Vichy formula was the overall winner of the GH Beauty Lab's face sunscreen test, we knew it was a hit for all skin tones. Testers loved the easy-to-apply texture of this sunscreen and how hydrated it leaves skin. The lotion also ranked second best for not leaving a white cast or residue among testers with dark skin tones. "It blended in easily and didn't leave a white film," one noted. "It was also very moisturizing without being greasy and my skin looks and feels healthy and vibrant after using the product."
SPF 30
Chemical sunscreen lotion
No white cast
Not water-resistant
Pricey
6
Best Sunscreen for Dark Skin Tones with Hyperpigmentation
Continuous Correction Tone-Evening CC Cream Foundation SPF 50+
Dermablend
amazon.com
$39.00
Dermablend is best known (and loved) for concealing blemishes, skin imperfections, and even tattoos. That's why this sunscreen is best for those looking for an all-over even color plus the benefits of sun protection. Loretta Ciraldo, M.D., dermatologist in Aventura, Florida, recommends this formula for being a two-in-one makeup and skincare hybrid. "It comes in 16 different shades so you can color match it to your skin tone," she says. "I recommend this to many women of all skin tones since it helps to improve the appearance of sun damage by coverage as it protects."
SPF 50
Chemical sunscreen cream
Full-coverage finish
Conceals dark spots, scars and tattoos
Not water-resistant
Pricey
7
Best Reef-Safe Sunscreen for Dark Skin Tones
Moisturizing Sunscreen Lotion SPF 30
Black Girl Sunscreen
ulta.com
$15.99
This Black Girl Sunscreen formula was made with melanin-rich tones in mind and is NYC dermatologist Hadley King, M.D's go-to pick for brown skin. "It's a chemical sunscreen, but it's reef safe and does not contain oxybenzone or octinoxate," she says. "Plus, with avocado, jojoba and sunflower oil, it's moisturizing and soothing."
SPF 30
Chemical lotion
Water resistance: 80 minutes
Dries clear
8
Best Sunscreen for Sensitive Dark Skin
Sensitive Sheer Shield Suncreen SPF 45
Alba Botanica
amazon.com
$12.84
If you have sensitive skin, finding a gentle yet protective sunscreen is key. In GH Beauty Lab testing, this wallet-friendly Alba Botanica option received perfect scores among all testers for not making skin red or irritated and scored second highest for not leaving a white cast. "I will gladly be recommending this sunscreen to all my girlfriends now that I have found the holy grail of sunscreens," a tester raved.
SPF 45
Chemical sunscreen cream
Water resistance: 80 minutes
Doesn't irritate or make skin red
May be tacky and greasy
Needs to be rubbed in
9
Best Sunscreen for Acne-Prone Dark Skin
UV Clear Facial Sunscreen Broad-Spectrum SPF 46
EltaMD
dermstore.com
$36.00
This dermatologist favorite from EltaMD has a cult-following for a good reason. "It's a mineral and chemical hybrid of a sunscreen and formulated with lactic acid to help reduce shine and provide gentle exfoliation throughout the day," Dr. Libby says. It also helps to brighten skin, perfect for battling post-inflammatory hyperpigmentation.
SPF 46
Chemical and mineral sunscreen cream
Minimizes shine
Not water-resistant
Pricey
10
Best Tinted Sunscreen for Dark Skin
Mineral Tinted Sunscreen SPF 30 – Medium/Dark
UNSUN
dermstore.com
$29.00
This Unsun SPF was born in response to people of color avoiding sunscreen due to the unsightly white cast that too many formulas leave. Because of that, you won't find any cast or residue here. This mineral sunscreen has a slight tint that helps with color correcting, but blends in like a second skin. No need to color match before trying, and it's even gentle enough for sensitive skin.
SPF 30
Mineral sunscreen cream
Slightly blurs imperfections
11
Best Lightweight Sunscreen for Dark Skin Tones
Natural Unrivaled Sun Serum SPF 35 Mineral Sunscreen
EleVen by Venus Williams
ulta.com
$50.00
Thanks to tennis all-star Venus Williams, brown girls can slather on sunscreen with major confidence. This mineral sunscreen feels like a lightweight serum and can be applied under or over makeup without creating smears or streaks. Oh, and it's practically weightless. It's also formulated with zinc oxide, which Dr. King says is less likely to irritate skin.
SPF 35
Mineral sunscreen serum
Lightweight feel
Not water-resistant
Pricey
12
Best Sunscreen for Dry Dark Skin
Squalane + Zinc Sheer Mineral Sunscreen SPF 30
Biossance
sephora.com
$30.00
Biossance's super sheer formula proves that sunscreen can be both hydrating and invisible. Dr. Libby says this SPF is one of her go-to picks because it's super lightweight and softens skin thanks to squalane without feeling greasy, making it a must for dry skin types.
SPF 30
Mineral sunscreen lotion
Softens skin
This content is created and maintained by a third party, and imported onto this page to help users provide their email addresses. You may be able to find more information about this and similar content at piano.io
Advertisement – Continue Reading Below