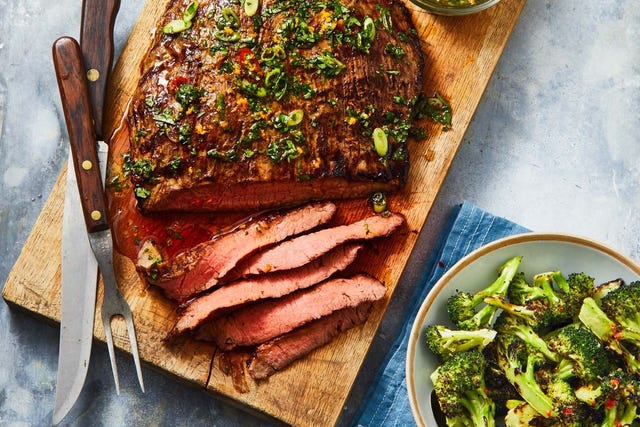 Mike Garten
Soak flank steak in a citrus-garlic marinade for a quick summer dinner that gets an added boost from zesty chimichurri.
Advertisement – Continue Reading Below
Yields: 4 – 6
Total Time: 0 hours 55 mins

Citrus-Garlic Marinade
1 1/2 tbsp.
grated orange zest plus 1/3 cup orange juice
1 tbsp.
grated lime zest plus 2 Tbsp lime juice
2
cloves garlic, finely chopped
Flank Steak
1
1 1/2- to 2-lb beef flank steak
For marinade
Combine all ingredients in a resealable plastic bag. Add steak, seal and turn to coat. Let sit at least 30 minutes or refrigerate up to 2 hours.
For steak
Heat grill to medium-high. Remove steak from marinade, scraping off any large bits. Season with 1/2 teaspoon each salt and pepper and grill, covered, 4 minutes.
Turn and grill, covered, to desired doneness, 3 to 5 minutes more for medium-rare (135°F), depending on thickness. Transfer to a cutting board and let rest 10 minutes before slicing. Serve with Orange-Spiked Chimichurri and Grilled Broccoli if desired.
NUTRITIONAL INFORMATION (per serving): About 220 calories, 11 g fat (4 g saturated), 28 g protein, 245 mg sodium, 1 g carbohydrates, 0 g fiber
Did you make this recipe? Comment below!
This content is created and maintained by a third party, and imported onto this page to help users provide their email addresses. You may be able to find more information about this and similar content at piano.io
Advertisement – Continue Reading Below