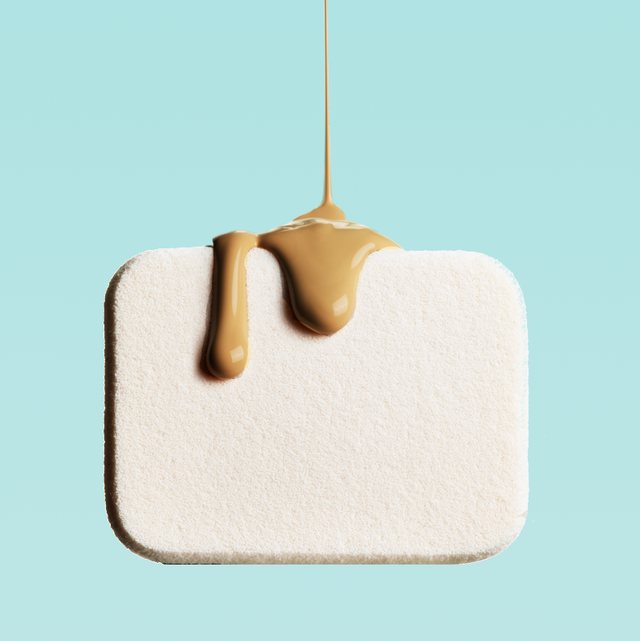 Getty Images
Your skin changes as you get older, and so should your foundation. While you may have battled acne or oily skin in your 20s, you're more likely to be dealing with dark spots, wrinkles and fine lines in your 50s, 60s, and over.
In order to find the best foundations on the market, including for mature skin, Good Housekeeping Institute Beauty Lab scientists recruited professional makeup artist evaluators to test and rate label-masked formulas from drugstore to high-end. They are judged on attributes that include dispensing, texture, application (spreadability, blendability, buildability), and coverage look and feel. Beauty Lab pros quantified 919 data points in the most recent test to zero in on the winners. Before you get shopping, our scientists and top makeup artists bring you the ultimate guide to the best foundations for mature skin:
Look for lightweight formulas: A hydrating or satin-finish liquid foundation is your best choice, especially as hormone levels dip and your skin gets drier. "Choose a water-based formula that has hydrating ingredients," like moisturizing glycerin or hyaluronic acid, advises Erica Whelan, a makeup artist in New York City and Los Angeles. "Foundations that have sheer coverage and a dewy luminous finish work best with women who are concerned about lines and wrinkles." Thicker, matte foundations are usually made to provide fuller coverage, which means they're packed with pigment that can eventually get cakey and "settle into fine lines and wrinkles, causing them to look more pronounced," Whelan says.
Apply with a damp makeup sponge: This will leave skin glowing and dewy, plus help you avoid streaky application. Less is more: start with a small amount and blend into skin thoroughly, smoothing the foundation over your entire face, including under your eyes, on the eyelids and brow bones, along both sides of your jawline, and onto your neck.
Here, the GH Beauty Lab's best-tested and makeup artist picks for the best foundations for older mature skin you can buy, including for fine lines and wrinkles, large pores, full coverage, ad more.
Advertisement – Continue Reading Below
1
Best Overall Foundation for Mature Skin
Bye Bye Foundation Full Coverage Moisturizer SPF 50+
IT Cosmetics
ulta.com
$39.50
Infused with 10 botanical oils and plumping hyaluronic acid, the GH Beauty Lab test-winning IT Cosmetics tinted cream goes on like a moisturizer, leaving skin soft and glowy. It's also packed with SPF 50 to protect your face from the sun — the best anti-aging defense of all! It beat 29 other foundations the Beauty Lab's test and earned the only perfect score for smooth-looking coverage. Makeup artist evaulators found it was one of the best formulas for mature skin.
Contains anti-aging ingredients
Feels moisturizing
Smooth coverage
2
Best Value Foundation for Mature Skin
Age Perfect Radiant Serum Foundation SPF 50
L'Oréal Paris
amazon.com
$11.92
Created especially for mature skin, this Good Housekeeping Seal star serum foundation from L'Oréal Paris effectively perfects, hydrates and protects skin with a high level SPF. In studies, 83% of women said the lightweight, radiant finish formula doesn't settle into lines or wrinkles and it improved skin hydration eight hours after application thanks to moisturizers like hyaluronic acid.
Lightweight radiant finish
Won't settle into wrinkles
Effectively moisturizes
Affordably-priced
3
Best Full Coverage Foundation for Mature Skin
Outlast Stay Fabulous 3-In-1 Foundation
CoverGirl
amazon.com
$8.54
Great if you want a flawless face, without a ton of extra steps. CoverGirl's silky base is a triple-duty primer-concealer-foundation hybrid. With just one application you'll get the coverage of a concealer and, true to its name, it'll last all day. That's why it won a GH Beauty Award! Evaluations showed that the blendable formula stayed in place while still feeling light on skin and not looking heavy or cakey.
Long-lasting
Lightweight
Good value
4
Best Tinted Moisturizer Foundation for Mature Skin
Skin Feels Good Skin Nourishing Foundation
Lancôme
sephora.com
$35.00
This Lancôme tinted moisturizer with hyaluronic acid feels like a silky, rich cream on skin, not makeup and is one of GH's beauty director's go-to picks. "It provides the perfect amount of coverage, hiding spots and discoloration without settling into lines or caking, and gives skin a natural-looking youthful glow," she explains.
Softens skin
Good coverage
Gives a glow
5
Best Foundation for Mature Skin and Large Pores
Power Fabric Compact Cream Foundation Balm
Giorgio Armani
nordstrom.com
$68.00
Giorgio Armani's luxurious foundation balm glides over skin to give full satiny coverage that blurs pores, redness, spots and uneven texture. "This formula really hides everything yet feels silky on skin," GH's beauty director says. Plus, the compact comes with an applicator sponge and a mirror for touch-ups on the go.
Full coverage to hide pores
Includes sponge and mirror
6
Best Foundation for Mature Wrinkled Skin
TimeWise Luminous 3D Foundation
Mary Kay
marykay.com
$25.00
A GH Beauty Award winner and Good Housekeeping Seal star, Mary Kay's creamy medium- to full-coverage foundation delivers hydrating and anti-aging effects via ingredients like softening vitamin E, radiance-enhancing niacinamide and smoothing peptides. In a study, over 90% of testers found that it smoothed the look of lines after one week of use and gave skin a luminous finish instantly, per Lab analysis.
Contains anti-aging ingredients
Smooths lines
Makes skin look luminous
7
Best Lightweight Foundation for Mature Skin
Future Skin Gel Foundation
Chantecaille
nordstrom.com
$79.00
GH Beauty Lab senior chemist Sabina Wizemann likes Chantecaille's unique gel-like formula because it won't settle into fine lines and wrinkles and leaves a fresh, natural-looking finish. The foundation is sheer, but evens out skin tone and is easily buildable if you prefer a more full-coverage look or need to cover a blemish or age spot. While it feels like a creamy skincare product, it's not tacky or too shiny.
Buildable natural finish
Won't settle into lines
8
Best Glow-Boosting Foundation for Mature Skin
Lift & Luminate Triple Action Serum Foundation
More than just makeup, this GH Beauty Award- and test-winning No7 foundation is infused with skincare ingredients like wrinkle-smoothing peptides and vitamins C and E to firm and brighten skin. It impressed in our Lab's recent test thanks to a believable radiant finish and the fact that it went on and blended smoothly. Makeup artist evaluator Birgitte Philippides called it "very impressive" and "flawless." The medium-coverage pick is also a GH Seal star!
Made with skincare ingredients
Boosts radiance
Blends smoothly
9
Best Powder Foundaton for Mature Skin
Age Perfect Creamy Powder Foundation
L'Oréal Paris
walmart.com
$11.97
No more parching powder foundation: This silky GH Seal star L'Oréal Paris formula (with a mirror and a sponge!) is infused with anti-aging skincare ingredients like ceramides. In a study, 85% of testers said it made skin look smooth, GH Beauty Lab data evaluation found.
Contains anti-aging ingredients
Smooths skin
Good value
10
Best Foundation for Mature Skin and Dark Spots
Total Effects Tone Correcting CC Cream
The best hydrator of the GH Beauty Lab's CC cream test, this GH Seal-holding sheer tinted Olay formula improved skin over time, too, including dark spots.. According to Lab measurements, it moisturized better than any other CC cream tested, increasing hydration levels by 36% over six hours, and minimized the appearance of brown spots and pores over four weeks.
Reduces dark spots
Effectively hydrates skin
11
Best Cream Foundation for Mature Skin
Simply Ageless Foundation
CoverGirl + Olay
ulta.com
$10.79
With Olay moisturizer swirled right in, this CoverGirl cream compact foundation is the ultimate product for a one-step face. While some cream formulas can feel heavy and cakey, this GH Beauty Award winner is lightweight while still offering great coverage. It's even pigmented enough to double as a concealer. GH Beauty Lab pros like that it feels velvety and blends flawlessly, and the packaging makes it great for keeping in your bag for on-the-go touch-ups.
Made with moisturizer
Lightweight and blendable
Affordably-priced
12
Best Sheer Foundation for Mature Skin
Pure Radiant Tinted Moisturizer SPF 30
Another of Wizemann's favorites, this Nars tinted moisturizer is ideal for getting a no-makeup, natural look. It's her go-to product when traveling: "The perfect multi-tasker, it protects with SPF 30, hydrates and keeps my skin tone looking even and glowy," Wizemann says. The cream is easy to apply with your fingers to perfect skin without adding extra heaviness, plus you can easily build up the coverage.
Sheer, lightweight finish
Softens skin
Applies easily
13
Best Stick Foundation for Mature Skin
Stick Foundation
Iman Cosmetics
amazon.com
$16.00
If you prefer foundations in handy stick form, grab this satin finish full coverage formula from Iman. It's perfect for on the go and blending into hard-to-reach areas like around the eyes and nose that can be prone to dark circles and redness with age.
Portable, no-spill formula
Targets smaller areas of the face
14
Best Luxury Foundation for Mature Skin
Les Beiges Healthy Glow Foundation Hydration & Longwear
Chanel
nordstrom.com
$60.00
Chanel's high-end foundation lives up to its legacy: The base imparts skin with an "expensive-looking" glow, restoring lost radiance. "This is one of the best true foundations I've ever tried: It really covers and evens out skin, yet somehow looks natural and luminous," GH's beauty director raves. "It makes skin look perfect, even when it's not."
Boosts radiance
Good coverage
15
Best Shade Range Foundation for Mature Skin
Say What?! Foundation
Uoma Beauty
ulta.com
$39.00
Tailored to the deepest of skin tones, Uoma Beauty's soft matte foundation in an impressive 50 shades comes in customized formulations for different skin color groups, including rich tan, brown and dark brown. "The most perfectly matching foundation I may have ever had," an Ulta reviewer marveled.
Extensive custom shade range
Matte finish
16
Best Anti-Aging Foundation for Mature Skin
Healthy Skin Anti-Aging Perfector SPF 20
A skincare and makeup hybrid, Neutrogena's sheer tint is blended with the star anti-aging ingredient retinol, which smooths skin over time. The formula has over 5,000 five-star reviews on Amazon: True to its name, one reviewer said "my skin looked healthier than the day before."
Contains smoothing retinol
Softening sheer tint
Good value
17
Best Inclusive Drugstore Foundation for Mature Skin
True Match Super-Blendable Foundation Makeup
L'Oréal Paris
walmart.com
$5.49
For under $10, this classic L'Oréal Paris foundation offers stellar medium coverage at an unbeatable value and comes in a wide range of 45 shades from light to deep, with neutral, cool or warm undertones. That means you can find the right one for your skin tone and undertones (key to getting a perfect match). With over 600 5-star reviews, it's a total crowd-favorite.
Large color selection
Bargain price
This content is created and maintained by a third party, and imported onto this page to help users provide their email addresses. You may be able to find more information about this and similar content at piano.io
Advertisement – Continue Reading Below