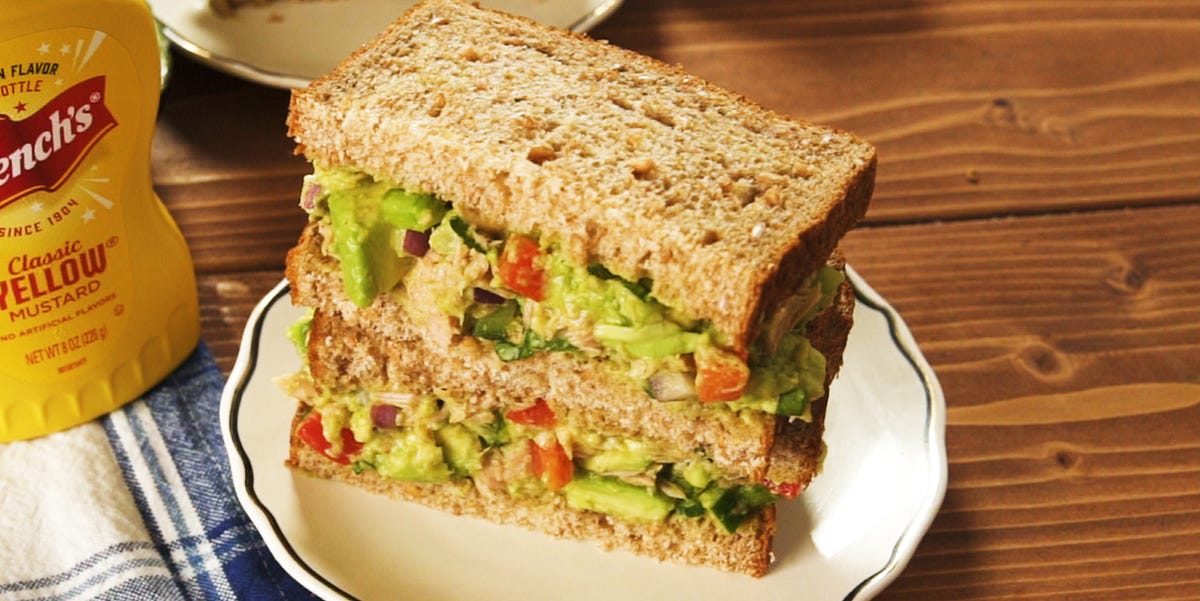 If you haven't tried tuna salad made with avocado (or even if you have), you're in for a lunchtime treat. The avocado gives it a healthy and eminently satisfying creaminess, while chopped celery, red onion, and red bell pepper add a delightful crunch. We're especially fond of the sharp flavor from the lemon juice and mustard (we used French's Classic Yellow Mustard). Sandwiched between your go-to sliced bread, you can have one ready to go in just 10 minutes.
Made this? Let us know how it went in the comment section below!
Advertisement – Continue Reading Below
Yields: 4 servings
Prep Time: 0 hours 10 mins

Total Time: 0 hours 10 mins

For the dressing
2 tbsp.
fresh lemon juice
1/4 tsp.
red pepper flakes
1/4 c.
extra-virgin olive oil
Freshly ground black pepper
for the salad
3/4 c.
english cucumber, finely chopped
1/4 c.
red onion, finely diced
1/4 c.
yellow, orange, or red bell pepper, diced
1/4 c.
fresh cilantro leaves, chopped
2
large avocados, peeled, seeded, and diced
2
(5-oz.) cans yellowfin tuna, drained, preferably oil-packed
8
slices whole wheat or other preferred bread
Make the dressing: In a medium bowl, whisk the lemon juice, mustard, cumin, garlic powder, and pepper flakes, until combined. While whisking, slowly drizzle the olive oil into the lemon juice mixture until fully combined. Season with salt and pepper.
Make the salad: Add the cucumber, onion, bell pepper, celery, and cilantro to the dressing. Toss to coat. Add the avocado and toss, mashing slightly with a fork until a very chunky mash forms. Gently fold the tuna into the avocado mixture, letting it break up into bite size pieces or smaller.
Mound the salad on top of 4 pieces of bread and sandwich with remaining bread.
This content is created and maintained by a third party, and imported onto this page to help users provide their email addresses. You may be able to find more information about this and similar content at piano.io
Advertisement – Continue Reading Below