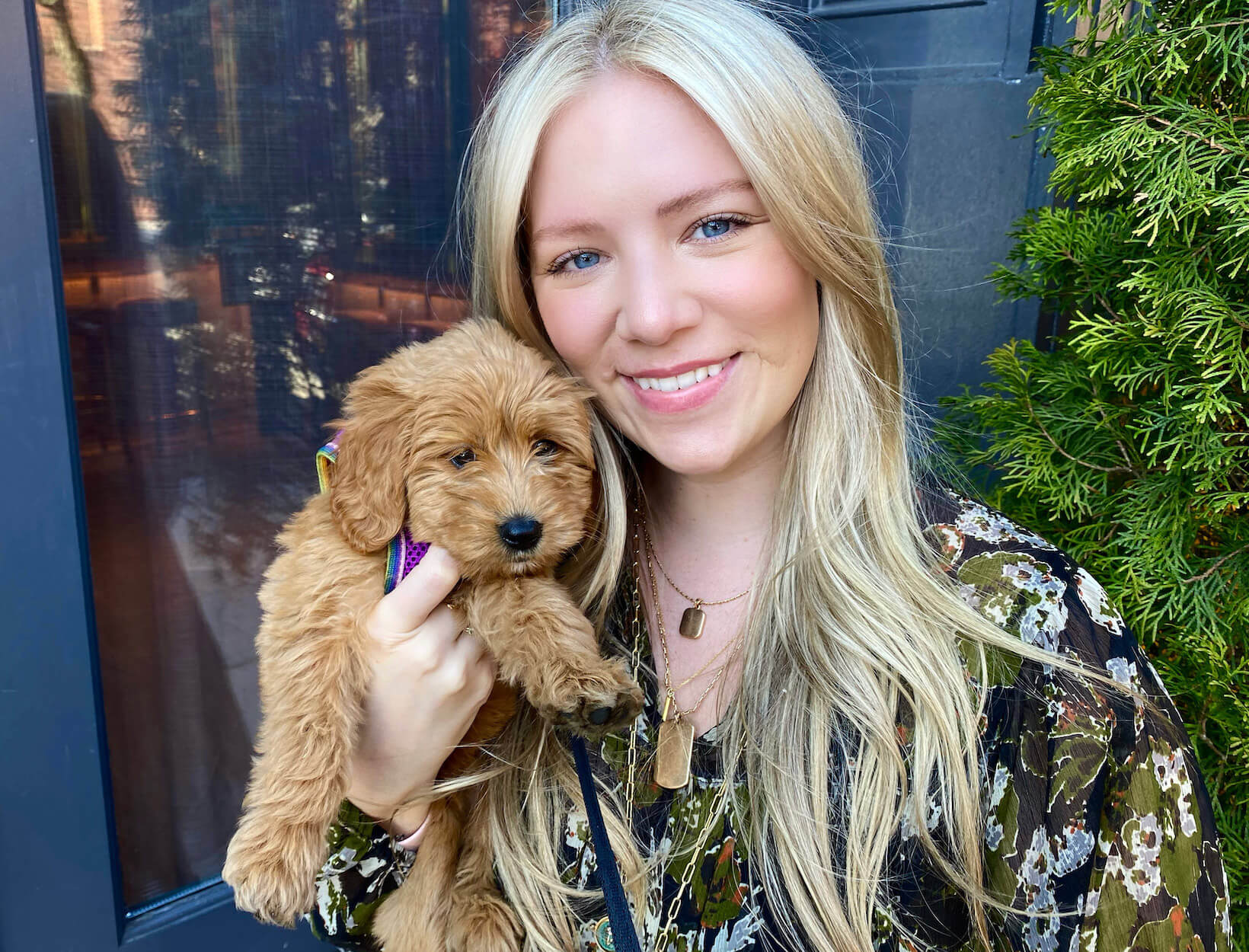 Associate beauty editor Brianna Peters had always thought about makeup as a way to cover up. "I was insecure about my skin," she says. "I have scarring on my face from a dog bite when I was a toddler, and it became more uneven and pigmented with sun exposure. And I had breakouts," she says. As Peters switched from conventional beauty to clean, she was shocked not just by how much better she liked the clean options but also by how significantly her skin improved: "I feel good wearing less makeup now, but at the same time, I have more fun with it than I ever did." Peters's favorite new makeup—including a skin-care miracle for allover glow, a flattering pop of color she uses on lips and cheeks, and a golden-peachy-pink highlighter with a subtle shimmer—leaves her dewy and fresh-faced: "My skin has never looked better."
Makeup looks its best if you start with glowy, moisturized skin. So before I touch any makeup, I prime my face with this—it's a real secret weapon. Not only is it the perfect base for concealer, foundation, or tinted sunscreen, but also my skin looks so much better once I smooth it on that I need less makeup in general.
I'm predisposed to dark undereye circles, so concealer is important for me. This super creamy one covers so seamlessly, no one can tell I'm wearing it. The consistency is on the thicker side, so you need only the tiniest dot. Use the wand to put it directly and only on the darkness, not the skin around it, and pat with your finger to blend it out. It's made with skin-care ingredients like caffeine and hyaluronic acid, so it leaves me looking refreshed and wide-awake.
This tinted serum foundation blends like a dream, evens my skin tone, and moisturizes with hyaluronic acid and plant-based squalane. It has the most gorgeous dewy finish—my skin looks and feels incredible. Plus, I love that it has SPF 40: I don't need additional sunscreen unless it's going to be super sunny.
This mascara gives me the most fluttery, glossy lashes ever. The wand has two bristle lengths: The shorter side curls, and the longer side lifts, lengthens, and separates. The formula swipes on like silk—it's made with shea butter and keratin to condition. My tip: I rotate the mascara wand as I'm applying upward from the roots to coat fully, lengthen, and boost my lashes.
My brows are naturally fair and sparse, so the one step I never skip is defining and filling them in with pencil. This one is my new favorite: The triangle-tip pencil on one side brilliantly mimics the look of real hair, making it easy to fill in sparse areas, and the spooley on the other end smooths and fluffs to make my brows look fuller. The Soft Brown shade matches my brows exactly and never smudges.
This golden-peachy-pink highlighter gives my skin the best glint-of-shimmer glow—a single swipe warms and brightens my face, and it makes my cheekbones pop. And it feels so hydrating and silky going on.
These cream-powder shadows from Westman Atelier are velvety-soft and buildable. I rarely wear full eye shadow these days, but one trick I swear by I learned from makeup artist Ash K Holm: Take your brush with a bit of the lightest eye shadow (Neige in this super flattering group of three shades) and smooth it on the inner corner of your eye right about where your tear duct is. Blend it out both along your bottom lash line (about halfway) and up on the inner corner of your eyelid. It completely wakes up your eyes and gives you a gorgeous highlight.
On the insistence of practically every staffer at goop, I tried Rosewater from Kosas, and it is, as they promised, the most flattering shade. It gives me great is-she-or-isn't-she-wearing-it color on my lips, and I dab it on my cheeks for a beautiful just-worked-out flush.
I'm already on my third tube of this amazing balm. It's silky-smooth and ultramoisturizing, and it leaves the most gorgeous sheen that's the perfect finishing touch.