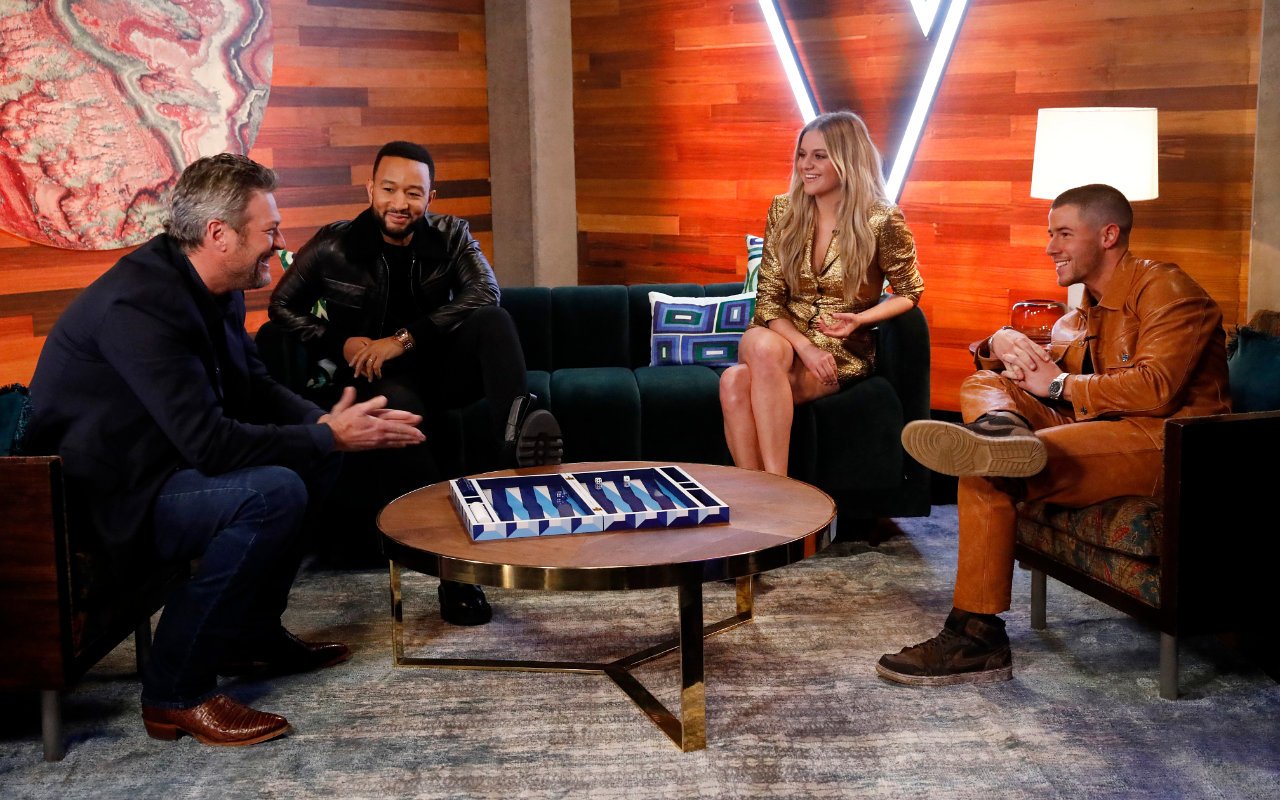 The new episode of the NBC long-running singing competition show features the final night of the Battle Rounds as remaining contestants perform in front of coaches.
AceShowbiz –
Season 20 of "The Voice" is soon going to enter the Knockout Rounds. The Monday, April 12 episode of the NBC long-running singing competition show featured the final night of the Battle Rounds as remaining contestants performed in front of coaches Blake Shelton, John Legend, Nick Jonas and Kelsea Ballerini, the latter of whom was there on behalf of Kelly Clarkson.
The first battle that night was between Team John's Victor Solomon and Deion Warren who belted out Usher's "U Got It Bad". Following the performance, Blake commented, "Deion as much as I enjoyed watching your performance, I heard pitch things that I didn't hear with Victor. I think if you could take a note, Victor from Deion's book though is that he does have a lot of personalities when he performs. From what I heard vocally, I would be going with Victor." John apparently agreed with Blake as he announced Victor as the winner of the battle.
Next up were Ainee and Anna Grace from Team Kelly. For the night, they opted to sing "You Know I'm No Good" by Amy Winehouse. Blake noted that Ainee seemed to be "restricting" herself for a little bit when she was singing and that made him pick Anna. John, however, chose Ainee because she's "more my style with your flow." Eventually, Kelsea, on behalf of Kelly, announced Anna as the winner of the battle.
Team Nick's Raine Stern and Andrew Marshall then took the stage to sing "Adore You" by Harry Styles. "I love this song and Andrew this song is better suited to you. Vocally I was more drawn to Andrew, performance-wise I was more drawn to Raine, you are so fun to watch and you can see that you love it which is truly an artist," Kelsea commented. Nick named Raine as the winner of the battle. However, it wasn't the end for Andrew because Blake used his one and only steal to get Andrew on his team.
Savanna Chesnut and Pete Mroz from Team Blake then went against each other while singing "Have a Little Faith in Me" by John Hiatt. Nick loved both as he said that Savanna executed each note very well while praising Pete for his "soothing" voice that reminded him of Steven Chapman. John, on the other hand, thought that Savanna was a "wonderful singer," but she was missing "a sense of urgency." Pete was picked as the winner of the battle.
Following it up were JD Casper and Kenzie Wheeler from Team Kelly. Singing "Fishing in the Dark" by the Nitty Gritty Dirt Band, they hoped to impress the coaches and be sent to the Knockout Rounds. "I think both of them were really well-executed performances, you both know who you are as vocalists," John noted. Kenzie won over JD in the battle.
Another Team Nick pair took the stage. This time, it was Rachel Mac and Bradley Sinclair who performed "Your Song" by Elton John. "You both just gave the best performance that we have had in the battle rounds," Nick said after the performance. After a long deliberation, he picked Rachel as the winner of the battle.
Concluding the night were Rio Doyle and Carolina Rial from Team John as they belted out "Somebody I Used to Know" by Gotye featuring Kimbra. "Wow, I loved that so much. You guys are both incredible, your stage presence and you both didn't lose your breath. I feel like there is more experience with Carolina, but you are both magnificent, and congratulations on making it this far," raved Kelsea. John announced Rio as the winner. However, he wasn't ready to let Carolina go so he decided to save her.