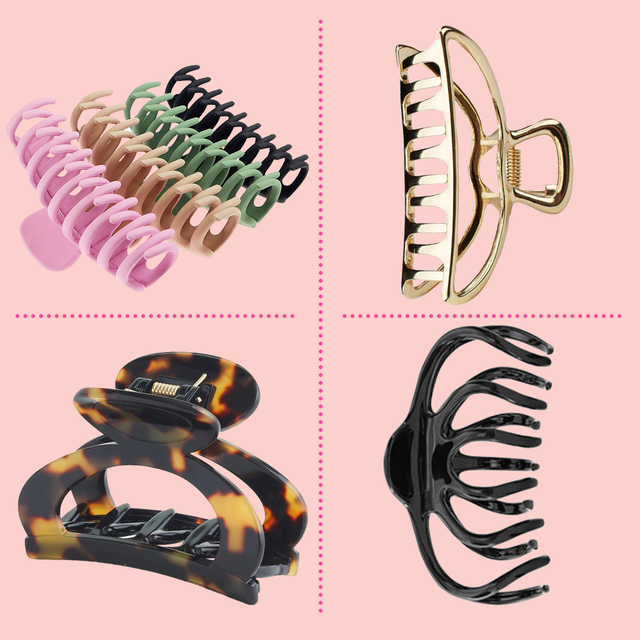 courtesy
There are many '90s beauty trends that we wouldn't mind leaving in the past (butterfly hair clips, frosty eye shadow and pencil-thin eyebrows, anyone?). But one hair trend is making a comeback and we are totally on board: Claw clips, the one-stop-shop for a chic and easier-than-ever updo. They are back in style and (bonus!) won't damage your hair like other hair accessories and elastics might.
In addition to being a nice change from ubiquitous high ponytails and messy buns, claw hair clips are structured and feel modern, even though they are a blast from the past. The traditional way to wear them is to twist hair up and clamp the clip on, but you can also use smaller sizes for a half-up 'do or to pull back bangs or shorter pieces. However you choose to sport them, you know your style will be locked in place, as these hair accessories typically have a strong hold on hair.
Not sure where to buy the best claw clips? Here, we've narrowed down the chicest clips for any hairstyle or need, including thin hair, thick hair, large and jumbo size, minis, and more:
Advertisement – Continue Reading Below
1
Best Overall Claw Hair Clip
Rounded Open-Sided Hair Clip
This tortoise shell claw clip has been a top-seller at J.Crew for years and is a Good Housekeeping Institute Beauty Lab expert go-to. "My mom always told me to get hair clips that are made in France, as they are made of acetate instead of regular plastic, which is stronger, lighter and more flexible," says GH Beauty Lab Senior Chemist Sabina Wizemann. This one fits the bill and while on the pricier side, Wizemann thinks it's definitely worth it. "I've had this one for years and it's great for every day," she says. "My hair is fine, but I have a lot of it, and this picks it all up."
2
Best Value Claw Hair Clips
Hair Classics Women's Medium Claw Hair Clip
Talk about a bang for your buck! While these Goody clips are super budget-friendly, they don't sacrifice quality for cost. They have a good grip, strong construction and really stay closed when in your hair.
3
Best Claw Clips for Thick Hair
Big Hair Claw Clips
Thanks to the non-slip grip, these claw clips from TOCESS are easy to use on even the thickest of strands. Plus, the colors are super fun with neutrals and brights alike.
4
Best Claw Clips for Thin Hair
Large Metal Claw Clips
WILLBOND
amazon.com
$11.99
Take your pick — these Willbond clips come in all of your favorite metallics. The tiny, interlocking teeth hold even the finest strands in place, making these ideal for those with thin strands.
5
Best Large Claw Hair Clip
Metal Hair Claw Clips
The just-right size for anyone with medium to long hair, Kitsch's large metal clip is both pretty and practical. Despite its streamlined appearance, the minimalist design is secretly strong while being lightweight.
6
Best Jumbo Claw Hair Clips
Jumbo Claw Clips
Size matters when it comes to hair clips and super thick hair. Riviera's jumbo clips (which are approximately five inches long!) have a strong spring and sturdy hold, keeping your hair off your neck all day long.
7
Most Popular Claw Hair Clips on Amazon
Strong Hold Hair Claw Clips
Boasting over 15,000 ratings on Amazon, Revlon's strong hold hair clips are a top-seller for all hair types, from fine to uber thick. "These are the absolute best hairclips ever," one reviewer shared. "They keep my hair secure with the double teeth and are the perfect size."
8
Best Claw Clips for Layered Hair
Tortoise Shell Cellulose Acetate Hair Claw Clips
BeautyChen amazon.com
Small but mighty, these chic clips from BeautyChen really get the job done. They are ideal for fine hair, but also come in handy for bangs, shorter layers and fun multi-clip hairstyles.
9
Best Small Claw Hair Clips
Small Basic Half-Claw Clips
Whether you use them to hold up sections while styling hair, create a half-up 'do, or pull all of your hair back, these Goody clips are quite versatile. The three neutral shades work with any hair color, so you can mix and match as you please.
10
Best Claw Clip for Curly Hair
Hair Clip
Designed for textured hair, Pattern's claw clip is ideal for curly, coily, and kinky strands. It's large size and strong closure hold a lot of hair without budging. Plus, the clip can be helpful for sectioning strands when styling.
This content is created and maintained by a third party, and imported onto this page to help users provide their email addresses. You may be able to find more information about this and similar content at piano.io
Advertisement – Continue Reading Below