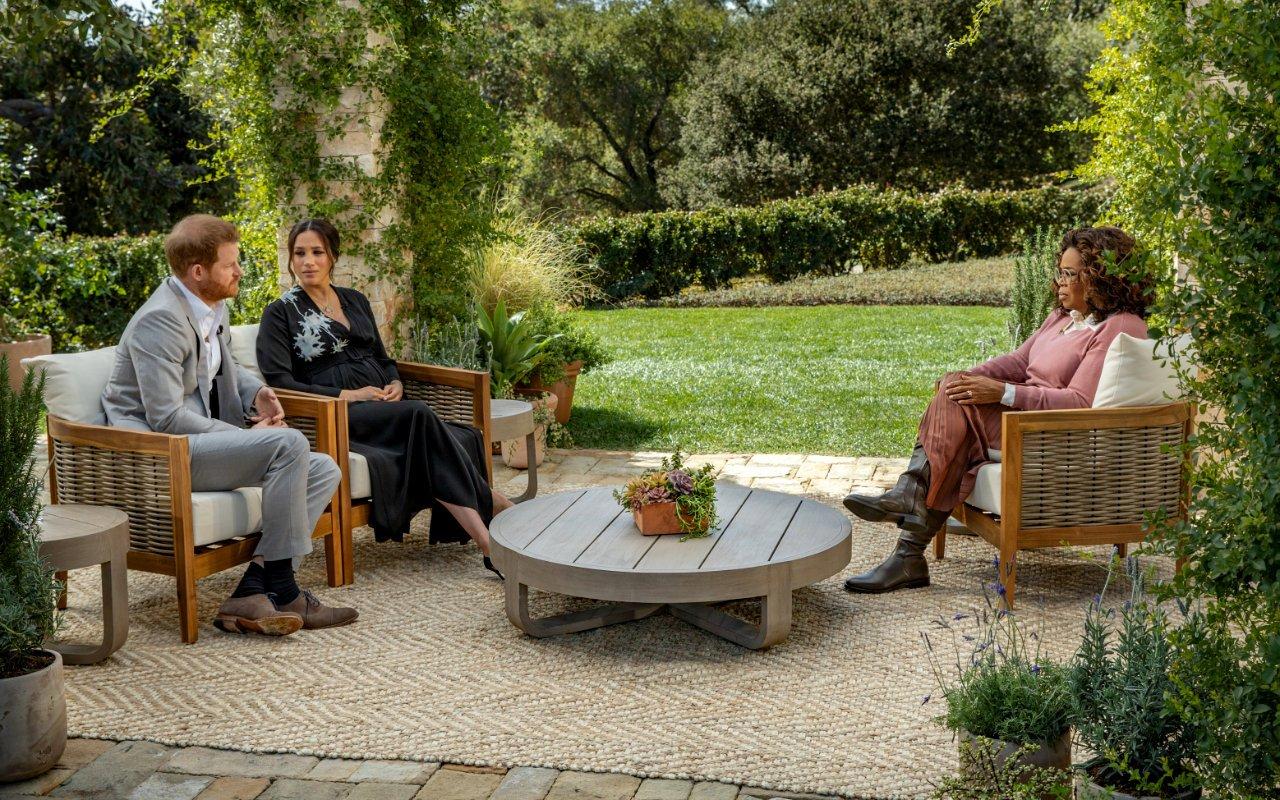 On 'Oprah with Meghan and Harry', the Duchess also shares that the British royals refused to give her the help that she desperately needed at the time because 'it wouldn't be good for the institution.'
AceShowbiz – "Oprah with Meghan and Harry: A CBS Primetime Special" finally arrived on Sunday, March 7 on CBS. The highly-anticipated tell-all interview with Meghan Markle and husband Prince Harry saw the Duchess of Sussex getting candid with host Oprah Winfrey about her experience during the time she lived under the supervision of the British royals.
Meghan shared a shocking allegation about the royal family's concerns about the skin color that her and Harry's son might have. "In those months when I was pregnant … we have in tandem the conversation of 'he won't be given security, he's not going to be given a title,' " the former "Suits" actress said.
She also revealed in the wide-ranging interview that there were "also concerns and conversations about how dark his skin might be when he's born." Baffled, Oprah responded, "What?"
"We haven't created this monster machine around us in terms of clickbait and tabloid fodder," Meghan went on to say, adding, "We've allowed that happen, which means our son needs to be safe." The Duchess also alluded that she and husband Harry were not asked to take a picture with their son Archie after he was born instead of avoiding a royal photo opportunity like some reports stated.
The pressure and public scrutiny apparently took a toll on Meghan and even pushed her to the brink of suicide. Claiming that she was a victim of "character assassination," the mom of one admitted that she contemplated suicide. "Look, I was really ashamed to have to say it at the time and ashamed to have to admit it to Harry especially, but I knew that if I didn't say that I would do it. I just didn't want to be alive anymore," she divulged.
"And that was a very clear and real and frightening constant thought. And I remember, I remember how he just cradled me," Meghan continued. The Duchess also shared that the Palace refused to give her the help that she desperately needed at the time, "I went to the institution, and I said that I needed to go somewhere to get help. I said that 'I've never felt this way before, and I need to go somewhere.' And I was told that I couldn't, that it wouldn't be good for the institution."
That aside, Meghan and Harry revealed the sex of their unborn second child, sharing that the baby is a girl. "I'm just grateful…to have any child, any one or any two would have been amazing. But to have a boy and then a girl, you know, what more can you ask for? But now, you know, now we– we've got our family. We've got, you know, the four of us and our two dogs, and it's great," the Duke said.