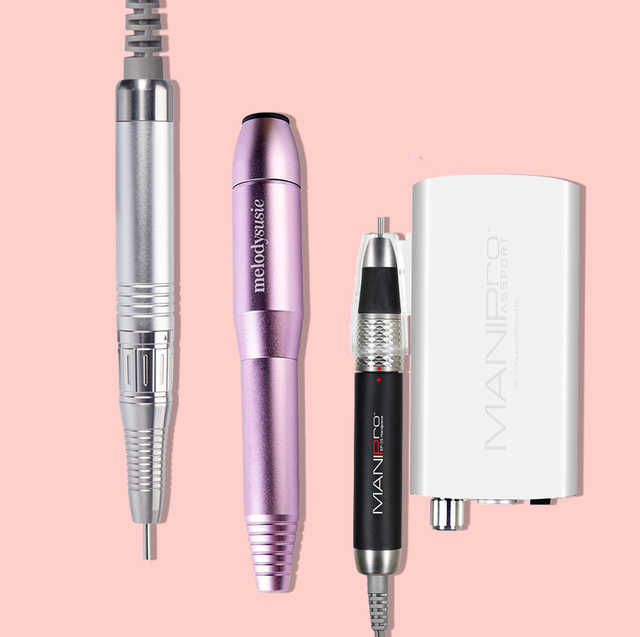 courtesy
If DIY is go-to option for manicures and pedicures, one way to upgrade your process is using a professional nail drill, also known as an e-file or electric manicure file, which will give the nails on your hands and toes a look that mimics what you would receive at the salon. E-files are for experts, not beginners — they expedite the process while simultaneously providing precision to your manicure-pedicure. An electric manicure toolset works on both false and natural nails: They can file and shape your nails, easily remove gel polish, take off acrylic nails at home, trim your cuticles, and buff your calluses straight to smoothness.
But while they can facilitate your at-home mani/pedis, if you're inexperienced using one or not well-versed in the specifics, you can end up not achieving your desired outcome or worse, damaging your nails and hurting yourself. Here, some important tips to know before you lay a finger on a professional nail drill:
Pick the right drill bit for the job. Bits are what allow you to shape and file your nails, and they come in a variety of shapes, sizes, materials, and grits. While some grits have multiple functions, some are specific to certain purposes (for example, the barrel bit does backfill cutting and shaping the nail, but you can't use it for filing your cuticles), so educate yourself on the bits before beginning.
Choose the right setting and speed. The forward or reverse options on the machine are specific to your dominant hand — use forward if you are right-handed and reverse if you are left-handed (the opposite won't file the nail!). Practice makes perfect when it comes to speed: Too fast and you can damage your nails; too slow and you won't get your desired outcome.
These are the best nail drills you can buy, including the best affordable e-file, the best nail drill for beginners, the best professional nail drill, and more:
Advertisement – Continue Reading Below
1
Best Overall Nail Drill
Brushless Nail Drill
This rechargeable, cordless nail drill machine from Imene will remove acrylic or gel with ease. At 35,000 RMPs, it has the highest speed in comparison to any of the electronic nail files on our list. The tool also has a brushless motor which cuts down on wear-and-tear, making it long-lasting.
Highest speed
Long-lasting
2
Best Value Nail Drill
Portable Electric Nail Drill
MelodySusie
amazon.com
$22.99
This MelodySusie electric nail file is portable and will give your nails a professional look. The tool is compact but powerful and can manage your acrylic nails with ease. The body of this nail drill is made with aluminum alloy, which contributes to heat dissipation. Note: This is specifically designed for acrylic and gel nails, so don't use this machine on your natural nails!
Portable size
Cooling feature to prevent overheating
Affordable
Not suitable for natural nails
3
Best Professional Nail Drill
Pro Power 35K Portable Nail Drill
Medicool
amazon.com
$439.95
Are you a manicure aficionado and always do your nails yourself? Then this Medicool nail drill is for you, especially if you like acrylic nails. The tool is an investment, however, its features make it worthwhile: It's rechargeable with a 20-hour battery life and goes up to 35,000 RPMs, enabling it to tackle even the toughest nail job. It comes with six nail bits, including diamond, ceramic, and carbide (diamond bits are rustproof while ceramic and carbide bits are long-lasting).
20 hour battery life
Powerful
4
Best Nail Drill for Beginners
4-in-1 Rechargeable Electric Nail File Set
Bellasonic
amazon.com
$79.95
If you're a nail drill novice, then opt for the Bellasonic, which is one of the top-rated nail drills on Amazon. This nail drill oscillates versus spins causing less friction and heat, which means there's less of a chance it will damage to your nails, making it perfect for beginners. The discs are strong and work on acrylics but also gentle enough to easily file down your cuticles and shape your nails.
Lightweight
Won't overheat
Less likely to damage nails
5
Best Nail Drill on Amazon
ManiPro Passport Portable Nail Filing System
The Kupa nail drill is definitely a favorite for DIY manicure lovers, though the price tag may be high for some. It's the best-selling portable nail drill machine on Amazon because of its cordless feature. It also has a small clip on the back in case you want to hook it onto your pants or need to walk around with it. It goes up to 30,000 RPMs and has little to no vibration. There is no on-off button, though, so you have to adjust your settings with each use, and it doesn't come with drill bits. "Why try the rest if you are used to the best?," a reviewer said. " I am so impressed with this product."
Cordless
Little to no vibration
Doesn't come with drill bits
Pricey
6
Best Nail Drill with Foot Pedal
Nail Drill Electric Nail File Machine JD700 Pro
Makartt
amazon.com
$69.99
If you are looking for a great affordable e-file, look no further than this Makartt nail drill machine. This less pricey e-file machine goes up to 30,000 RPMs, making it perfect for gel and acrylic nails (not natural, though!). It even has a foot pedal machine to facilitate use and there's also an option on the machine if you prefer to operate the handpiece.
Foot pedal makes it easy-to-use
Works on gel or acrylic nails
Nail bits may not be the highest quality
7
Best Nail Drill for Under $10
Total Nail Care System
Conserving your cash? Your nails don't have to suffer. This super affordable e-file will run you under $10, plus comes with 5 nail drill bits and a UV light to cure your nail polish so you can give yourself a gel manicure. You can also store the tools inside the curing station of the electric nail set. Note: To use the LED, light you will need two AAA batteries.
Great value
Comes with 5 nail drill bits and a UV light to cure polish
2 AAA batteries needed for the LED light are not included
8
Best Lighted Nail Drill
Illuminating Manicure/Pedicure Set
Hammacher
hammacher.com
$149.95
This Hammacher electric tool set is a great option for those who want to facilitate and speed up the manicure and pedicure process at home. With six speeds up to 12,000 RPMs, it's perfect for natural nails. The tip of the motorized wand is encircled with LED lights to illuminate your work sans shadows, making it easier to see the details of your mani/pedi. Note: This tool's RPMs are a little too slow for acrylic nails.
Lights up so you an easily see details
Lower speed for natural nails
Won't work well on acrylic nails
Pricey
9
Best Nail Drill for Travel
Nail Perfect Manicure & Pedicure Set
If you are meticulous about keeping your beauty items together, this Bauer set is for you. It comes in a compact storage case so you'll never be looking around for your nail bits or discs. There are only two speeds, so this is better for natural manicures and pedicures on natural nails.
Comes with storage case
Small size
10
Best Nail Drill for Natural Nails
Nail File Electric 5in1 Manicure Pedicure Set
TOUCHBeauty
amazon.com
$19.98
TouchBeauty's nail file is great for beginners; with only one button, you won't have a hard time figuring it out. It goes up to 9,000 RPMs, so while it's not our first choice for acrylic nails, it's fabulous for shaping your natural nails and maintaining your cuticles. It's also battery-powered so no need to worry about cords and wires! Note: The attachments aren't replaceable, so when they wear out, it's time to throw away the machine. However, at under $20, if you are new to nail drill machines, the price is perfect.
One button for easy usage
Great value
Attachments are not replaceable
This content is created and maintained by a third party, and imported onto this page to help users provide their email addresses. You may be able to find more information about this and similar content at piano.io
Advertisement – Continue Reading Below