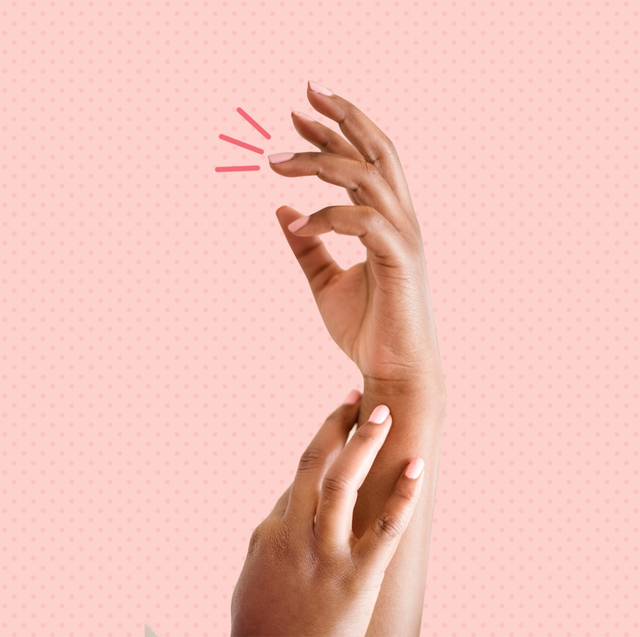 Getty Images
These days, we're all about DIY beauty and anything with long-lasting results for less time needed in-salon. While you may have mastered the art of doing your own gel manicure or dip powder set during this time at home, acrylic nails could be a great next project, especially if you are looking for something with long wear and lots of shine.
Acrylic nails can be especially beneficial to those with shorter nails. "Using acrylics can be a nice way to add length to your nails, which you cannot do with regular polish," says Jessica Tong, nail artist and Smith & Cult Brand Ambassador in San Francisco. Tong is a fan of at-home acrylic nails but warns that patience is definitely required: "Practice is needed to perfect a medium like acrylic," she says. "It was the hardest skill I learned in nail school." Tong recommends practicing with false or press-on nails a few times to get the hang of it before you try it on your own nails. "If it doesn't come out perfect the first time, it's okay," she says.
The most important part of at-home acrylics? Getting the right kit and supplies to do the job well. Here are the best acrylic nail kits for beginners, professionals, and everything in between:
Advertisement – Continue Reading Below
1
Best Overall Acrylic Nail Kit
Xpress Dip Color Kit
Tong loves this Gelish kit as it "can save you a lot of time by not having to do all of the of shaping and filing," she says. If you are new to doing nail extensions, she recommends doing dip powder acrylics as it's "a fast and easy way to achieve the effect of acrylics and get a smooth finish." The kit comes with everything you'll need for the full manicure, plus clear step-by-step instructions on how to use it all.
Starter kit; contains all essential tools
Easy to use
2
Best Value Acrylic Nail Kit
Complete Salon Acrylic Kit
A budget-friendly kit that's easy to use and get salon-quality results? Yes, really! This acrylic set from Kiss is beloved by both Tong and reviewers alike. Tong touted it as the "best value, hands down, for a beginner or a one-time use kit." Walmart reviewers shared that "the instructions are very clear and easy to follow" and the kit is "good quality."
Affordable
Easy instructions
Natural-looking finish
3
Best Acrylic Nail Kit for Beginners
Poly Extension Gel Nail Kit
This Beetles kit is another favorite of Tong's for good reason: "LED poly gel press-on extensions like these will add length to nails and are super easy to use, especially for beginners," she explains. Multiple Amazon reviewers agree, including one who "loved this kit" and says "it was easy to use and the instructions were very clear." Another first-time user on Amazon "loved being able to mold the nail as much as I want before setting the gel," and felt that "it's a good kit to buy to start."
Simple instructions
Good for first-timers
Ideal for multiple uses
4
Best Professional Salon Acrylic Nail Kit
Dipping Powders Essentials Kit
Kiara Sky
amazon.com
$89.99
In addition to being a one-stop-shop for a long-lasting dip powder manicure, this professional kit from Kiara Sky includes all odorless products and has a shorter application time than other traditional acrylic kits. Tong is a big fan of the brand and feels that they are "high quality products that really work." One Amazon reviewer shares that this system is "quick and easy and the results are beautiful, even the first time you do it."
Time-saving
Good quality
No smell
5
Best Basic Acrylic Nail Kit
Acrylic Nail Kit
Mia Secret
amazon.com
$23.25
While it's fun to have every color option under the sun, when you are just starting out with acrylics, you really only need the basics. This kit from Mia Secret is just that. One Amazon reviewer summed it up perfectly: "If you are new or have only a little experience doing your own nails at home, this kit has everything you need in the perfect size to see if doing your own nails at home is for you!"
Compact, travel-friendly
Budget-friendly
Starter kit; ideal for beginners
6
Most Popular Acrylic Nail Kit on Amazon
42 in 1 Acrylic Nail Kit
WuBeFine
amazon.com
$32.99
Searching for an all-in-one comprehensive acrylic kit? WuBeFine's version is perfect for you. In addition to the essential tools and supplies, it comes with a ton of colors, glitters and sequins at a very reasonable price. "The kit comes with everything you'd want to make a great design whether it's ombré nails, glitter, neon or more," one Amazon reviewer shared. "It's definitely a good value for your money."
Works for beginners or professionals
Wide range of colors
Great for nail art
7
Best Advanced Acrylic Nail Kit
Nail Art Kit
Mascarry
walmart.com
$17.45
Another all-in-one acrylic nail set, this Walmart top-seller by Mascarry has everything you need for a professional acrylic powder manicure. Especially great for nail art and designs, one Walmart user shared that "this kit came with everything" to do a DIY mani at home. This expansive set is great for those who are committed to trying different colors and designs at home.
Great color selection
Affordably-priced
8
Best Acrylic Nail Drill
Portable Acrylic Nail Drill
Xpreen
walmart.com
$25.89
Nail drills are no joke, but this comprehensive drill set for acrylic nails from Xpreen is good for nail veterans or newcomers alike. It saves time from manual nail filing and is compact, portable, and easy to use. One Walmart reviewer shared that it "is very easy to use" and "doesn't harm my nails", while another loves that "it has a switch on the cord that changes the direction of the way the drill goes, which I really like."
Small and lightweight
Travel-friendly
Professional quality
This content is created and maintained by a third party, and imported onto this page to help users provide their email addresses. You may be able to find more information about this and similar content at piano.io
Advertisement – Continue Reading Below