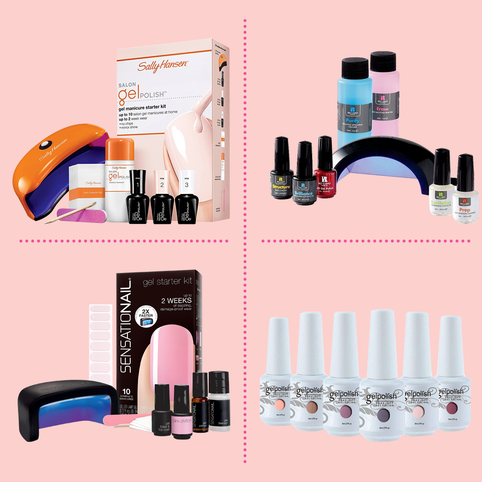 courtesy
For many, gel nails manicures are a lavish treat. It feels like the ultimate form of pampering to go to a salon and walk out with stunning, chip-proof nails that will last for weeks at a time. But regular salon visits get time consuming and expensive. Luckily, you don't have to go to a nail salon to have perfect gel nails — you can DIY the salon service yourself.
Plenty of at-home nail kits exist that bring the salon to you and virtually pay for themselves after one or two uses. These kits range from professional quality to beginner friendly, and many of them even come with fun extras like glitter, gems, and trendy colors to heighten the experience. Use a hydrating cuticle cream or oil and a top-rated hand cream for a luxe salon experience, and when you're done, be sure you know how to remove gel nails at home.
Below, the best gel nail kits, according to reviewers:
Advertisement – Continue Reading Below
1
Best Overall Gel Nail Kit
Pro 45 Starter Kit
Red Carpet Manicure
ulta.com
$79.99
This gel manicure kit is lauded for how professional it looks. Not only does the polish in this kit stay on nails, it's also fast and easy to apply. "The detailed instructions are very helpful and the products that come in the kit are easy to use and seem to be good quality," said one reviewer. "I've done two manicures now and they've lasted me a whole two weeks (and could have lasted longer)." This kit also comes with remover and foil wraps to take off your manicure, completing the professional effect.
Professional-quality
Long-lasting
2
Best Value Gel Nail Kit
Gel Nail Polish Kit
This gel nail kit is straightforward and leads to shiny, solid color. Reviewers say it doesn't chip at all and is easy to apply. For the price, this gel nail kit is hard to beat — you get six colors, a top coat and a base coat, a UV light, and tools to help your manicure go smoothly. "I'd recommend this product for all that you get for a low price," said one reviewer.
Professional-quality
Budget friendly
3
Best Professional-Quality Gel Manicure Kit
Gel Nail Polish Starter Kit
Vishine
amazon.com
$39.99
If you want a little something extra with your gel manicure, this is the kit for you. Not only does it come with six colors, but it also comes with tools that will help you feel extra pampered. Reviewers love how much they get in this kit for around the price of one gel manicure in a salon.
Professional-quality
Salon-quality nail tools
4
Best Long-Lasting Gel Nail Kit
Gel Nail Polish Kit
Beetles' gel nail kit lasts up to two weeks, with reviewers saying that this is one of the longest lasting home manicures they've tried. Reviewers love that this kit gives them plenty of room to play around with different colors and glitter.
Lots of colors
Long-lasting
5
Best LED Gel Nail Kit
Mini Soak Off Professional Gel Nail Polish Starter Kit
With five colors to choose from, this mini kit has everything you need to get started. Instead of a UV light, this one comes with an LED light (to cure nails faster and without UV damage!) but the polishes will still cure under UV lights. Reviewers say the LED light is a bit small, so you may need to dry your thumbs separately.
LED lamp technology
Professional-quality
6
Best No-Light Gel Nail Kit
Gel Couture Nail Polish + Top Coat Kit
Want to leave the drying lamps to the salon? No problem. Essie's gel nail polish formula is only two steps — color, then a top coat. These polishes are sold in kits and individually, so you can keep stocking up on new shades. While some gel polish can be harsh on nails, this one is made to be gentle. One reviewer raved, "this lasts perfectly for over a week and my nails look healthy when it is removed."
Doesn't require a drying lamp
Long-lasting
7
Best Gel Nail Kit for Nail Art
Gel Nail Polish Starter Kit
Glitter lovers, rejoice — this kit comes with tons of different colors of glitter to brush onto your nails, as well as gems and five different colored polishes. If your salon go-to is always getting plenty of nail art, this is the perfect kit to learn how to do it all at home. "My nails look like a million bucks," said one reviewer.
Nail art friendly
Lots of extras
8
Best Gel Nail Kit for Fast Results
Le Maxi Deluxe Gel Manicure Set
Le Mini Macaron
ulta.com
$60.00
This full-sized LED lamp can fit four fingers in at once, so it makes curing the gel polish a breeze. Not to mention, the lamp itself is super cute — and has some reviewers swearing that they'll never go to a salon again. "I'm so happy I found this," says one reviewer. "My nails look like I just came from the salon and I don't have to worry about waiting for them dry." Plus, the USB cord and power adapter make bringing this kit along with you anywhere so easy.
Large drying lamp
LED lamp technology
9
Best Gel Nail Kit for Beginners
Gel Nail Polish Starter Kit
SensatioNail
walmart.com
$25.79
This kit is simple and an easy first foray into DIY gel nails for beginners. "I used to get my nails done at a salon often," said one reviewer. "This kit will not only save me money, it also causes me to enjoy having my nails done more, because I've done it myself and they come out beautifully and strong like the salon process."
Professional-quality
No frills
10
Best Fast-Drying Gel Nail Kit
Salon Pro Gel Starter Kit
This beloved nail polish brand also makes a gel kit. This one just takes three steps to finished nails, and the LED light that comes with it helps cut drying time. "The LED light was super convenient, even though I was hesitant about getting a smaller lamp," said one reviewer. "It's the perfect size."
Dries quickly
LED lamp technology
This content is created and maintained by a third party, and imported onto this page to help users provide their email addresses. You may be able to find more information about this and similar content at piano.io
Advertisement – Continue Reading Below