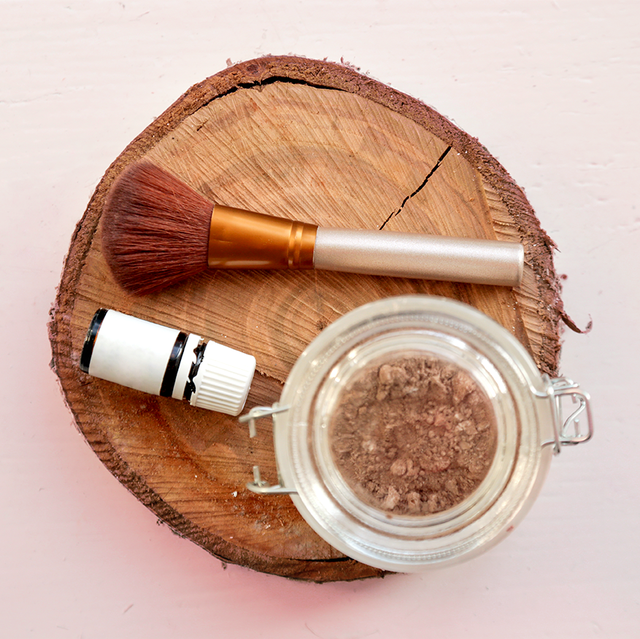 Getty Images
With work-from-home being the new norm for many, you probably are washing your hair less often. Anything you can do to extend the time between shampoos can save you time, effort, and even protect your hair from unnecessary damage. Enter dry shampoo, which is the go-to for absorbing oil and refreshing hair without a wash.
But what about days when you've run out of dry shampoo, want to save money, or are looking to try a new natural option you can do at home? "Homemade dry shampoo is great for on the go in general," says Whitney Hunt, hairstylist at Oscar Blandi Salon in New York City. "It's also especially helpful if you're allergic to chemicals and other ingredients found in many products."
How do I make my hair look less greasy without dry shampoo?
Before reaching for your favorite dry shampoo, try these natural grease-busting remedies:
"Brush your hair with a natural, boar bristle brush nightly to stimulate the scalp, exfoliate dead skin cells, and help to more evenly distribute the concentration of natural protective oils produced on the scalp," advises Paul Cucinello, celebrity stylist and owner of Cucinello Studio in NYC.
Try using facial blotting papers as a "quick fix" for the hairline and part, says Cucinello. But these are not to be confused with dryer sheets, touted as a DIY dry shampoo replacement, which could actually potentially irritate the scalp. "They are traditionally used for getting rid of static and not as a dry shampoo," says Hunt. "You can use them to blot up excess oil if your hair is super oily, but I recommend using them as a first step prior to any of the other DIY recipes."
Try natural ingredients like arrowroot powder, baking soda, and clay to help absorb oil and act as a makeshift dry shampoo. While Cucinello is a fan of some DIY hair care recipes, he suggests that to avoid allergic reactions, you should try a patch test before using a new homemade dry shampoo.
DIY a dry shampoo spray to make for easy application by pouring your ingredients into a powder spray bottle and spray into hair as needed.
And don't forget that your hair color is a big factor in what ingredients you should use. "Blondes should avoid any recipes with excessive amounts of charcoal in them and warm brunettes can add a touch of cinnamon to their DIY concoction if it matches the hair color," he shares.
We asked hair experts for ways to make your hair less greasy that are safe and healthy for your strands. Here's how to make and how to use dry shampoo at home, including DIY dry shampoo sprays and formulas without cornstarch, for camping, and more!
Advertisement – Continue Reading Below
1 Best Simple DIY Dry Shampoo
Hunt says you can use plain arrowroot powder on your roots in a pinch for a camping trip or try this recipe at home and bring it along:
Ingredients: 7 tablespoons of arrowroot powder, 4 teaspoons of white kaolin clay, 24 drops of an essential oil. (Hunt suggests tea tree, because it's antibacterial.)
Directions: Add dry ingredients to a mixing container and combine well. Drop in essential oil(s) and mix thoroughly. Use a funnel to flow mixture into a spray bottle. Add enough water to allow the formula to easily spray out, but not too much that it's watered down. Apply dry shampoo to the roots at the scalp and massage into the hair.
2 DIY Dry Shampoo for Brown Hair
"I love this formula because it's light, absorbs oil really well, and neutralizes odor," Cucinello explains. "It also won't irritate the scalp as much as others I've seen out there." He likes using diatomaceous earth, a mineral powder that's a great oil absorber (the food grade version is considered safe to apply on skin).
Ingredients: 9 teaspoons of organic tapioca starch, 3/4 teaspoon of food-grade diatomaceous earth, 1/4 teaspoon of organic activated charcoal powder
Directions: In a small bowl, mix all ingredients together well. If your hair is dark brown, you can adjust the amount of charcoal to about 1 teaspoon and add 1/2 teaspoon of cinnamon. Transfer into a powder spray bottle and spritz onto dark roots to degrease.
3 DIY Baking Soda Dry Shampoo Recipe for Blondes
Looking for a DIY dry shampoo without cornstarch, we get it: "There's a chance it could make the hair or scalp feel dry or cause some kind of irritation," Cucinello says. "Cornstarch alone isn't balanced with the kinds of preservatives, antimicrobial, and anti-fungal ingredients that products made for hair and scalp are formulated with."
For a cornstartch-free recipe, baking soda is a good option. Hunt recommends a simple recipe of mixing cocoa powder with baking soda, as "these two together will absorb oil and give roots some volume."
Ingredients: 1 tablespoon baking soda and 1 tablespoon cocoa powder. "You may have to adjust the mixture until you get the ratio that matches your roots the best," Hunt advises.
Directions: Combine the two ingredients, adjusting the amounts as necessary. Sprinkle onto your roots, massage into hair, and blow dry for a minute or two if needed to blend.
4 DIY Arrowroot Dry Shampoo Recipe
"Organic arrowroot powder is a great natural remedy to be used in place of a dry shampoo," says Elizabeth Hickman, professional hair stylist in Irvine, California and VaultBeauty member. If you have darker hair, you can mix cocoa powder or activated charcoal with it to match your shade properly.
Ingredients: 2 tablespoons arrowroot powder, 1 to 2 tablespoons of coloring powder (choose cinnamon for lighter color, cocoa powder for darker hair), 6 drops of an essential oil. "The essential oil is optional," Hickman says. "If you want to change the scent, it works to naturally do that."
Directions: Mix all ingredients in a bowl thoroughly. Apply onto roots and blend with your fingertips. If needed, blow dry for a few seconds to further blend it in.
5 DIY Baby Powder Dry Shampoo Recipe
When all else fails, you can always grab some baby powder in a pinch. "The trick is to use it sparingly, as it will show a bit more than you might expect," Cucinello explains.

Ingredients: Pure baby powder. "No need to mix it with anything else; it's a good option because it's grab and go," he shares.
Directions: Sprinkle a small amount on finger tips, rub them together, and then massage directly into the scalp and any oily sections of hair. Repeat until you achieve the desired result and there's no visible residue left on hair or scalp.
This content is created and maintained by a third party, and imported onto this page to help users provide their email addresses. You may be able to find more information about this and similar content at piano.io
Advertisement – Continue Reading Below