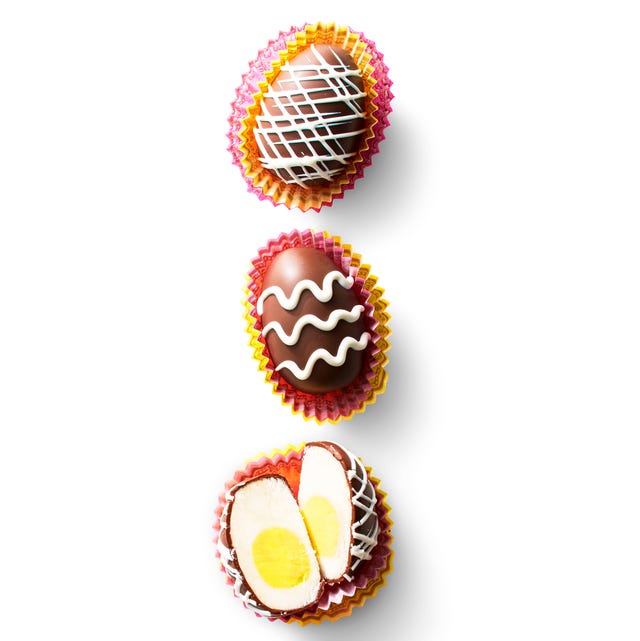 Mike Garten
With just a little butter, heavy cream, and sugar, you can DIY this classic Easter dessert.
Advertisement – Continue Reading Below
Yields: 12 servings
Total Time: 0 hours 30 mins

1/2 c.
(1 stick) butter, softened
3 c.
confectioners' sugar
4 oz.
chocolate candy melts, melted
1 oz.
white chocolate candy melts, melted
With mixer on medium speed, beat butter, cream, vanilla and pinch salt until smooth. With mixer on low speed, beat in sugar 1 cup at a time until smooth, scraping side of bowl occasionally. Knead frosting and shape into disk. Remove one-fourth of frosting and knead in enough yellow food coloring to mimic the color of egg yolks. Form yellow frosting into twelve 1/2-inch balls to resemble yolks.
Shape white frosting into twelve 1-inch balls; flatten each into a disk in the palm of your hand. Place 1 yellow ball in center and gently form white around it, taking care to push air out and smooth seam without crushing the ball. Form into oblong egg shape. Place on waxed paper. Continue with remaining balls and white frosting.
Transfer eggs to a wire rack set over a large sheet waxed paper. Drizzle with chocolate candy melts, brushing to smooth evenly over frosting. Let stand until set. Pipe white chocolate melts over chocolate candy melts to create patterns. Let stand until set. Store in airtight container for up to 5 days.
NUTRITIONAL INFORMATION (per serving): About 260 calories, 39 g carbohydrates, 12 g fat (9 g saturated), 85 mg sodium.
Did you make this recipe? Comment below!
This content is created and maintained by a third party, and imported onto this page to help users provide their email addresses. You may be able to find more information about this and similar content at piano.io
Advertisement – Continue Reading Below