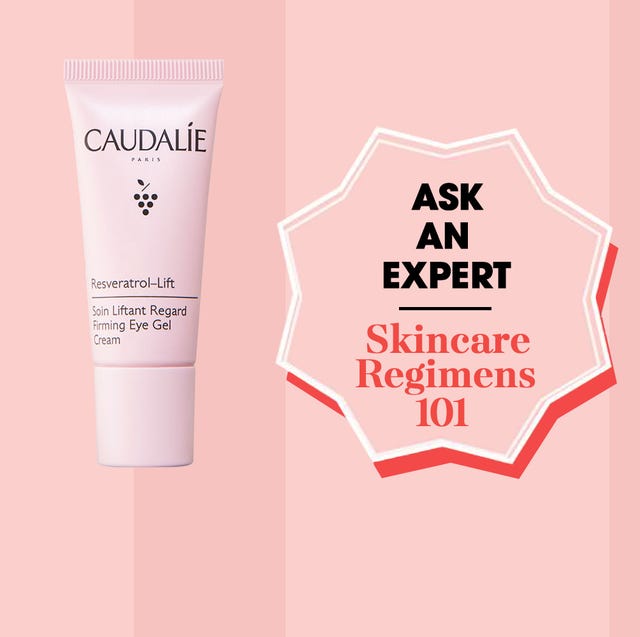 Taking better care of your skin is essential for its long-term health, but with so much information out there — not to mention boatloads of products — it's no wonder that we're confused about how to put together a true "regimen." Just look at the results from a recent goodhousekeeping.com reader poll:
Six-in-10 respondents said they don't really follow a skincare regimen at all.
Three-in-10 respondents said they don't try new skincare products because they aren't sure what to look for.
Three-in-10 respondents said they don't try new products because they find shopping for skincare overwhelming.
We get it. And we're right there with you. But your skin needs a dedicated routine to help it look its best, especially if you deal with common skin concerns like adult acne, fine lines and loss of firmness, or dark spots and uneven tone. While the majority of our survey respondents (eight in 10) said they used between one and three products in their routine, according to Dr. Jeanine B. Downie, a board-certified dermatologist at Image Dermatology P.C. in Montclair, NJ., that's not enough. At the very least, "everybody needs a cleanser, a moisturizer, an eye cream, a specialized serum or treatment, and an SPF (with plenty of reapplication!) every single day," she says. And when you've got the basics down and you're ready to build onto your routine, try some of these great suggestions.
Now, while that might sound overwhelming — especially if you are someone who has been getting by with just a cleanser and a moisturizer all these years — Dr. Downie promises that these are truly the core essentials of any good skincare routine.
So, now you know what type of products to use, but how do you pick out which ones would be best for your skin? "The biggest mistakes people make when they are shopping for new skincare products is to pick up things that are not good for their skin type, not good for their skincare goals, or choosing something that their 'cousin's sister's mother's friend' loves but that is not necessarily good for their own skin," says Dr. Downie.
We asked Dr. Downie to talk us through some recommendations for three of the most common skincare concerns, plus her ideal routine for each, all available to shop at Dermstore, the online destination for all the derm-approved beauty essentials you need to treat your skin right.
Advertisement – Continue Reading Below
THE SOLUTION
Since adult acne is a chronic issue caused by hormonal fluctuations, genetics and stress (among other things), the need for a consistent daily regimen is paramount to keeping this stubborn skin issue under control. Dr. Downie says to look for products that are oil-free and clinically tested for acneic skin. "The hallmarks of a good anti-acne skincare routine include a cleanser, moisturizer, eye cream, sunscreen and possibly prescription topical and oral medications," she says, adding that no matter how tempting, do not pick at your pimples as it can lead to scarring.
The Cleanser
Foaming Facial Cleanser
EltaMD
dermstore.com
$27.50
While conventional wisdom used to be that you needed to strip away oil from acne-prone skin to properly clean it, we've now learned that doing so can make acne worse — it actually causes your skin to produce even more oil and can lead to more breakouts. Instead, ditch the harsh cleansers and opt for a gentle, pH-balanced one like this one from derm-favorite brand EltaMD. "It contains an enzyme and amino acid blend that loosens impurities like dirt, oil and makeup from the surface of the skin," says Dr. Downie. "It's also oil-free and great for sensitive skin."
PCA Skin
dermstore.com
$60.00
Any good adult acne skin routine needs to have a salicylic acid treatment in its lineup, and this one from PCA Skin is a solid choice. Dr. Downie chose it because "it contains mandelic acid, which regulates oil production, as well as salicylic acid to clear existing and future acne pimples, making it an excellent spot treatment."
The Moisturizer
Ultra Sheer Moisturizer
SkinMedica
dermstore.com
$58.00
Non-oily and packed with antioxidant-rich vitamins to fight free radical damage from environmental aggressors, Dr. Downie likes this oil-free, fragrance-free hydrator for sensitive, acne-prone skin because it uses hyaluronic acid to hydrate, meaning it won't clog pores or cause breakouts like a heavier moisturizer might.
The Eye Cream
Comprehensive Retinol Eye Cream
NeoStrata
dermstore.com
$54.00
A common problem many people with adult acne have with eye creams is that they can clog pores around the eye area. That's because many eye creams are filled with heavy, sometimes pore-clogging ingredients that are meant to moisturize the typically dry undereye area, which naturally has fewer oil glands than the rest of the face. But because this cream is formulated with 0.05 percent retinol, says Dr. Downie, it helps minimize the look of fine lines and wrinkles without clogging. Retinol also happens to be a helpful ingredient for acneic skin. "This eye cream is very moisturizing, non-irritating and decreases eye skin dryness," she says.
The SPF
Sun Shield Matte Broad Spectrum SPF 50
Obagi
dermstore.com
$53.00
Sunscreen is another product that can cause potential issues for those struggling with acne as it can be oily or pore-clogging if you don't get the right formula for your skin type. Not so with this mattifying SPF from Obagi, according to Dr. Downie. "This product rubs in well into all skin types, protects against UVA and UVB light and is non-greasy, PABA-free, oil-free and fragrance-free," she explains.
THE SOLUTION
Fine lines and loss of firmness are all natural parts of aging and a result of your skin losing collagen. This will make your skin look loose, saggy and wrinkled, and can be further exacerbated by things like not sleeping enough, sun exposure, smoking, eating poorly and not exercising. If this is your main skin concern, says Dr. Downie, look for products that will help rebuild and restore that lost collagen, as well as hydrate the skin — adding moisture to the skin can plump it up and create a short-term reduction in the visible appearance of fine lines. She also says to make sure you are getting enough sleep and exercise, as well as eating a diet rich in antioxidants and staying out of the sun.
The Cleanser
Extra Rich Cleansing Milk
Shiseido
dermstore.com
$36.00
Since those dealing with fine lines and loss of firmness usually tend to also struggle with dryness, Dr. Downie recommends this rich cleansing milk from Shiseido because it moisturizes as it gently cleanses skin. "This cleanser removes dirt while it softens and does not strip the skin — the moisturizing ingredients remain on the skin after cleansing to keep it hydrated," she says.
The Treatment
ExLinea Peptide Smoothing Serum
PCA Skin
dermstore.com
$117.00
Dr. Downie's serum choice for this routine is meant to be used as a spot treatment on areas of the skin where fine lines, wrinkles and laxity (read: loose skin) are apparent. "It hydrates and minimizes the appearance of facial expression lines using peptides, hyaluronic acid and squalene which help to hydrate aging, dry skin." It also uses rice bran wax to visibly smooth over the appearance of lines and vitamin E to help neutralize aging free radicals.
The Moisturizer
Reparative Moisture Emulsion
iS Clinical
dermstore.com
$95.00
Great for all skin types, this lightweight moisturizing emulsion smooths, hydrates and plumps skin, says Dr. Downie, helping to noticeably decrease the appearance of fine lines and wrinkles. It uses enzymes, copper tripeptide growth factor and hyaluronic acid to help fight the visible signs of aging and keep skin infused with moisture, while also acting as a makeup primer.
The Eye Cream
Resveratrol-Lift Eye Firming Gel Cream
Caudalie
dermstore.com
$59.00
Powered by resveratrol, a natural antioxidant and polyphenol that protects the skin from free radical damage, Dr. Downie chose this lifting eye balm because "it slows down the [formation] of wrinkles and decreases puffiness." She also likes that it deeply moisturizes and is great for sensitive skin.
The SPF
Total Defense + Repair SPF 50+
SkinMedica
dermstore.com
$68.00
Since the sun contributes to collagen breakdown, SPF is one of the most important tools in your anti-aging arsenal. "One must wear sunscreen every single day to decrease the rapidity of your collagen loss and help to decrease fine lines and wrinkles," says Dr. Downie. To that end, she likes this broad-spectrum pick from SkinMedica (a personal favorite she wears regularly herself) because it works on all complexions without leaving behind a telltale white cast. It's also antioxidant-rich and contains UVA/UVB and anti-infrared protection, as infrared waves have been shown to be damaging to the skin as well.
THE SOLUTION
The biggest challenge in dealing with dark spots, according to Dr. Downie, is that once they appear on the skin, they can be stubborn and take time to fade. You also have to be diligent in protecting your skin against the formation of new pigmentation issues as you are working on the existing ones. "Indoor lighting from blue light from your computer and your cell phone, as well as outdoor lighting from the sun can make any discolorations worse," she says. "A good skincare routine for dark spots and discoloration is about consistency. Make sure you are putting on fading agents and the proper serums on the dark spots to make them go away faster, and put on sunscreen and reapply it frequently," she notes.
The Cleanser
AHA/BHA Exfoliating Cleanser
SkinMedica
dermstore.com
$47.00
Another personal favorite of Dr. Downie's, this exfoliating cleanser contains a mix of alpha-hydroxy acid (12 percent glycolic acid) and beta-hydroxy acid (two percent salicylic acid), which she says helps with a variety of skin issues, including improving the texture and tone of skin, acne, razor bumps and fine lines.
The Treatment
kakadu C™ 20% Vitamin C Serum
DermaDoctor
dermstore.com
$95.00
Made with vitamin C-rich kakadu plum, plus caffeine, tripeptides and antioxidants, this anti-aging serum pulls double-duty by fighting free radicals that can cause further discoloration as it minimizes the look of existing spots. Dr. Downie likes it because it also smooths and hydrates, so it won't dry out skin like some other brightening products are known to do.
The Moisturizer
Mangosteen Gel Moisturizer
Eminence Organic Skin Care
dermstore.com
$64.00
Dr. Downie's moisturizer pick for those with dark spots is this lightweight gel hydrator. With natural extracts of mangosteen fruit and red clover flower, it leaves skin looking dewy and radiant and creates a smoother, more refined surface with a more even-toned appearance.
The Eye Cream
Instant Bright Eye Cream
SkinMedica
dermstore.com
$88.00
Dr. Downie's eye cream pick comes from SkinMedica. "It decreases dark circles, improves brightness and hydrates the area around the eyes," she notes, using ingredients like resorcinol, which helps support melanin balance to decrease hyperpigmentation, plus hydrating hyaluronic acid, de-puffing caffeine and brightening marine extracts.
The SPF
UV Physical Broad-Spectrum SPF 41 Sunscreen
EltaMD
dermstore.com
$33.00
Not only does the sun cause a majority of pigmentation issues, the products you use to fade hyperpigmentation can make your skin even more susceptible to damage from the sun — it's a vicious cycle. That means it's crucial to have an SPF in your routine that you will wear consistently and reapply. After all, the best sunscreen is always the one that you'll actually wear regularly. "This one from EltaMD provides UVA and UVB protection," says Dr. Downie. "It works well with all skin types and is oil-free, PABA-free and made for sensitive skin."
This content is created and maintained by a third party, and imported onto this page to help users provide their email addresses. You may be able to find more information about this and similar content at piano.io
Advertisement – Continue Reading Below