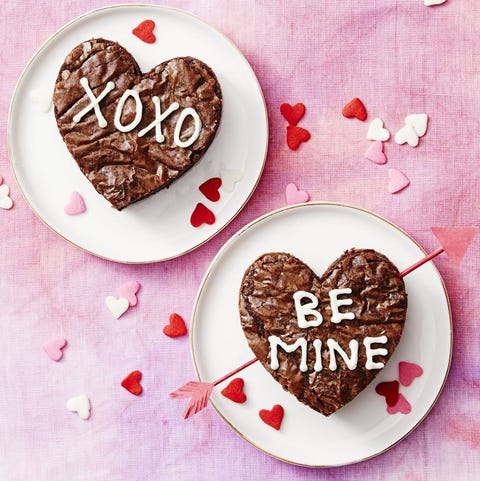 Mike Garten
Forgo the box of generic chocolates and bake a batch of these easy (personalized!) Valentine's Day brownies for your nearest and dearest. Make it the finale of a romantic Valentine's dinner or a fun Valentine's Day craft to make with the kids.
These decadent homemade treats are super chocolatey thanks to two types of chocolate and cocoa and are absolutely worth the calories, but if you're pressed for time, a boxed brownie mix would be just as sweet. Use store-bought frosting (thinned with a little water if too thick) for pouring out your heart in writing or just indulging in your favorite Valentine's day puns!
Advertisement – Continue Reading Below
Yields: 16 servings
Total Time: 0 hours 40 mins

4 oz.
unsweetened chocolate
4 oz.
semisweet chocolate
1/2 c.
unsweetened cocoa powder
Vanilla frosting, for decorating
Heat oven to 350°F. Line 13-inch by 9-inch pan with foil; grease foil.
In 3-quart saucepan, melt butter and chocolates on low, stirring. Remove from heat.
In bowl, whisk flour, cocoa and salt. In large bowl, with electric mixer on high speed, beat eggs until blended. Gradually add sugars; beat until tripled in volume, about 10 minutes.
Fold in chocolate mixture and vanilla, then flour mixture. Pour into pan. Bake until toothpick inserted near center comes out almost clean, 28 to 32 minutes.
Once cool, cut brownies into hearts freehand or using a heart-shaped cookie cutter. (Tip: Don't let the trimmings go to waste — you can even crumble them onto a sundae!)
Pipe on store-bought frosting to create cute chocolate "conversation hearts."
This content is created and maintained by a third party, and imported onto this page to help users provide their email addresses. You may be able to find more information about this and similar content at piano.io
Advertisement – Continue Reading Below