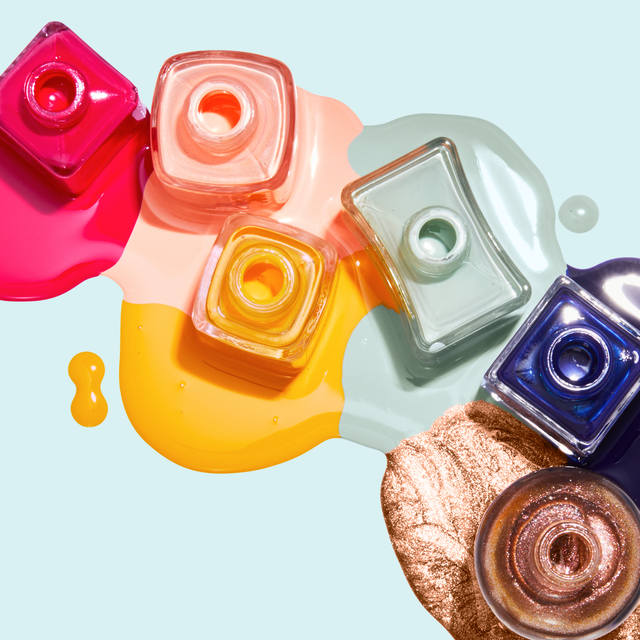 Whether you tend to gravitate towards trendy nail art or like to stick to a traditional monochrome manicure, a recent survey revealed that more than 70% of Good Housekeeping readers paint their nails at home — and you want that DIY manicure to last as long as possible.
While there are hundreds of formulas on the market, some nail polish brands are better than others. That's why the Good Housekeeping Institute tested nail polish brands to find the best polishes you can buy. We started with more than 40 offerings from various brands and whittled down to the 10 best, with the help of over 174 consumer surveys. For the study, our team conducted consumer, Lab, and expert tests to analyze dry time, longevity, shine, chip score, coverage, and whether or not the polish would stain nails. We also scored the polishes on whether the brush was easy to use, if the polish went on evenly, and how easy it was to remove.
Finally, the Beauty Lab considered consumer feedback to find the best nail laquers including nontoxic polish picks, and seasonal colors for fall nails, spring nails, and beyond:
Advertisement – Continue Reading Below
1
Best Overall Nail Polish
Sheer Enamel Nail Polish
Essie was clearly the best of our test: It received top scores from testers, experts, and consumers, and testers also raved about its high gloss value and commented on how shiny the polish remained throughout its entire wear-time. Testers raved, "I liked the color and ease of application," but also rated it easiest to remove, noting the polish left "no ugly yellow stains."
Top Lab scores for shine, chip-resistance, and ease of application
Easy to remove
2
Best Value Nail Polish
New York Color Show Nail Lacquer
Maybelline
walmart.com
$4.79
We found that on average this budget-friendly polish lasted the longest of any polish we tested, with a wear of almost six and a half days without a base or top coat. One tester exclaimed: "I am very hard on my hands… planting, sports, pot scrubbing with my nails… The polish has stayed perfectly on my hands as if it were the first day." It also tied with Essie for the highest shine score.
Longest-lasting polish in Lab tests
High-shine finish rivaled pricier brands
3
Best Gel Nail Polish
Miracle Gel
Get results that rival the salon's with this innovative gel polish/top coat duo, which doesn't require the usual light to cure. A separate Lab test showed that this lacquer dried fast, chipped less, and lasted longer than regular nail polish, though it didn't last for two full weeks as the brand claims. "Deeper colors were rich and fabulous even after one coat," one tester raved.
Gel-like shine without a salon visit
Great color pigmentation
4
Best Quick-Drying Nail Polish
Nail Lacquer
This OPI polish outshone the competition when it came to dry time. Its average dry time was almost a minute and half faster than the next runner up, and our nail technician gave OPI a perfect score for coverage. One tester noted that the finish meant she "really didn't need two coats!"
Fastest drying time in consumer and Lab tests
Great, even color payoff
5
Best Chip-Resistant Nail Polish
Outlast Stay Brilliant Nail Gloss
CoverGirl
walmart.com
$5.83
This CoverGirl polish received, by far, the highest scores for chip-resistance, and lasted more than six days without issue. On average, testers reported getting their first chip on day four and the polish lasted for an average of six and a quarter days.
Resisted chips for over 6 days
Nail pro and consumer tester favorite
6
BEST 6-FREE NAIL POLISH
Toxin-Free Nail Polish
We haven't put this brand to the test in the Beauty Lab yet, but it's a GH editor favorite for a super-shiny finish that dries quickly and looks professional even without a top coat. "The colors are perfectly pigmented, so it's easy to paint layers without them looking streaky," says one editor. Plus, the brand is six-free, vegan, and cruelty-free.
GH beauty editor favorite
Shiny, quick-drying finish
7
BEST LUXURY NAIL POLISH
Nail Lacquer
Paintbox
paint-box.com
$22.00
"This collection has colors you can't find anywhere else, like this minimalist putty shade," says GH Beauty Director April Franzino. "They even come in custom-matched 'power couples' of hues meant to complement each other, taking the guesswork out of mani/pedi shade selection." Note that we haven't yet tested the brand's wear in the Lab, but our beauty editors are fans.
GH Beauty editor favorite
No-fuss, mix-and-match colors
8
BEST NAIL POLISH FOR AT-HOME MANICURES
Nail Polish
Olive and June
oliveandjune.com
$8.00
A favorite of multiple GH beauty editors, Olive and June is a DIY manicure must-have. "Every time I paint my nails with this brand, the polish lasts and lasts," says Beauty Assistant Katie Berohn. The "fanned out brush shapes make applying at home a breeze," and you can opt for the mani system that includes "Poppy," Olive and June's patented polish bottle handle that makes it easy to paint both hands mess-free.
GH Beauty editor favorite
Custom handle attachment for easy application
9
BEST 10-FREE NAIL POLISH
No.17
Sundays
dearsundays.com
$18.00
We haven't tested it formally in the Lab yet, but our editors say this 10-free, cruelty-free, and vegan polish is great for at-home manis. The brand is "known for its manicure kits (they also offer classes) that make an at-home manicure feel as professional as possible," says Berohn.
GH Beauty editor favorite
Cruelty-free and vegan
10 Nail Polish
Pear Nova
pearnova.com
$10.80
Made in the U.S., this cruelty-free, vegan, and 10-free brand offers creamy polishes in gel and classic finishes. We haven't tested the brand's performance in the Beauty Lab yet, but the cult following and gorgeous shades speak volumes.
Gel and classic finishes
Rich, creamy colors
This content is created and maintained by a third party, and imported onto this page to help users provide their email addresses. You may be able to find more information about this and similar content at piano.io
Advertisement – Continue Reading Below